Most Americans would probably agree that government—at all levels—is less than competent when it comes to efficiently managing taxpayer money. If you conduct a web search on "wasteful government spending," you will be presented with a multitude of results that highlight the sad reality of government waste.
Yet, despite this grim view of government operations, there are an increasing number of government agencies embracing new methods of trying to save and smartly spend taxpayer money. One of the methods gaining in popularity over the past several years is the use of predictive analytics.
In his book, Predictive Analytics: The Power to Predict Who Will Click, Buy, Lie, or Die, Eric Siegel, founder of the Predictive Analytics World conference series, defines predictive analytics as "technology that learns from experience (data) to predict the future behavior of individuals in order to drive better decisions."
"Driving better decisions" is at the heart of any predictive analytics endeavor. For the government, this could mean improving fraud detection and prevention, identifying insider threats, reducing/eliminating improper payments, identifying financial crimes networks, reducing local crime through smart policing, and improving public safety, to name a few.
Discovering these "pockets of excellence" where the advanced techniques of predictive analytics in government are being applied successfully, though, can be challenging. This is the case unless you attend the fifth annual Predictive Analytics World for Government (PAWGOV) conference in Washington, D.C., October 13-16. GovLoop is honored to be a media partner for this premier event designed to help government agency managers understand how to apply modern predictive modeling technologies to more effectively and efficiently accomplish their mission.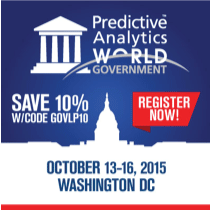 PAWGOV is the largest and only vendor-neutral analytics conference designed specifically for the government. It provides a forum for government agencies to share their experiences, challenges, and successes with building a data-driven environment. The majority of PAWGOV speakers are current or former government employees, so you don't have to worry about boring vendor sales pitches. It is the perfect learning environment for agencies that are just beginning to plan or execute their journey into analytics, as well as those who may be a little further along the road.
Predictive Analytics World for Government is packed with experts, practitioners, and thought leaders, including keynote speakers: Dr. Chesley Richards, CDC Deputy Director, Public Health Scientific Services; Mark Peterson, Division Chief, Data and Analytics, U.S. Agency for International Development (USAID); Jennifer Shasky Calvery, Director, Financial Crimes Enforcement Network (FinCEN); and Catherine Templeton, Former Director of the South Carolina Department of Health and Environmental Control and Former South Carolina Secretary of Labor.
In addition to the great exchange of information the event sessions provide, you will have ample opportunity to network with fellow professionals, earn 6 hours of continuing professional education (CPE) credits per day, and speak one-on-one with today's top vendors specializing in analytics and visualization technologies.
Please join us October 13-16 at the Grand Hyatt Washington to be a part of the expanding group of experts interested in helping government work smarter through the power of analytics. Register with code GOVLP10 and get 10% off of All Access and Two Day conference passes.