Some organizations are not considering technology training for its full potential.
They see employee training and development primarily as a matter of professional development. Because benefits include improving employee retention and job satisfaction, training is commonly viewed primarily as a job perk. Training budget is often the first place that organizations look when cuts are needed.
However, a recent International Data Corporation (IDC) study shows that organizations have a vested interest in ensuring that their employees keep their skills up to date. Rather than cutting back on training, organizations would benefit from training employees in technology and skill sets that can reduce costs in operations, and in turn save far more money in the long haul.
"Interviewed organizations attributed strong value to having staff complete training, which IDC quantifies as worth an average of $43,800 per year per employee trained," according to the study.
Cloud-native transformation
In this study, IDC interviewed IT staff who have completed Red Hat training courses through the Red Hat® Training and Certification program. Staff were trained on technology areas that their organizations use, such as Red Hat OpenShift®, Red Hat Ansible® Automation Platform, Kubernetes and containers.
These technologies are especially critical now, as agencies seek to transform their operations — both to reduce operational costs and to deliver more effective services — by moving to a cloud-native environment.
With cloud-native technology, developers build applications designed specifically to take full advantage of the cloud, as opposed to migrating and retrofitting legacy applications. It typically entails the use of containers and microservices, which build applications or services out of small bundles of code that can be easily deployed to different platforms. Cloud-native technology often entails a shift to a DevOps methodology, in which development teams work closely with the operations team throughout the development process.
These technologies represent a new era of digital products, services and experiences for agencies, which brings about uncertainty and change for their staff. Adaptability requires a shift in mindset and training for IT staff.
Successful digital transformation involves new tools and practices, as well as the right people with skills and capabilities to effectively use them.
"IDC research has found that increased training for impacted IT professionals consistently increases both individual capability and the ultimate business value of the supported technology," according to the study.
Why training matters
Organizations interviewed in the IDC study reported that staff who've had the Red Hat training can now generate more value and can better support business strategies and activities than their untrained counterparts.
Based on interviews with those staff, below were their organizations' goals for Red Hat Training and some of the results:
Goal: Upskill staff in key technologies
Result: Red Hat training fostered a critical understanding for many IT staff — those who better understand Red Hat technologies work more efficiently and effectively.
IDC estimates that study participants will realize IT staff-related efficiencies and productivity gains worth an annual average of $33,600 per employee trained.
Goal: Allow the ability to take advantage of open source technologies
Result: The percentage of staff at interviewed organizations with competency in Red Hat OpenShift, containers and Kubernetes increased more than tenfold through Red Hat Training: 45% for Red Hat OpenShift, 48% for containers and 44% for Kubernetes (see figure 1 below).
Figure 1: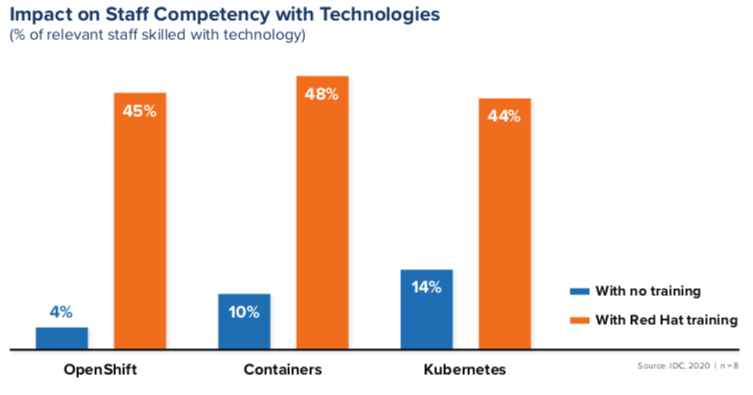 Goal: Provide knowledge of important open source technologies core to IT operations
Result: Organizations reported their staff's increased knowledge has resulted in better use of Red Hat OpenShift services overall, having a stronger technology foundation, and having interchangeability among IT staff with the use of Ansible Automation Platform.
Goal: Bolster the quality of applications and services delivered to employees and customers
Result: Organizations reported that Red Hat training has helped staff better integrate technology with customer platforms and better understand the value of using Red Hat for software deployment, so they can better communicate value and relay them to customers in layman terms.
Goal: Enable other IT teams to work more efficiently
Result: Organizations reported that their IT teams can better use technologies and approaches to create more cost-effective IT environments. Having more skilled and knowledgeable staff has a clear connection to optimizing IT infrastructure costs.
IDC calculates three-year total costs per organization to be 21% lower through infrastructure optimization and rationalization (see figure 2 below).
Figure 2: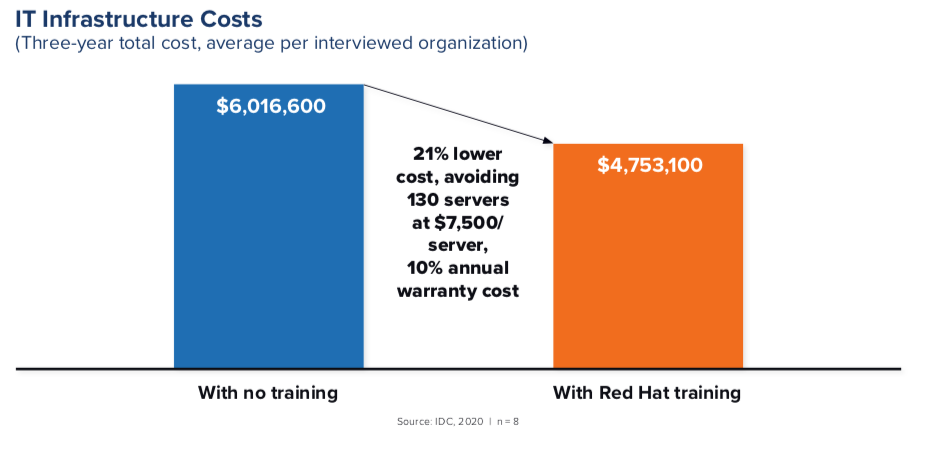 Goal: Improve staff's ability to meet performance expectations from onboarding through decisions about promotions
Result: Organizations reported more proactive thinking among staff trained, increases in employee satisfaction and tenure, bolstered employee performance, full productivity in less time, and positive effects on organizational culture.
Staff who already completed Red Hat training before they were hired were onboarded 76% faster (see figure 3 below).
Figure 3: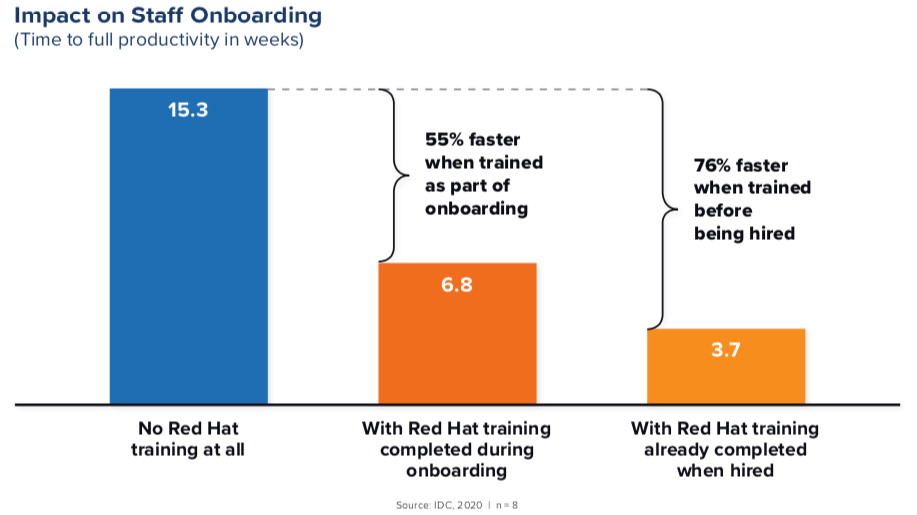 For organizations focused on digital transformation efforts, the key to success is in giving IT staff access to high-quality and professional training. IDC research shows that Red Hat-trained staff are more capable of using new technologies, work more productively, better meet performance expectations than their untrained colleagues, and generally perform better across their employee life cycles.
Read the full IDC report: How can Red Hat training impact your business?
Learn more about Red Hat training courses: Validate your knowledge of Red Hat technologies