Women's history month is finally here! And many of us are wondering what we can do to raise awareness of women's issues and show appreciation for the awesome women in our workplaces. If you're still stumped, here are a few ways to celebrate this March and beyond: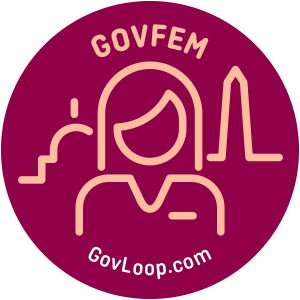 Thank a Female Govie
People like being recognized for their hard work and accomplishments. However, women are more likely to receive negative feedback from their employers than men and are less likely to receive praise. If there is a woman in government out there that you admire, there is no better time than women's history month to express your appreciation!
If you share an office with some admirable women, there are a few ways to show your gratitude in the workplace. If they did a killer job on a recent project, put in a good word with their supervisor. Or surprise them with their favorite treat on Monday to help get their work-week off to a good start. If that isn't your style, a simple "thank you" will suffice. You'd be surprised how infrequently co-workers express appreciation and admiration for one another.
If you have a high-profile govie idol in Congress, send a letter to their office! Women in government are under a lot of scrutiny and support of any kind is useful and appreciated.
Take Action
If you're passionate about closing the gender pay gap or worried about the frequency of sexual harassment in the work place, there are things you can do to help. Women's history month is a great time to connect with like-minded women to take action on your common concerns.
If you're hoping to see legislation pass in congress or your state government, call your representatives throughout the month of March or make your presence known by scheduling an in-person visit to your representative's office. When it comes to supporting legislation, representatives take into account the repetition and magnitude of requests from constituents, so coordinate a visit to the capitol or your local congress person's office with your friends or create a plan to make numerous calls to the office per week.
Another way to take action is by attending protests and events for issues you're passionate about. You may assume that your individual influence is small, but there is strength in numbers. The more women that show up, the bigger the impact. Search for local events through Facebook or through event websites like Eventbrite and share links with your friends to generate a bigger turn out.
Mentor a Woman in Your Agency
Diversity in experience and opinion generate better outcomes in government. If you want to see more women at the table in your organization, you can make that possible through mentoring. Women often decide against taking a mentee because they assume they don't have much to offer newcomers to the industry. But it's important to remember that you got to where you are for a reason, and there are a lot of young women who are interested in your accomplishments and your journey.
We all remember how scared we were when we first entered the job scene and how thankful we were when another woman offered her assistance. Something as small as being a reference or sharing your experiences can be of huge help to a woman who is in the beginning stages of her career. Take the initiative to talk to women in entry-level positions at networking events and respond to LinkedIn messages from recent graduates. Also, if you can, try to maintain an ongoing mentorship with one or two women that you connect with.
Honor Yourself
Most women will probably agree that we are terrible at putting ourselves first. While it is always necessary to honor and uplift the people around you, why not start with yourself? It is normal for women to avoid self-congratulatory behavior, but this month, and moving forward, take the time to recognize and reward yourself for your accomplishments. Whether you just got a raise or managed to arrive early to work every day last week, your actions are worth celebrating. Treat yourself to something nice this month or take a day off if you can afford it. You will be surprised at how much self-praise can positively impact your mood and productivity.
While women's history month may feel like the best time to celebrate women, our actions will have the greatest long-term effects if we employ these practices often. So don't hesitate to uplift yourself and other women all year round.