This week, Steve Ressler, GovLoop's CEO and Founder, was a guest speaker at the Transportation Security Administration's (TSA) Mentor Program celebration. At the event he shared six steps to have a successful mentoring relationship. And I also want to share them with you!
1. Get Acquainted
Your first mentor meeting will be like a professional first date. You need to break the ice and get to know each other. Start by exploring your commonalities and share your hobbies to ease the awkwardness. End the first meeting by being clear about your preferred communication style (do you like email, phone calls, texting, Skype/Google hangouts, in person?) and the best time of day to chat. This will set you up for effective communication for the remainder of your mentorship.
In the GovLoop mentors software, we have profiles for both mentors and mentees to go into this acquaintance meeting prepared.  Here's an example of my current mentee: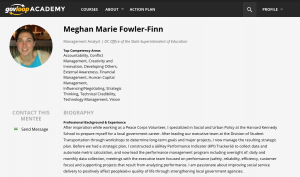 2. Set a Plan
Like the old adage, fail to plan, plan to fail – you need to quickly set an action plan for your mentorship. Start by thinking about these questions:
Where you want to be 3-5 years from now in your career?
What do you want to be known for at your organization?
What skills do you want to build?
These questions can help you determine topics to cover in your mentor meetings. Make sure to write your answers down and keep them handy each time you meet to make sure you're making progress on your plan.
In the GovLoop mentors software, we have an action plan functionality that you can use – see example below.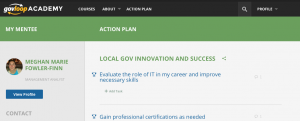 We also provide a great resource  with our tips on best practices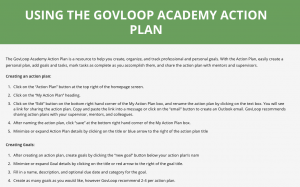 3. Have Regular Meetings
Steve suggested having meetings twice a month. Whether you meet more or less frequently, it's important to regularly to do. And to help you set and prioritize time for your mentor relationship, try creating meeting invites for the entire duration of the program up front. When you meet, make sure you're prepared and have an agenda to keep the conversation on track. While this is a less serious meeting than a board room briefing, remember that you'll only get out what you put into the program. You want to safeguard against filling your entire meeting time with friendly banter.
4. Have Frequent, Smaller Touchbases
Forming a good relationship takes time. To help you build a great bond, take the extra time to reach out to your mentor/mentee other times than just your formal meetings. Some quick, easy ways to do this are to ask a question intermittently or share an article or book you read. Think back to your first meeting where you explored commonalities and hobbies and use that intel for these small, personal touches.
In the GovLoop mentor software, I find using comments in the action plan goals as a good way to show progress and have small touchbases.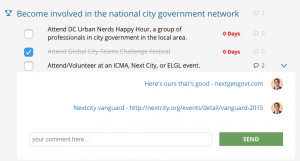 5. Keep It Going
The end of your mentorship doesn't have to be like a break-up. Just because your formal mentorship is over, doesn't mean you should stop communicating with your mentor/mentee. First off, make sure to thank your mentor. That's why mentors volunteer their time – to help. Recapping what they've given you will make them feel great about the experience.
Some ideas to keep your relationship going for the long haul are to send small notes, schedule lunches or drinks after work, or send holiday cards. And don't forget, mentors can be great references to help you take the next step in your career.
6. Pay it Forward
As a mentee, you've gained a lot. Now it's time to pay it forward. The best ways to do this are to help the program grow by being an advocate. Talk about your experience with your coworkers and manager. It will make you look good for taking initiative in your career and help inspire others to do the same. Make your advocacy official by writing a testimonial for the program organizer to use in the future marketing of the program. And the ultimate give-back, when you're ready, is to be a mentor yourself.
P.S.  Interest in using GovLoop's mentoring software and/or having GovLoop run your mentors program, send us a note at [email protected]