This year, I was  chosen as one of 60 Presidential Leadership Scholars and participated in the inaugural program that concluded in July. There were six sessions over six months that focused on four leadership abilities:
Engaging Others Through Vision and Communication
Making Decisions
Working Collaboratively to Influence and Persuade Stakeholders
Building Working and Strategic Partnerships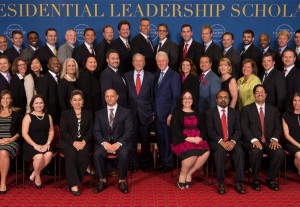 Sessions were held across the U.S. at great venues included LBJ Presidential Library, William J Clinton Presidential Library, George Bush Presidential Library, George W. Bush Presidential Library, and Mt. Vernon.  These 3-day sessions were let by key administration officials,  leading academics, and even an opportunity to meet Presidents Bill Clinton and George W. Bush.
It was truly a life-changing leadership program for me and I learned a ton of both tactical tips and strategic concepts in terms of public sector leadership.
Last week, I had the honor to share some of these tips as the closing keynote at  the Census' NextGen Leadership Training Summit. And I also wanted to share them with you.
1: Get Back on Your Feet
The lesson I learned from the trip to the William J. Clinton Presidential Library was about getting back on your feet.  A little known fact about Bill Clinton is that he was one of the youngest governors but he was also the youngest ex-governor as he lost his first re-election campaign in 1980.  He shared that he went from the top of Little Rock to people ignoring him in matter of months.  But he hopped back on his feet and kept pursuing his dream and rose back into the governor's house and eventually the White House.
2: Coalition Building from Anywhere
The lesson I learned from LBJ Library is the power of coalition building.  We visited the LBJ ranch which is about one hour from Austin where President Johnson spent a large amount of time of his presidency.  My favorite fact was that he had a 100+ foot-long cord running from his phone to his pool where he would make call after call to Congress, world luminaries, and civic leaders to get their buy-in.  He was legendary in his capacity to reach out to folks and not let tragedy (like JFK & MLK assassinations) go to waste but use that time to past meaningful reform.
3: Process, Time & Decision
My favorite part of meeting President George W. Bush was the fact that he used the word "awesome" even more to I do.  But in all seriousness, I learned a lot about leadership operations and decision-making.  President Bush made a point of always being on time as he said it set a tone for the rest of the White House.  If the President can be on time for meetings, you can be too.  I also loved hearing from Keith Hennessey who ran the National Economic Council on the process of decision-making.  They had an extremely well-run decision-making process that everyone knew – by holding to that process, it prevented people from going around the process and wasting time.  They also had clear read-aheads and decision-making fact-sheet that had to be filled out before any meeting.
4: You Can Learn to be a Diplomat
I personally didn't know much about the story of President George H.W. Bush.  At the age of 46, President George H.W. Bush found himself as a former House of Representative in Texas who had just lost his Senate race.  He had little international experience as he had been a Texas businessman and then focused on domestic issues in House of Representatives.  Fast forward, 10 years later and he has been Ambassador to U.N. Envoy to China, and Director of CIA.  Fast forward, 15 more years, and George H.W. Bush is considered one of the best international presidents of all time governing through Germany reunification, the fall of U.S.S.R and playing a steady-hand through the whole process.
5: Clarity Brings Confidence Which Brings Commitment
Mike Toledo was a fellow scholar of mine and is the President of Hispanic Center of Reading and Berks County.  Mike is a gifted leader and is the magician of the one-liner.  In our first session, he shared one of his leadership quotes which became one of my all-time favorites.  He stated that "clarity brings confidence which brings commitment" — the whole-concept is that leaders must provide clarity on the project/program/where going and that clarity brings confidence in the team/coalition and when a team knows where they are going and feels confidence they are committed to reaching the finish line successfully.
6: Servant Leadership
Dale White serves as a Colonel in Air Force and was one of my travel buddies often flying on same flights from D.C. (and often stuck on delays together).  While your idea of military leadership from movies may include lots of yelling and command/control, I learned from Dale the power of servant leadership.  Everything he did as a leader was about empowering his team and executing on the mission.  Whether he was sitting in a cubicle with the lowest-rank member of his team or testify on the Hill, Dale always projected a sense of calm, strength, and dedication to the staff and mission.
It was a life-changing program and perhaps it can be for you as well.  Applications are open right now and I encourage GovLoopers to apply.