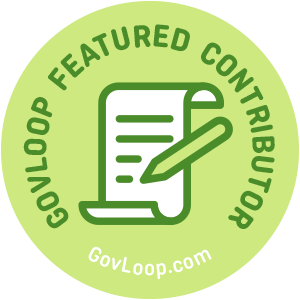 There are over 300,000 of you across the GovLoop community — government employees, industry partners and knowledge experts — who are extremely engaged. Many of you are also prolific GovLoop writers. You write about everything from how your team has adapted to change during this pandemic, to leadership best practices, to innovation in government.
We here at GovLoop love your articles – we're sort of obsessed with them, actually – and look forward to the new, great contributions we know we'll be seeing every day.
Your contributions to GovLoop are so engaging and valuable, that we're looking to expand on them. Today, we're announcing the 23rd round of the GovLoop Featured Contributor Program.
We've already had a very successful 22 runs of this program with more than 300 amazing GovLoop Featured Contributors (whose posts you can read here). We're looking to keep the momentum going with new voices who can write about everything from the best way to be agile and adapt to change in government to how effective data strategies can build strong teams.
The details: We're looking for 15 (or more!) great GovLoop voices to write once a week for the community starting in late June, for 12 weeks, into early September 2020. We want you to write about subjects you think are important — from the way automation is impacting your job, to tips on how to increase engagement with the public — really, anything that inspires you. Articles are typically around 400-500 words. If it's important to you, it's important to us, and we want it on GovLoop.com.
If you want to be a part of this prestigious program, it's easy. All you have to do is email GovLoop's Content Director, John Monroe, at [email protected] Use the subject line "GovLoop Featured Contributor," and include the following:
Three blog post ideas
A writing sample
Your resume
*The deadline for applications has been extended to Friday, June 5.
What's in it for you? In addition to having your articles read by our community of 300,000, you'll get:
A featured homepage slot on GovLoop every time you post
Promotion of your posts to our social network communities (and we'll promote your Twitter handles, too)
Recognition of your efforts and status via a special GovLoop Featured Contributor logo
Published articles and a great line on your resume
Feedback, writing tips and blog guidance with metrics for top trending articles
Any questions? Leave a comment on this post or tweet @GovLoop. We look forward to your ideas, contributions and content.