Even today, with the cloud transformation in full swing across government, the concept can appear daunting. In truth, there are quite a few factors to worry about.
But what if you knew that your agency was working with companies that could simplify the process, all without losing any quality in security standards? Would that change your idea of the difficulty of cloud transformation?
Amazon Web Services (AWS) certainly hopes so. As part of GovLoop's recent Gov Trends Virtual Summit: Looking Ahead to 2018, the company presented some of its cloud offerings to government in a webinar called "Cloud Transformation — It's Easy as 1, 2, 3," alongside partner companies Insight and Turing Group.
Speakers included Jeff Krueger, Worldwide Partner Development Manager at AWS; Erica Falchetti, State, Local and Education (SLED) and Healthcare Capture Manager at Insight Public Sector; Brendan Caulfield, Co-Founder and Chief Operating Officer (COO) at Turing Group; and Shiva Yerramsetty, Senior AWS Cloud Architect at Insight Public Sector.
Krueger kicked off the session by explaining that transitioning to cloud is different from a typical hardware or software procurement process. It requires special attention to security, and for AWS, that's a top priority, he said.
Falchetti followed Krueger's introduction with a presentation on the contract vehicles offered by Insight for AWS implementation.
Insight Public Sector's U.S. Communities contract, which meet procurement requirements for most government agencies, have already been used by a number of governments across the country to buy hardware, software and AWS solutions. Government customers include Philadelphia, Chattanooga, Tennessee, and Alameda County, California, along with others.
Falchetti also spoke about another Insight contract: NASPO ValuePoint Cloud Solutions. Florida, Hawaii, New Jersey and Utah are among the states that have signed a participating addendum with Insight to use the contract for a variety of services, including maintenance, deployment, consulting/advisory and architectural design.
Caulfield came on after Falchetti, and discussed the Turing Group's role in this cloud transformation process. As a partner to AWS, his company helps to facilitate security measures.
"We like to speak with everyone, from the smallest agency to the largest," Caulfield said. "We're really happy to have the conversation about how we can help transform the technology landscape."
Part of what makes the AWS cloud solution so effective, he said, is a shared responsibility model for security. The customer and partner retain the rights to define controls in the cloud, while AWS takes care of the security of the cloud.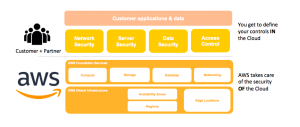 "Turing Group is less like a service provider, and more like an integral player on the team," Caulfield said.
Yerramsetty wrapped up the webinar by detailing how Insight assesses agencies' AWS environments, to ensure they meet and exceed industry standards. The cloud monitoring and cost optimization is broken into three sections of consultation.
Onboarding Sessions. This refers to a four-session, live webinar series designed to maximize a client's investment in AWS.
Month 6 Optimization Session. This a two-hour, on-site workshop designed to analyze existing spending and review best practices for optimization.
Annual Review. This is a one-hour, online session to assess value realization.