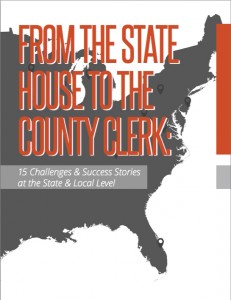 "We reduce their costs and improve their performance" – Tom Ruff
At the end of the day, state and local budgets are shrinking – but demand and expectations for government services are going up. So how can state and local IT offices keep up? In GovLoop's new guide, From the State House to the County Clerk – 15 Challenges and Success Stories we explore some of the most innovative solutions.
One solution is to look to the cloud to help save time and resources by making your IT department run more efficiently. One of the leaders in government cloud computing is Akamai Technologies. They have been able to save their clients more than 85% in IT network costs by moving them to the cloud.
GovLoop sat down with Akamai's Tom Ruff for a quick Q&A to learn more:
How can state and local governments stay on the cutting edge of technology while sticking to their limited budgets?
Ruff: There are many states out there that are now starting to leverage the cloud with broader solutions such as AT&T or CGI, Rackspace and Microsoft. These cloud providers are able to provide new services to state and local governments, eliminating the need for expensive capital investment towards new infrastructure. We see in the federal government (where approximately 30% of the current IT initiatives are being driven to the cloud) a 33% savings on delivering applications to their constituents and at the same time radically improving the level of service to the citizens. Our typical customer sees an 85 to 90 percent offload on network cost, as well as infrastructure cost.
Can you give an example of where cloud services have transformed a city?
Ruff:The City of Orlando came to Akamai because tourism is their lifeblood. Orlando is not only one of the fastest growing communities because of the environment and the natural surrounding amenities, but also because of the business there that all surrounds the amusement parks. So they're very concerned about 100% operations and availability, given their amount of traffic and tourism. Recently, the city was warned that they were about to be attacked by cyber hackers. We knew we needed to get in front of the situation. We ended up protecting the site, the site got attacked, and the city of Orlando had no impact. We absorbed that attack and they kept on running.
Another example is the city of Chicago. A few years ago the city hosted a NATO meeting; the summit was destined for attack in light of the U.S. and the visiting nations that would be in attendance. Unisys came to us and said, "We need security because we need to have this site up at all times to promote the NATO activities." Once again we were able to ensure 100% availability of their site, improving performance even during the time of an attack.
Governments can use Akamai to not only improve their service to the citizen, but also protect it. In the private sector we are doing billions of dollars a day in secure credit card transactions. The same secure transactions are happening in the transformation of state and local governments where they are trying to use the Internet to have a better touch with the citizens. We reduce their costs and improve their performance
What does the future of cloud computing look like for state and local governments?
Ruff: You are going to see different types of clouds out there. You already have very successful programs such as Microsoft Office 365 and you will see governments move towards those type of solutions, because it makes sense in terms of cost reduction and improved performance.
You will also see other type of cloud services, such as identity management in the cloud – the ability to be able to provide an additional level of security as people enter the cloud, by checking their identity against other sources out there.
Mobile will also be very big. Akamai is working on services to improve the speed as well as the end user experience. For example, we are working on the ability to detect if a citizen is on a device that is connected to a disadvantaged network – they're not getting strongest cell signal out there in the world. With these intelligent solutions we will be able to determine not only the device, but also the kind of web browser and the existing network condition and to automatically optimize the environment and provide a better end user experience.
You can learn more about Akamai and the 15 innovative solutions by downloading the guide. From the State House to the County Clerk – 15 Challenges and Success Stories.