These two verb/noun pairs are commonly thought of as synonyms of one another.  However, when the terms are used to describe an action or a document within the context of Federal Government contracting, they take on different meanings — as "terms of art" within the process — that help to more clearly communicate that something is being or has been revised within the procurement.   That said, the specialized usage can be somewhat confusing to Federal personnel who are not deeply knowledgeable in "acquisition/contracting" speak, especially since in common usage they are synonyms — and theoretically interchangeable. 
Before I elaborate on the specialized meanings of the terms, the simple Venn diagram below illustrates where in the process each term fits and how they relate to one another.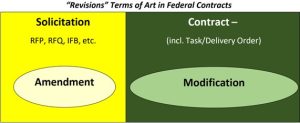 Amend/Amendment
Amendments are the simplest to explain, because the term is used when the government determines it wishes (or needs) to revise some aspect of the solicitation, a document that it is solely responsible for.  This is because a solicitation's purpose is to describe the supplies/services an agency needs to procure.  The term "solicitation" is itself a collective term for the various names applied to the government's request for offers to meet its procurement needs:
Request for proposal (RFP)
Request for quotes (RFQ)
Invitation for bids (IFB)
Task Order Request for Proposal (TORP) and others
Since the solicitation is the government's definition of its need, should that need be revised in any way, then the government defines the revision in a document that will most often be distributed via the same channel (website posting, email, etc.) where the original solicitation was made available.  This enables all "interested parties" (potential offerors) to have the same information about the government's need — as revised.  Virtually any detailed aspect of a solicitation can be revised by an amendment, since the solicitation is the government defining its own need.  However, often an amendment's purposes will include one or more of the following:
Revise unclear/conflicting detailed provisions if noted by prospective offerors
Revise aspects of the solicitation to solve a problem established via a protest or other legal challenge
Revise the due date for offer receipt
Cancel the solicitation.
Modify/Modification
The above illustration shows that a modification is the term of art for revising some aspect of an awarded procurement contract.  Contract modifications (mods) have a whole Federal Acquisition Regulations section, Part 43.  However, most importantly, since a government contract is a "two-party" agreement that spells out the obligations — rights and duties — of both the government and the contractor.  Generally, there are no other "interested parties" that have a "say" in deciding whether the contract's provisions can or should be revised.  However, every revision to the contract — mod — must be "agreeable" to both parties.  In general, this means that both parties sign up to any mod — via signatures of authorized officials of each party.  This is called a bilateral mod.
Sometimes a mod can legitimately be issued with only the government's contracting officer's signature; i.e., it is issued unilaterally.  How can this be?  The contractor agrees — within the basic contract's provisions — to 'cede' the government a right to unilaterally make certain types of revisions. Common examples:
Option provisions:  Order more items or services if specifically identified at award; unilateral right is time-limited
Funding obligations:  Government obligations may require providing added funds or the contractor has can stop performance
Clauses that support the Government's fiduciary responsibilities to the taxpayer

"Termination" clauses:  Government can "get out" if the contractor is not meeting the need or if the need has gone away.

"Changes" clauses:  Government can direct detail-level revisions within the contract scope if the Government need shifts – due to early contract outcomes or other factors will improve the outcome

Fix administrative information, such as government accounting data that does not matter to the contractor or typos — the key is that the contractor's rights and obligations must not be affected
NOTE: As the sovereign, a unilateral mod can only be issued by the government — no contract provision can ever allow for a contractor-issued unilateral modification.
---
As the Seventh Sense Consulting LLC (SSC) Director of Acquisition Practice, Mr. Patrick Shields has over 45 years of experience as an acquisition/contracting professional and innovative leader.  As a Navy Department civilian, he was a major weapons systems contracting officer and manager.  Since his civil service retirement, with two firms he has provided subject matter expertise support to numerous Federal civilian and DoD organizations, including acquisition strategy/ documentation support for key acquisitions, policy development, and personnel training.  He also managed a subscription "ask the expert" response team and authored numerous topical publications for over 25,000 professional employees of subscribing agencies.
Photo by Andrea Piacquadio at pexels.com