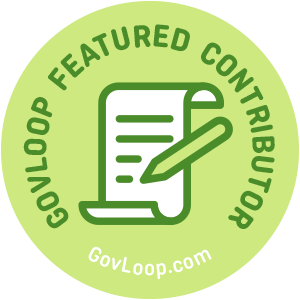 When you hear the word "brand", what comes to mind? You might see the iconic Coca Cola logo painted on a glass bottle of fizzy, brown soda. Maybe you think of Mickey Mouse in his signature white gloves and bright yellow shoes. Perhaps you hear the NFL theme and instantly picture the green AstroTurf on a thousand-seat stadium.
You probably didn't envision the federal Department of Transportation, right?
For those working in a non-communications field, and particularly those working in the public sector, the word "branding" may seem lofty and irrelevant, a concept that only applies to Fortune 500 companies like those listed above. Yet, when used correctly, branding is an extremely beneficial tool for government organizations that should not be overlooked.
Here are three reasons your agency needs a strong brand:
1. Branding builds credibility.
Imagine receiving a letter in the mail from the Internal Revenue Service (IRS) that claims you owe $5,000 in back taxes. There is no logo, no state seal and no visual evidence to suggest this letter was truly written by a verified member of the IRS. Do you instinctively mail the sender a check, or do you throw away the letter? Hopefully you realize the letter is likely part of a scam, but for some, differentiating imposters from verified official correspondence is a tricky task.
Now, what if the letter had included a state seal? Would you have been more likely to reach out for further information?
By using the same visual elements repeatedly, organizations have a consistent way to identify their services quickly and easily. These elements can include font choice, specific colors, logos and government seals, which work in tandem to establish credibility by serving as trusted visual markers. When working with sensitive information like criminal records, health data and financial assets, a strong brand can help build trust between your agency and the people you serve when it counts the most.
2. Branding establishes professionalism.
Government employees are some of the most highly-trained and specialized individuals in the workforce, but poor branding can tarnish even the ultimate professional. Picture this: you step into a meeting to discuss policy changes on existing safety requirements, and the updated regulations are presented on a hot pink slide deck with stretched images and cursive fonts. Seems outrageous, right?
When your agency looks professional, your staff look professional.
Most often, big-impact branding comes from small details such as consistent email signatures, regulated use of the logo and a vast collection of high-resolution imagery. Establishing quality standards through branding is a cost-effective way to ensure that your colleagues and staff are always presented in the most respectable light.
3. Branding is effective.
Beyond visual aesthetics, branding also includes the voice and language used by an organization in targeting a specific group of people. For any employee communicating with an external audience, be it legislators, community partners, industry professionals or even the general public, a tailored message is critical to job success.
Think of this way: would you write the same letter for a medical provider and a Medicaid member?
Your overall brand strategy should also include guidelines relating to the use of language, reading level, writing perspective (first person, second person, etc.) and specifications on when to use appropriate jargon. By providing a framework for staff to reference, your agency can improve communication efforts and hopefully increase overall effectiveness at no added cost.
So, now what?
Hopefully after reading this article you understand the value a strong brand can bring to your government organization. As you begin to contemplate how to apply some of these practices at your workplace, here are a few additional resources to help you understand, enhance or perhaps even launch your agency's brand.
Branding for Government: What Is It?
How Branding Can Make Government Agencies an Employer of Choice
Example: New South Wales Brand Standards Guidelines
Why Government Departments Should Brand Themselves
Laura Wilcox is part of the GovLoop Featured Contributor program, where we feature articles by government voices from all across the country (and world!). To see more Featured Contributor posts, click here.