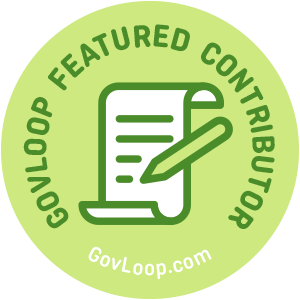 Welcome to the new norm of Spring 2020. Due to COVID-19, most of us govie guys and govie gals are restricted to working from home.
If getting two degrees fully online has taught me anything, it's that I'm not a good candidate for working remotely. Being at home brings a sense of closure. It's where you go at the end of a work day, after going out or when you're done at the gym. It's not where I pictured myself waking up, working out, eating breakfast, lunch and dinner, working again and then going to bed.
While it's only been two weeks of social-distancing and working from home, it seems like it's been a lot longer. How do you adjust your mindset to be focused and productive when you're working from home?
1. Follow a strict schedule 
Creating and following a schedule similar to the one you followed before working from home is crucial. While it might seem nice to wake up later in the morning or take longer breaks during the day, you'll quickly lose focus and fall off track. As you finish out your work day, create a list of tasks that need to be done the next day; that way you can prepare yourself and keep yourself on track. Waking up at the same time Monday thru Friday is equally as important. This creates a sense of rhythm and will be easier for you when we all go back to working in the office. Set a specific lunchtime, and time it. If you normally have lunch around 11:30 a.m. continue that activity while teleworking. Set an alarm for an hour or a half hour and when it's over, go back to work, like you would in the office.
2. Exercise!
With almost all gyms and fitness studios being closed, it's truly up to us to exercise and get moving. Whether you are an introvert or an extrovert, getting outside and clearing your mind from work is important. When you telework, you're stuck in the same place you wake up in and go to sleep in. Getting away from the computer to walk outside or even to do a quick workout session in your home is crucial. It gets your blood pumping and releases endorphins, which is important for your mental health.
3. Talk to your co-workers
Piggy-backing on the idea of mental health, communicating with someone other than your roommate or spouse is important. When you're so used to talking to the same coworkers five days a week, completely cutting off communication with them isn't conducive to being productive. You don't have to drag on shallow conversations, but keeping up the same rhetoric you would normally have with them, will keep you in the mindset of work and being productive.
Working from home isn't easy. You have a lot of outside factors including children, pets, and spouses that strain your productivity at home. Sticking to a schedule, getting exercise and talking with your coworkers is an easy way to stay positive while teleworking.
Alura Romero is a GovLoop Featured Contributor. She is a recent University of Florida undergrad who's currently studying towards a Master's Degree in Communication at West Virginia University. She works in the Public Affairs Office at the Naval History and Heritage Command (NHHC) in Washington, D.C. where she leads outreach events for ship commissionings and Navy Weeks. In the past she's interned for PR companies in the private sector in both Florida and Virginia. Before starting her government career she was an Ombudsman for Naval Air Station Oceana where she represented the command and the spouses at the command. She lives with her husband, cat and two dogs in Alexandria, VA.