Last week in this blog space, I talked about Journalism.gov, the idea that govies can apply newsroom tricks of the trade to improve engagement and grow an audience. This week, I want to talk about the first corollary, something I call "aggregation for good."
The conventional wisdom in government communications these days is to segment your online audience and customize your content — which is great advice. In fact, on Jan. 26 I'm signed up for GovLoop online training "Delivering Personalized Content is Not as Hard as You Think."
But what I've been doing for the past two years in Kane County, IL, is pretty much the polar opposite.
I look for the best stuff from Kane County government, other units of local government and non-profits and put that stuff in one place for people to find. This is aggregation, pure and simple, and it's a practice I learned as one of the first Midwest local editors of Patch, Aol's multi-million-dollar experiment in hyper-local online journalism.
In my present position as outreach coordinator for Kane County, I've applied the Patch model with tremendous success. You can, too — and while I believe these tips are useful at any level, I think they're especially relevant for govies who work for counties or municipalities.
Here are five ways you can almost instantly increase your engagement, reader loyalty and customer service:
(1) Find the Best Stuff and Put It in a Blog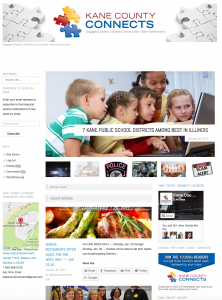 Pretty much every unit of government is divided into multiple departments that are generating all kinds of good online and print content. Quite often, each division or department has its preferred method of getting the word out — social media, news releases, pamphlets, monthly or quarterly newsletters or website content.
Too often, that content is poorly written, inconsistently presented and/or buried in a place no one can find.
When I got to Kane County, the first thing I did was to meet with every department head and inventory the content each was generating. It became clear quickly that Kane County was producing a ton of great stuff … that almost nobody was seeing.
To solve that problem, I created a hub-and-spoke model of electronic outreach. Simply put, I copy/pasted the best articles and news releases, punched up the writing, packaged it prettily and put it in a blog for all Kane County residents to enjoy.
I use WordPress to create the blog — the same content-management platform you're reading now. It's free or very inexpensive, pleasing enough to the eye and relatively easy to use. Visit kanecountyconnects.com to take a look at what we're doing and the kind of content we're "aggregating for good."
Results: It might not seem like a big deal to you folks in state and federal government, but the blog gets about 60,000 page views a month. Since inception a couple years ago, we've tallied more than 1.5 million page views on the blog alone.
(2) Post at Least Five Articles a Day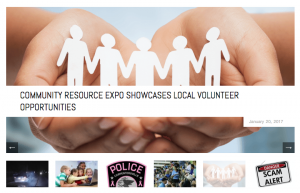 I know five articles a day sounds like a lot, and it is. But the Patch model metrics showed that more is better. For example, editors who posted eight stories a day had more page views and unique visitors than those who posted the minimum five.
The return on investment, I think, is very good up until about 10 stories a day.
Like Patch (which is still alive and well today after being sold by Aol), I try for "an eclectic mix" of subject matter. The content categories that do best are public safety, government (action or service), education, business (jobs, local economic development) and environment.
That content mix works especially well for county government, which includes the state's attorney's office, sheriff's office, judicial circuit court, health department, county clerk's office (think election info, birth certificates),  the regional office of education, development, recycling and water resources department.
(3) Up the Frequency of Your E-Newsletters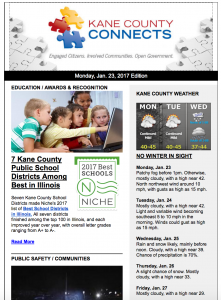 I put out a daily e-newsletter for Kane County that teases the five or so articles we publish on the blog, plus additional content on the "rail," which includes the Kane County weather forecast (courtesy of the National Weather Service Chicago), a calendar of upcoming Kane County meetings and links to other events in Kane County.
Kane County Connects posts a Weekend Edition, which is simply the top five most-read articles from the previous the week. I copy that e-newsletter and publish it as the "Weekly Edition," which has a completely separate distribution list by subscription.
I use Constant Contact to create the e-newsletters — Kane County already had a Constant Contact account, so there was no expense here, either. You could use MailChimp or other e-newsletter platforms just as easily.
Results: Kane County Connects has more than 10,000 e-newsletter subscribers — about 8,600 for the daily edition and about 1,600 for the weekly edition.
(4) Use Social Media to Promote the Blog and E-Newsletter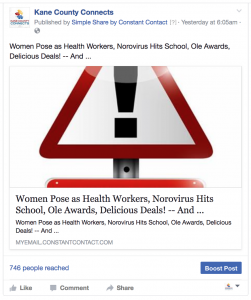 WordPress and Constant Contact make it easy. I've set up both to post to Facebook, Twitter and Google-Plus whenever I hit the "send" button for an article or e-newsletter.
That said, you should always use your social-media playgrounds for unique content. Again, it sounds like a lot of work, but it's really not. I focus mostly on Facebook, because that's KCC's biggest audience. Social media is a great place for people-oriented and popular-culture tidbits that might not merit a full article.
If one of your offices or departments is especially good at social media, don't be shy about asking the that office to publish a link to an article. The Kane County Sheriff's Office, for example, has a rockin' Facebook page. So when we published a Health Department news release about the Sheriff's Office donation for Narcan, I asked the PIO to link to the article.
The beauty of "aggregation for good" is that it's almost always a win-win-win. You're growing an audience, the expanded audience is helping other govies reach more people, and citizens (your customers and, ultimately, your bosses) are getting a valuable, new government service.
(5) Cross-Pollinate

Obviously, one purpose of the "outreach" is to drive traffic to Kane County's website. We do that in blog articles by linking body-copy text to county web pages, by providing "Read More" info boxes and by creating "end tags" that describe the department or division where we lifted the content.
Again, click on this recycling story or just about any article on kanecountyconnects.com to see what I'm talking about.
The website, in turn, has a pop-up box (created by our IT folks) that invites first-time visitors to sign up to the KCC e-newsletter. The Kane County homepage includes a permanent sign-up link. The blog has a right-hand rail that promotes sign-up to the e-newsletter and links to social media. Social media drives traffic to the blog.
In short, "Kane County Connects" isn't the blog or the e-newsletter by itself. It's an ecosystem — an outreach infrastructure that Kane County simply did not have two years ago.
Bonus Tip: 'Lather, Rinse, Repeat'

Use the metrics built into each those platforms to monitor what works and what doesn't. Then use those metrics to inform your decisions about content and time management.
Read The 'Journalism.Gov' Series
Today: Aggregation for Good' — 5 Secrets Govies Can Learn From Patch
Next Week: Your New Prime Directive: 'Think Like a Reader'
Rick Nagel is part of the GovLoop Featured Blogger program, where we feature blog posts by government voices from all across the country (and world!). To see more Featured Blogger posts, click here.