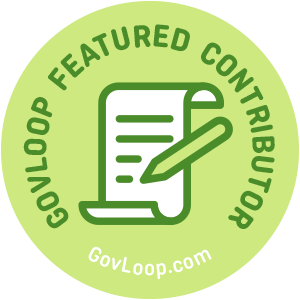 Change can be difficult, but also invigorating at the same time. A change in management can occur frequently, especially in a political environment like federal, state or local government.
While a change in leadership is inevitable, learning how to be an asset during a change in management is invaluable. In today's fast-paced business environment, the level of complexity and the increased rate of change can cause challenges for many leaders. Motivating staff to follow new leadership, abruptly change direction, building new products, programs, and strategies, transform business processes, and adopting new ways of collaboration can be a huge challenge.
The key to being a valued employee and staying employed is to be an indispensable change agent. As a change agent, you can help the organization adjust its strategy, consolidate resources, and shine by showing the value you bring to the organization. Adapt and shine through the growing pains of change in leadership by following these tips:
Deliver.
You can only be seen as indispensable if you're known as someone who consistently gets things done.
Don't be opposed to change.
Instill the fact that change management is not just about new leadership or new project implementations. It is about organizational effectiveness before, during, and after change implementation, and ensuring results.
Keep your eye on the prize and step up to the plate.
Focus on elements like morale, collaboration, and organizational climate – work towards making the office environment better, instead of just muddling through change. Help managers and leaders be successful at leading change.
Toot your own horn.
During a change management transition, your work may be invisible when done well because people feel like they've done it themselves. Make sure leaders recognize it was your analysis and facilitation that made the difference.
Don't stop learning.
Sign up for training to build your skills and expertise, and ensure you document your success stories and lessons learned.
Change is not the problem – resistance to change can be the problem. New management is brought in to implement change because something operationally was lacking. Help new leadership see you are not threatened by the change. Employees can find themselves on the chopping block when people do not understand the value they bring to the organization. Clearly demonstrate your value, so you can be seen as indispensable, if the time comes to decide which resources to cut.
Laura-Céline Mueller is a GovLoop Featured Contributor. She is an experienced public relations professional, specializing in content development and digital communications. As Public Affairs Specialist for the District of Columbia Government, Department of Consumer and Regulatory Affairs she is a strategic communications adviser assisting in the management of communication, branding, events, marketing, and public relations operations of the agency.