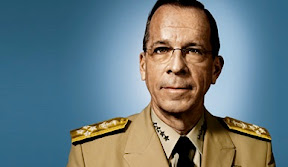 Originally posted to http://www.andrewdwelch.com at http://www.andrewdwelch.com/2010/05/americas-top-military-officer-uses.html.
I have grown to appreciate the value of interdisciplinary thinking. Put another way, I have found that my experiences in business, the Coast Guard, education, non-profits, information technology, even retail have together prepared me to better tackle a variety of challenges across industries, organizations, venues.
Of course, I do lament the "managerialist scourge" in any organization. Whether corporate or uniformed, I believe that PowerPoint is making most of us a little more dumb, or perhaps a little less thoughtful, than we were in the past (who needs a thoughtfully argued position penned in the great lost art of writing when we can have a busy "four blocker" that crams as much information possible onto a single screen?) Indeed, I recently wrote in a comment on my own post over at CGBlog.org…
I think that the Coast Guard (and other services in general) need to be wary of turning into pseudo-corporations. I am reminded of Ryan Erickson's humorous post about the "Power Point Ribbon" a while back. I am also reminded of a great article from the November issue of the Naval Institute's Proceedings magazine. The article was titled "Combating the Managerialist Scourge," and is sadly members only content. If you are a member, I suggest you go read. The author writes…
"A ridiculously corporate way of thinking pervades not only the mindset but also the language of the modern military. Take 'The Little Blue Book,' the Air Force statement of core values. In it are the following exhortations to martial glory: 'We must focus on providing services and generating products that fully respond to customer wants and anticipate customer needs.' Further, it explains: 'Excellence in all we do demands that we aggressively implement policies to ensure the best possible cradle-to-grave management of resources.' The language of the warrior has been replaced by verbiage gleaned from the corporate world: products, customers, solutions, leveraging, architecting, value-added."
For all these reasons, I very much appreciate several of the great 21st century, interdisciplinary, thoughtful leaders that punctuate this era, for they have mastered multiple arts and ably applied them to their craft. I think of Apple's Steve Jobs (businessman, artist, technologist), mastermind behind one of America's leading corporations, or the Coast Guard's Thad Allen (mariner, environmentalist, writer), who currently leads the federal response to the gulf oil spill. Today, thanks to a great article in Fast Company, I think of Admiral Mike Mullen, Chairman of the Joint Chiefs of Staff.
Mullen embodies, and stands behind, much of the thinking that I highlighted in my post earlier this year "Proceedings on education and training for leaders, managers, and all those invested in the success of their people." The Fast Company article, "How America's Top Military Officer Uses Business to Boost National Security," explains…
"In a series of conversations with FAST COMPANY in the weeks after the dinner, Mullen — who likes to say, "The sea is my business" — detailed for the first time the surprising and eclectic ways in which he is worrying about everybody else's businesses. The first chairman of the Joint Chiefs to have attended Harvard Business School, he has sought the advice of economists, entrepreneurs, not-for-profit executives, even a former Disney Imagineer. With an assist from his Twitter-loving wife, he has become the military's marketer-in-chief. He deploys social media and quiet candor to tackle controversial issues like "don't ask, don't tell" and to strengthen ties between the military that's fighting the wars and the civilians who are paying for them. "It's America's military," he explains, "and America's wars."
"In the private sector, such multidisciplinary outreach may be expected; in the tradition-bound military, it is unorthodox. These tactics have helped a laconic California kid who "just wanted to have a good time" become the top military adviser to the president of the United States and the most influential, provocative, and visible chairman of the Joint Chiefs since Colin Powell. And they have made Admiral Mullen not just a new model for military officers — and a new kind of business titan — but also a case study in 21st-century leadership."
I recommend a thorough read, as Admiral Mullen's approach to strategy, operations, and big picture interdisciplinary thinking will inform CEO's, Generals, and Senators — or anyone aspiring to such lofty, or even more modest heights.