Just as you've perfected your remote office setup, figured out your most productive virtual workflow, and established defenses to protect your workspace from pets and kids, your employer starts talking about bringing everyone back to the office.
Given the coronavirus risks, it may seem strange that some agencies want employees to return to the office. Face-to-face is entrenched in work culture, and many agencies still rely on in-person interactions to deliver services. Governments have a reputation for being notoriously dependent on paper processes and slow to adopt technologies that support remote work. There is also a general sense of impatience with this whole pandemic situation and a desire to return to "normal" — even though science says normal is most likely many months away.
If your employer has started to discuss returning to the office, what can you expect?
When will you have to return to the office?
It depends. Agencies have devised a hodgepodge of plans for returning to the office. Some agencies have said remote work is indefinite, with some adding they'll consider having people return to the office only when a vaccine is widely available or another scientific milestone is reached. Some have set a specific timeline, with return dates ranging from dubiously optimistic to pragmatically cautious. Some have announced an ambitious return date, only to push it back again and again when things didn't go as planned. Yet other agencies are deciding to bring some or all employees back to the office some or all of the time, and will make returns either voluntary or mandatory.
Employees at certain agencies may never return to the office. A "remote-first" trend is catching on in parts of the private sector, with companies like Upwork, Shopify and Twitter saying they are embracing permanent remote work options. Though the public sector hasn't as widely embraced this idea, some municipalities are leading the way, such as Meridian, Idaho and Travis County, Texas.
You're not alone if this lack of clarity and consistency has made you confused, frustrated or anxious. Until the COVID-19 infection rate is brought under control through comprehensive testing, tracing and treatment, a lasting and safe return to many offices is unlikely. Do what you can to mentally prepare yourself to bounce between working remotely and working from the office for months to come.
Can your employer make you return to the office?
If you believe returning to the office is not safe for you or someone you care for, you might have options. Start by asking your manager if you can continue to work remotely. Your employer might be open to making an exception to the requirement. You could qualify for leave or accommodations under the pandemic expansions to the Family Medical Leave Act, the Americans with Disabilities Act, or state or local programs. You'll probably have to explain why you need to work remotely and show that you've remained productive. You might cite child care or other caregiving responsibilities, a mental health condition that is worse because of the pandemic, or a medical condition that puts you or someone in your household at higher risk for the coronavirus.
If you believe your employer is violating pandemic health and safety requirements, learn your rights before speaking up. Depending on where you live and work, you might be protected against retaliation. For example, a new Philadelphia, Pennsylvania, law protects employees who report pandemic-related health violations or who refuse to return to unsafe offices. Your union or a labor lawyer can help you learn your rights. Once you know those rights, you can take steps to point out the likely health violations to your manager or human resources. It might be an oversight or mistake that's quickly corrected. If your concerns are ignored, you might have to report the problem to local health authorities.
If your employer gives you no choice but to return to the office, you'll have to decide what to do next. It might mean returning to the office, finding a new job or taking legal action. The options available to you will be specific to your situation — and the choice will be a personal one.
What will returning to the office look like?
When you go back, everything you know about working in the office could be different and you'll have a lot of adjustments to make. Or, everything about working in the office might be unchanged, a questionable choice in communities still facing risky pandemic conditions.
During a recent GovLoop virtual summit, we asked attendees about their biggest concern about returning to the office. Overwhelmingly, most people said they are concerned about physical safety in the office, such as enforcement of masks and social distancing.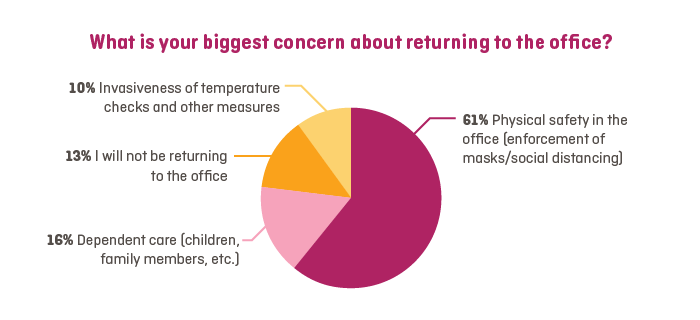 Physical safety is clearly weighing heavily on people's minds. To prepare yourself, request and read your employer's reopening plan. It should include details about what your employer will do to minimize health risks at the office throughout the workday and in every space in the office. Dig into the logistics and consider how they will affect you. Will it take you longer to get into the office because people will have their temperature checked to enter? Will your employer provide masks, hand sanitizer and cleaning products, or will you need to bring your own? Who is responsible for sanitizing shared spaces and equipment, and how often will that happen? What's the protocol for using elevators and other common areas?
Your home life is also deeply connected to returning to the office, and you could face extra stress because of it. If you're a caregiver for a child or another person, ask your employer about schedule flexibility or other caregiving support. If your employer gives you access to mental health services, now is a good time to tap into that benefit.
What else is on your mind about returning to the office? Let us know in a comment.
Lauren Girardin is a marketing and communications consultant, storyteller, and freelance writer based in San Francisco. She helps organizations engage their communities and tell their stories. Her website is laurengirardin.com and you can connect with her on Twitter at @girardinl.