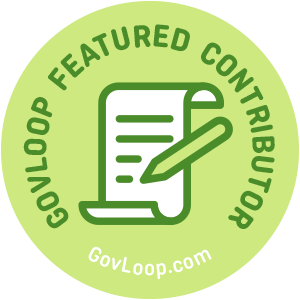 Within the Federal Chief Financial Officer community, we talk a lot about the future of financial management. The underlying idea behind this future is that the federal government is meeting the expectations of citizens in managing its finances. Citizens want to see their government acting as responsible stewards of their money, be assured that their financial data is accurate and transparent, and have interactions with the government that are modern, seamless and secure.
Technology plays a major role in meeting these expectations. We are in the midst of a digital transformation in which we are increasingly looking to technology to solve our problems. There's no shortage of examples for how we have come to rely on technology in our own personal lives (groceries can be delivered to our house by simply speaking to a digital voice assistant—how convenient!). While the pace of technological advancement is exciting, it poses challenges for government. We constantly have to evolve to meet citizens' expectations, making the "future of financial management" a moving target.
To ensure that we're staying current with the latest tech trends, the Bureau of the Fiscal Service within the U.S. Treasury Department has been identifying and testing some of the most exciting and innovative emerging technologies that could impact how we manage the nation's finances. There are three technologies that we're currently examining to determine potential benefits: Robotic Process Automation (RPA), Artificial Intelligence (AI) and Distributed Ledger Technology.
The 3 Technologies of the Golden Triangle
RPA is computer software that automates manual, rules-based repetitive tasks like copying and pasting data from one system to another. We recently completed an RPA pilot where we automated seven manual processes in the areas of data entry, email intake and processing, data reconciliation and form validation. Through our pilot, we learned that RPA software can increase processing times, increase data throughput, improve accuracy and save time. The pilot was successful, and we're in the process of moving it into production to take advantage of these results on a broader scale.
Artificial intelligence is a loosely-defined term that has come to encapsulate many things. Simply put, it is computer software with a built-in mechanism that enables it to learn from data and use what it has learned to make future decisions. Machine learning, deep learning and natural language processing all fall under the umbrella of artificial intelligence. At the Fiscal Service, we recently launched a pilot to evaluate the use of chat bots (another form of AI) to provide a more efficient and responsive way for citizens to interact with us through our contact centers.
Distributed ledger technology, commonly known as blockchain technology, offers a new paradigm for making business transactions. To learn more about the technology, we launched two proofs of concept to test the use of blockchain technology to manage and track physical assets (cellphones) and digital assets (software licenses). Though our initial findings were positive, blockchain is one of the least mature technologies that we're investigating. But by applying blockchain technology to simple, low-risk use cases like physical asset management, we're gaining a better understanding of what the technology is and how it works so that we can begin to develop a point of view on how it might impact government finance.
How to Strike a Balance
It's safe to say that these technologies are poised to play a big part in the future of federal financial management. We're learning that their ability to automate manual tasks and offer new paradigms and business models will likely transform the way we manage our finances and create a better experience for our customers.
But, as things change, keeping the elements of the "Golden Triangle" in balance is going to be necessary if we want to realize our financial management vision. As we embrace new technologies to solve our problems, we need to make sure that the people and the processes necessary to implement and govern these new technologies are keeping pace.
For example, while the technology behind the RPA project mentioned earlier demonstrated impressive results and led us to move our pilot into production, we also learned that we will need to make some people and process adjustments to take full advantage of the RPA software.
People and Process
From a "people" perspective, it's imperative that we train employees to spot processes that are ripe for automation, teach them how to program and fix the software when it breaks, and train them on how to manage a digital workforce as well as how to interact with their new digital 'co-workers.'
From a "processes" perspective, we will need to understand the potential impact on our policies and procedures and update our processes to reflect the use of new software. We'll also need new documentation to support internal and external audits, and we will have to stay aware of how RPA software may impact the larger regulatory framework.
Our deep dive into testing new and emerging technologies will help us identify the innovative technology solutions that will carry out our future vision of federal financial management. But it will be achieving the right balance between "people, processes and technology" that will ultimately lead to long-lasting, transformational change. We're discovering through our pilots and testing that there are many technologies that show a great deal of potential for improving federal financial management, but, without a knowledgeable workforce and an up-to-date policy and procedures framework, these new technologies simply won't live up to their full potential.
Craig Fischer is part of the GovLoop Featured Contributor program, where we feature articles by government voices from all across the country (and world!). To see more Featured Contributor posts, click here.