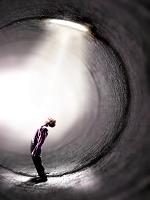 Recently on Twitter, a IT senior leader mentioned how daunting making change is today in any global enterprise. He invited me to share my views on leading cultural change and paradigm shifts based on the changes in progress in Enterprise Computing. It was impossible to respond in 140 characters :-), but I wrote a few notes and a PDF link. In the process, I realized what I have observed and experienced is universal to most of us today.
Below I offer a few observations that I strongly believe have proven to be critical to cultural/paradigm shift transformations and look forward to learning what you've learned.
Over the years, working across many corporate functions, including IT, dealing with cultural change and paradigm shifts, one conclusion I formed has remained true:
Regardless of the particulars or function, dealing with cultural change in the context of a paradigm shift is pretty much the same.
Most of us, think our circumstances are so very unique. This is true, but the process of change on both fronts is universal. This doesn't diminish the significance of the change itself and all its inherent issues that need to be resolved. Change is difficult. However, in my experience, engaged leaders and often very simple strategies work far more effectively than big grandiose campaigns and/or trendy methodologies that often make change seem complex and contrived.
The great news is this universal reality provides a wealth of time-tested KNOWLEDGE to drawn from that can be hand-picked, customized and adapted for specific circumstances and issues. It is often a deliberate step by step strategy that works best — part visible; part invisible behind the scenes. I assume many of you, if you reflect on what has worked for you, works, would agree.
So when I think and observe the ENTERPRISE COMPUTING transformation in progress, I see IT going through what most other functions are doing. Reinventing themselves for a whole new global marketplace/workplace reality. It is exciting for those who can see it and experience it and dream about it. It is suspect to those who "don't yet get it." I think the result will change the culture in some dramatic ways, including…
**** the way we think about competitors; expanding our ideas of partnership
**** mutualistic collaborations some can't imagine with old thinking,
**** a demand that everyone master the art of putting differences together, so we can tap into new combinations people and technology that create innovation far greater than any one could do on their own, and
**** the development of an open, adaptable working environment that is focused on discover of the next new idea.
ACTIONABLE IDEAS:
to Lead Cultural Change and Paradigm Shifts in Organizations
■ The FIRST CRITICAL steps are to effectively…
1) establish THE NEED FOR CHANGE in every mind,
2)engage sponsors'/people's COMMITMENT to be part of it in a big way;
3) create experiences that immerse people in the "the end in mind" — enough that they can see where they are now — and havea fingerprint on developing the path and outcome of where you are leading them.
■ Most people go yah, yah, yah about #1 above, but few execute it with superior results achieved. We (and consultants ☺) tend to put everything through "the complexor" — big new words, complicated flow charts, graphs with statistics, surveys and analysis, often over-engineering ever move, processes that make most people doubt the change and themselves — all the same ol' things we've all seen before. Then we wonder why senior leaders don't get it; people aren't engaged, and change doesn't take root as we hoped. ACCEPTANCE of a cultural change/paradigm shift or any change is undoubtedly the most overlooked, under-valued, and/or ignored success factor in most strategies related to cultural/paradigm changes.
■ SPECIFIC to ENTERPRISE IT…and the rest of us
My observation (offered humbly) is like other organizations, IT tends to talk about its changes in language it understands. When others don't speak their language and consequently, don't get it, those people blame the messenger, the idea, timing et al… in other words, those who don't "get it," throw up all kinds of "gorilla dust" or create obstacles that most often create a detour or derail progress. Unfortunately, again like others in this situation, the problem is rarely diagnosed as a "failure to execute" #1 and #2 above, but it is. If people don't get it, it is because it was not effectively introduced — meaning "you didn't get the order". It only takes a few cynics, victims, or bystanders — or threatened peers/senior leaders to cause this. Sometimes it comes from overly consultant-rich involvement that has a bunch of fanfare, but doesn't really create the ongoing results and organizational engagement and personal ownership needed to fuel next steps and new levels of acceptance and investment at the organizational level to support success.
What do you see from your vantage point?
What have you learned, observed, and experienced that you can pass along?
RELATED BLOG POST…
"RETHINKING: Cloud & Enterprise Computing"
Fractals of INNOVATION by Surendra Reddy
Best…
Debbe
Debbe Kennedy
founder, Global Dialogue Center and Leadership Solutions Companies
author, Putting Our Differences to Work
Twitter @debbekennedy @onlinedialogues