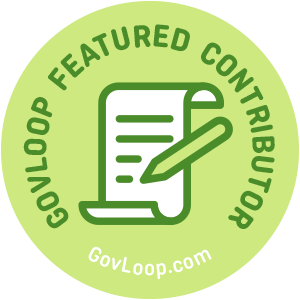 In the last 10 years, revolutionary products and services such as smartphones and social networking sites have re-engineered consumer expectations. These kinds of game-changing events are commonly referred to as disruptive innovations. They are not extensions of old ideas; but rather operate under different rules and assumptions. They change the marketplace dramatically by increasing the speed and convenience of meeting a customer's needs; better yet, filling a need that the customers didn't know they that had. Disruptive innovation allows emerging companies to create new markets where they find themselves as the leader.
Public leaders have found their organizations to be in direct competition with the private sector, as consumer service expectations continue to increase. For example, charter schools deliver high-quality results for targeted populations that may not be best served by one-size-fits-all public schools. Due to the prevalence of e-commerce in the private sector, more governmental entities have moved to online services for paying taxes or citations.
Disruptive innovation is really the only option when doing what you're doing now simply won't get your organization where it needs to be. Public managers may need to consider disruptive innovation if:
Their organization's mission has dramatically expanded or shifted.
Competition exists in the private sector for providing the same services to the public.
Factors outside their organization's control for radically changed the operating environment.
It is vital to remember that disruptive innovation happens in a low knowledge environment. In some cases, it may be that nobody has much knowledge about what to expect. You can't know ahead of time just how a disruptive innovation will work, what capabilities it will add, what it will cost to develop, and what resources will be required. Public leaders need to approach three vast areas differently from those involved in more traditional efforts. These include emergent strategy approach, structure adjustment, and level of support.
1. Emergent Strategy Approach
The emergent strategy approach often referred to as discovery-driven planning. This views disruptive innovation as a series of experiments, where ideas are developed, tested, and reviewed in perpetuity. Long term objectives and project assumptions "written in stone" will become problematic. By the time you complete your development, the product or service may be outdated, having been shaped for conditions that no longer exist. Instead of focusing on the end product from the outset, pick a small piece of the puzzle. Do some development, and replace your assumptions about that particular item with actual knowledge. Follow this process until you know enough to kill the project completely or pursue the ultimate outcome.
2. Structure Adjustments 
Structure adjustments to your organization will be needed to succeed with disruptive innovation. Many governmental agencies have cumbersome requirements and processes to filter information for decision-makers to give final approvals for pursing innovation. These routinely screen out un-conventional ideas. The best source of disruptive ideas is the organization's customers. Empowering front line employees to find out their customers' frustrations and expectations is critical in exposing unmet needs. This can move your organization ahead of the usual requirements process by identifying customer needs at the source before they are filtered by layers of supervision.
3. Level of Support
In most public organizations, only senior leaders have the authority to establish and protect innovations that fall outside of normal rules. This top-level support is even more critical in the public sector. For example, someone who doesn't get support for a disruptive idea in the private sector can still bring it to the marketplace by starting a new company. Obviously, that option isn't available in the public sector. Disruptive ideas that will serve your public entity's customers more effectively must be endorsed by top-level leaders. Similarly, public leaders pursuing these innovation efforts need ready access to these leaders so that concerns can be quickly addressed. Top leaders must also learn to value disruptive innovators, especially those that fail, but continue to try again and again before delivering game-changing results.
Charles Lewing is a GovLoop Featured Contributor. A Louisiana native, he graduated from McNeese State University in 1999 with a Bachelor of Science Degree in Finance. He later earned his MBA in 2001. He relocated to Houston, Texas and worked in various finance and accounting roles for number of healthcare organizations. In 2016, he relocated to West Texas to pursue a career in public financial leadership. He currently serves as the Reeves County Auditor. Charles is very passionate about inclusive management, LEAN six sigma, and improving operational efficiency through leveraging technology. In his spare time, he enjoys spending time in the outdoors and reading spy novels. You can read his posts here.