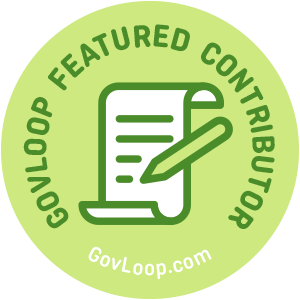 Growing up, I always heard that federal employees have it made. "If you can get a job in the federal government, you will have that job for life," my grandmother used to always say.
As a child who always loved law and government, I never understood why. In my opinion, they seemed to be the workforce that had the most problems. Trying to serve their bosses and the American people at the same time – who would want that kind of stress? I mean, who can serve two masters? I know I can't!
When I graduated from West Chester University of Pennsylvania with a BA in Political Science, the conversation of government and federal employees came back up. But this time, I received two reasons that seemed interesting to say the least:
It was hard to fire an employee
Government employees received better benefits and employee perks (vacation time, discounts and pensions)
So all this time, I heard "get a job with the government" because you would not get fired, but receive better benefits. For something like this, I figured that they were only overcompensating for the stress and frustration that came along with the job. No thank you!
Instead, I worked for Independence Blue Cross until 2007, and then I found my niche in being a paralegal. I went back to school to secure my degree in Paralegal Studies and was hired by Bell & Bell Attorney at Law. And lo and behold, I worked in employment law and was finally able to comprehend the whole idea of employment.
Day-to-day, I handled wrongful termination, hostile work environment, discrimination and sexual harassment. Among them all, wrongful termination seemed to be the highest and it was more from the government (city and state), than private or public jobs. Red flag! "But I thought government employees could not get fired?" was my reaction.
Then, as I was reading contracts and union agreements, this term, employment-at-will, kept coming up. Employment-at-will means that an employer can terminate an employee at any time for any reason, except an illegal one, or for no reason without incurring legal liability. Likewise, an employee is free to leave a job at any time for any or no reason with no adverse legal consequences.
Then I read that, "In Pennsylvania, all employees are considered to be 'at-will' employees unless they have a contract specifying a certain length of time for employment. This means that an employer in Pennsylvania can dismiss an "at-will" employee for any reason, at any time, without prior notice, as long as they do not violate public policy or state and federal statutes.
After understanding this doctrine, I reviewed each case now looking at the contracts, exclusions and statutes. I mean, since an employer had the right to fire, my job was to now ensure that there were no illegal actions. But then I asked my attorney why it was hard to fire federal employees, and he said with a laugh, the layers of bureaucracy, complicated employment laws, well-funded and politically powerful government unions, nobody wants the public scrutiny.
But in 2009, I took a job with the federal government. Yup, went against my own words. I guess that's why you never say never, huh? Now I have to serve two masters, but in this new role, I decided to serve the veteran even if I received an "error" from my boss for doing so. As I gain years and experience, I realized that being a federal employee wasn't like what I heard. I mean, managers were demoted, and employees were fired if they did something wrong or did not perform. But hey, that's just the normal standard when it comes to employee vs management. So no big deal! The perks are what you make of them and job security is leaving by the day.
Coming from the private sector to paralegal to government, especially now in 2018, in my opinion, there is no big difference between any of them. You still have to clock in, do work, perform according to your employer and clock out, all while following all ethical guidelines. Getting fired, laid off, or jobs closing is a thing of today, no matter the industry.
So here are four ways to be prepared and ahead of the game in this new employment-at-will world.
Always keep your resume updated and on employment sites. LinkedIn is the most popular.
Have a side job or other sources of income that generate money to save or keep you afloat. Remember, one source of income is not enough in our new world.
Save at least 10 percent of your earnings and/or have six months to a year of your monthly expenses in your "emergency fund."
Be productive at work and follow all ethical and company guidelines.
Bonus: Learn your company's employment doctrine and laws. This is the only way that you will know your rights as an employee and your employer's rights over you.
My wish for all of us for 2019, is that "We get prepared now so that we don't have to prepare later." Proactive thinking leads to forever employment and happy retirements.
Charron Hopson-Swift is part of the GovLoop Featured Contributor program, where we feature articles by government voices from all across the country (and world!). To see more Featured Contributor posts, click here.