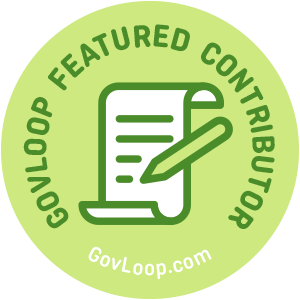 As we approach performance review season, many individuals across the federal sector are anticipating how they will be rated for their work during the last calendar year. This can be a time of both great excitement and anxiety. Some expect to receive many compliments for the work they have done, while others are uneasy about what their leaders may say. Receiving feedback, no matter one's position in the organization, can be challenging.
Here are some things to consider when preparing to receive feedback.
Recognize feedback is necessary. Before receiving feedback, one must understand feedback is a necessary part of life. Everything one does can be improved. This is why organizations conduct surveys, focus groups, and listening sessions. Good products can always improved. The same is true for one's work performance. Even the best employee can become a better employee. Receiving feedback is one mechanism to facilitate professional development.
Focus on what feedback is. The Merriam-Webster Dictionary defines feedback as the transmission of evaluative or corrective information about an action, event, or process to the original or controlling source. The purpose of feedback is to evaluate, it is not to attack or diminish the value of a person. Feedback is intended to look at the positives and negatives of an action, event, or process. Then, in an ideal scenario, this in-depth review results in modifications that yield a better end product for the person, team, or organization.
Avoid personalizing feedback. It is easy is to take feedback personally, but it is important to separate person from process when receiving feedback. A critique of one's work does not correlate to one's character. To help with maintaining this perspective, try to remain centered while receiving feedback. Breathe deeply. Ask follow-up questions. Focus on listening.
Conduct an honest personal assessment of your work. Before debriefing with one's leadership on an activity or annual performance review, set aside time to engage in an honest reflection of your work. Very few people enjoy taking a hard look at self, yet a self-assessment can open one's eyes to areas of success and areas of challenge. Going into a performance review with self-understanding can open the door for a meaningful dialogue that yields a positive outcome.
Set aside time to process the feedback. After receiving feedback, set aside time to be still with the information. Rather than react, whether the feedback is positive or negative, be intentional in reflecting on what has been shared. This is the time to celebrate one's successes and develop an action plan for addressing one's challenges.
Dawn M. Wayman is a GovLoop Featured Contributor. She is a diversity and inclusion practitioner at the National Institutes of Health NIH), is a graduate of Morgan State University and the Johns Hopkins University Bloomberg School of Public Health where she earned her Bachelor of Science degree in Biology and her Master of Health Science degree in Epidemiology, respectively. In 2017, Ms. Wayman joined the NIH Office of Equity, Diversity and Inclusion (EDI) as a Diversity and Inclusion Strategist. In this role, Ms. Wayman serves as a consultant to multiple Institutes and Centers providing assistance to them in developing and executing their representational diversity and inclusion strategies. You can read her posts here.