Although I've been told that I look and act like Leslie Knope from the TV show "Parks & Rec," secretly I've always wanted to be Olivia Pope from the TV show "Scandal." Olivia heads a crisis management firm in Washington, D.C. that takes on big-name clients with major PR problems. Her staff is made up of lawyers, but they rarely go to court. Pope refers to them as gladiators, and their toughest cases appear in the court of public opinion, particularly during a PR crisis.
They refer to themselves as "gladiators in suits." Here are three  lessons government employees can learn from the show that can help them become "government gladiators" when a PR crisis occurs.
Master Media Training
Olivia spends a lot of time training her clients to speak to the media. She often advises them on how to respond to media questions. She has advised them to not say the phrase "no comment" when answering questions. Preventing yourself from answering a question will make it seem like you have something to hide. It's better to answer a question positively or empathetically. Never place t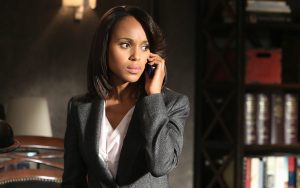 he blame on someone else and don't apologize when it's not your fault. According to Kathleen Fearn-Banks, there are three responses to a media request:
We know, and here's all the information.
We don't know everything at this time. Here's what we know. We'll find out more and let you know.
We have no idea, but we'll find out and tell you.
 Remain Calm
Whenever there is a crisis, Olivia keeps her cool and remains calm. Being a crisis manager can be stressful and takes someone who knows how to remain calm in difficult situations. A media spokesperson should have key messages and talking points. The key points should be should be only one or two sentences. The content should be relevant to the crisis at hand. The spokesperson should also rehearse their statements to ensure that they are comfortable and confident when sharing the information. Practicing their statements will also ensure that the media spokesperson only has to glance at their notes instead of reading from the statement.
Be in the Know
Members of Olivia Pope & Associates watch a lot of TV, always keeping up with current events. Crises can come quickly so it's best to keep up with what's going on. You may be able to prevent a crisis this way. Always be two steps ahead.  Constantly research your constituency and the industry in which you practice and keep up with trends so that you're able to capitalize on them. There are many proactive approaches that can help prevent a crisis and enhance public support when a crisis does occur.
Build positive relationships with the news media so that they know you are reliable, professional and accurate. This can include providing new releases, pitch letters, media advisories, media tours and news conferences.
Build positive relationships with community leaders, organizations, families and individuals. Some tactics to achieve this would be to have advisory boards, open houses, public service announcements and being part of community activities.
Build and maintain internal relations with coworkers and or your employees. Team work is vital to Olivia Pope and Associates. Create a bond among staff members so that everyone feels part of the team.  You can create department or agency newsletters to keep everyone in the know as well as having an intranet for employees to access information. It is vital that employees feel included, involved and engaged.
Build and maintain relationships with your constituents. Let your constituents know that you value their opinion and are open to hearing their concerns as well as any suggestions for improvement. You can provide educational material about services you provide, educational events to inform the public about any changes to forms, policies or procedures, in addition to hosting an open house or town hall event.
There are other PR practices we can learn from Olivia Pope. Remember to wear your white hats, do your research, collaborate, look your best and master the art of media training.
Emily Arnold is part of the GovLoop Featured Blogger program, where we feature blog posts by government voices from all across the country (and world!). To see more Featured Blogger posts, click here.