Want to know the weather? There's an app for that. Want to know how long the TSA security line is at the airport? There's an app for that, too!
Blog Co-Author:  Susan Wedge, IBM vice president for mobile

In 2012, President Obama's digital government plan ordered federal agencies to create at least two mobile apps.  A lot has happened since then, and at all levels of government.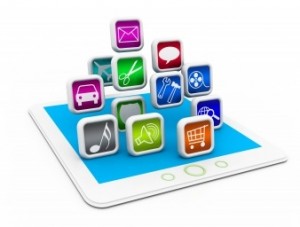 Background.  More than 90 percent of American adults owns a cell phone, and most of those are smart phones.  Mobile apps –programs designed to work on mobile devices such as smart phones and tablets – were first introduced commercially in 2008 and were an immediate commercial success.  In fact, the average smartphone user has about 40 apps on their device, and uses them to find restaurants, shop, and check the weather.
Apps are increasingly becoming an avenue for how citizens interact with their government, as well.  Government-created or –supported mobile apps offer "on-the-go" services such as finding and paying for parking spaces, reporting potholes and damaged streetlights, checking restaurant health safety violations, and reading e-books from of the local library.
In a new report for the IBM Center, Dr. Sukumar Ganapati documents the state of mobile apps at the federal, state, and local levels.  He describes two types of apps that have evolved:
enterprise-focused apps, that are used by public employees to do their jobs more efficiently and effectively, and
citizen-focused apps, that offer real-time public services and engagement.
He also offers insights on lessons that could be applied by governments at all levels when they consider whether and how to approach the design and implementation of apps in their own agencies.
Enterprise-Focused Apps.  Ganapati observes that customized, agency-developed apps for internal use by employees to do their work is still at a very early stage of development in most agencies at the federal, state, and local levels.  He notes: "Enterprise-focused apps should be role-based to facilitate user needs, and task-oriented toward solving a specific issue, or a set of issues."  For example, enterprise-focused apps can:
Citizen-Focused Apps. Ganapati found that most federal, state, and local government apps focus on citizen services, and increasingly, to engage citizens in decision-making processes.
Federal citizen-oriented apps. As a result of the 2012 Digital Strategy, most federal agencies have at least one type of citizen-oriented app. There are five categories of federal citizen-oriented apps:
Information and news service apps provide information about the agency's services, latest news, or use agency data (e.g., the Department of Commerce's BusinessUSA mobile app).
Client services apps for "on the go" services (e.g., the Internal Revenue Service's IRS2go app).
Crowdsourcing apps are used to obtain volunteered information from users, which the agencies could not have obtained by themselves. (e.g.,  myTSA, which crowd­sources the wait time in security lines from passengers).
Health and safety information apps are now being used by the Federal Emergency Man­agement Agency (FEMA) and the Food and Drug Administration (FDA) that provide information on disaster assis­tance and drug shortages.
Educational apps are fun and explore aspects of a theme, aiming toward gamification (e.g., the Smithsonian Institu­tion's range of apps)
State-local citizen-oriented apps. Citizen-oriented apps provided by state and local governments can be classified into four categories:
Information on parks, recreation, and leisure activities is oriented to tourists (e.g., park guides developed by ParksByNature Network in many states).
Traffic and transit information apps are provided in real time and place. The 511 apps by state departments of transportation (DOTs) give traffic conditions on the highways, so drivers can adjust their driving routes accordingly.
Public engagement apps include 311 apps, which are apps for citizens to obtain non-emergency services (e.g., fixing a pothole or a streetlight).
Third party civic apps for government are developed by citizen groups, nonprofit agencies, and private sector entities using local government data. Public agencies have held app competitions and hackathons to develop such apps.
Considerations When Designing Government Apps.  The White House has encouraged federal agencies to adopt a "mobile first" strategy when designing or re-designing their websites.  But there is more to it than that. Ganapati says there are three options agencies need to consider when developing their apps:
Native apps, which are downloaded onto the mobile device and take maximum advantage of the device's hardware features (e.g., camera, etc.)
Web apps, which are websites that use responsive web design features (i.e., HTML5) so the same web app can be accessed from different kinds of devices (e.g., it works on iPhones, Android phones, as well as various tablets).
Hybrid apps, combine the features of native and web apps.  Like native apps, they are accessed through an app gateway and installed on a mobile device, but like web apps they can work across different platforms.
Each of these options has its plusses and minuses.  For example, native apps are technically complex and need to be customized for every different type of mobile operating system.  However, the benefit is that because the app resides on the device, it could function when there is no internet connectively.  On the other hand, web apps can be accessed and automatically optimized for different devices, thereby avoiding the cost of customizing the app.  However, they require access to the internet to work.  Ganapati offers a checklist of criteria to assess which option is best, depending on an app's intended use and users.
Ganapati cautions that not everything on government websites should be converted to an app.  Rather, he encourages government agencies to "strategically assess their existing online services and engage the public in identifying those which would be most valued on various mobile devices." After all, having an app to apply for Social Security – a once-in-a-lifetime event – is different than checking traffic reports – which could be several times a day.
Ganapati concludes with three recommendations for enhancing the value of mobile apps in government:
• Optimize Online Services for Mobile Devices. Government agencies should strategically assess their online services for mobile optimization to provide public services.
• Provide Open Data Based on Common Standards. Public agencies are treasure troves of public domain data that they collect in order to fulfill their mission. Proactive open data policies, which make data available in machine readable formats based on common standards, can assist in creating a range of useful mobile apps.
• Assess Feasibility of Standard Data Structures Across and Within Agencies. The standardization of the structure of data enables different public agencies to provide consistent data; apps can then use the data from different agencies, with little or no customization across jurisdictions.
Graphic credit:  courtesy of Hywards via FreeDigitalPhotos.net