When I interviewed three years ago for the position of Social Media Specialist at King County, Wash., I told the hiring panel there were two types of people they could choose for a job like this. The first was your go-everywhere-do-everything candidate. This person would attend every event, Instagram every moment, and jump at the newest technology.
Those candidates are attractive, but when they ultimately leave their position—POOF!—there goes your social media strategy. Because the organization never really had a social media strategy; they just had a social media person who was very, very good.
I pitched myself as the second type of candidate—a teacher who could empower the staff to make social media part of their everyday communications strategy. I wanted to build a program that was sustainable and smart. I wanted it to outlast me.
Three years later, I am extremely proud of our team. We've jumped from 25 social media pages reaching 40,000 fans and followers to an award-winning program with national scope. Our 180+ pages today count more than 250,000 total fans and followers. But we didn't just grow for growth's sake. We knew what we were doing and where we wanted to be.
Here's how we got started:
Step 1: Know what you want to measure
One of my interview questions asked how I would spend my first 60 days on the job. I said I would meet everyone, do whatever I could to fully grasp the status quo, ask "Why?" about three thousand times, and benchmark everything.
Benchmarking sounds so obvious, but it's a key component of strategic communications and is often overlooked in social media. In order to measure how far you've come, you have to know where you started. I know, for example, that a particular Facebook page's reach increased from 264-people-per-post in 2014 to 986-per-post in 2015, but that engagement was down 11% over the same stretch. This data allows us to ask critical questions about our work and drives us to make smart, informed adjustments along the way.
Knowing what you want to measure and how to connect those metrics to bigger goals brings credibility to the work. If social media is helping drive strategic initiatives, then it's not just happening in a silo and becomes more valuable to the decision makers.
Step 2: Teach your staff, don't just train them
Many organizations apply a top-down approach to social media. It's about message control, and it can be time-consuming and inefficient. I'm not a subject matter expert in wastewater treatment or multi-modal transit planning. What I am is a teacher. Our staff members (if they want to, of course) should be telling stories about the work we do. All they need is permission to do so and the right environment to make a difference.
I draw a clear line between training and teaching. Training is something you do a few times to get basic instructions. Think Lynda.com videos or all-day workshops. Teaching is a hands-on effort that requires time and attention. It's about building relationships, and it's an ongoing process. I respect our staff members, and I trust them to do great things.
Rarely will I bring big groups together to talk about social media. That's training. Instead, I meet with individuals and small teams to learn first-hand what their goals and opportunities are. Together, we develop a plan that will add real value to the team and its target audience. I help them promote it. I support the gathering of insights and analytics. I become part of their work group, as needed. That's teaching.
Step 3: Tireless self-promotion
Social media is probably in its pre-teen years as far as business maturity goes, but it's still not ubiquitous in government. My responsibility is to build understanding over time. I'm a change agent, and that means I am constantly selling our work and the program's ideals.
One of the first things I teach staff about social media is to take a bunch of screenshots. You never know when you'll need them, but rest assured you will use them often to show the value of online communications. A big part of our program is managing near real-time customer service. I could explain this to you, or I could show you this screenshot: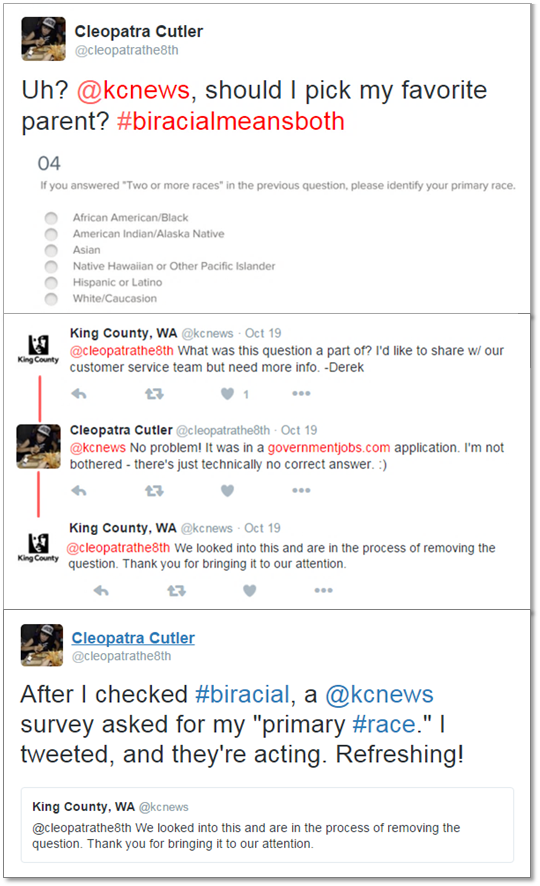 When I use this image in presentations, or share it with county leadership, I don't just say "Isn't this great? We really helped this person." Rather, I say with confidence "This is why we have Twitter. This is how social media helps us build a best-run government." Showing people how social media plugs into big-picture goals is a lot more effective than trying to explain it. To create change, especially in traditionally slow-moving organizations like this, anecdotes matter. Get used to promoting your social media successes. No one is going to do it for you.
Putting it all together
Know what you want to measure. Teach your staff and empower them to take ownership. Promote the work to generate buy-in.
When I first arrived on the job here, I was spending 80% of my time posting content. We didn't have many people involved and a lot was bottlenecked through me. That's not a sustainable approach, and it didn't represent a healthy social media strategy.
These days, I spend very little time posting content. But our county is posting better content than ever before. That's because our de-centralized, bottom-up approach is allowing King County's subject matter experts to self-publish stories they believe in and can speak to beautifully. Our metrics tell a story and align with business goals. And I'm constantly promoting the work we do—this very blog post is a good example of that.
There is always more work to be done, but the foundation here is set. Social media is becoming business as usual for us.
Derek Belt is part of the GovLoop Featured Blogger program, where we feature blog posts by government voices from all across the country (and world!). To see more Featured Blogger posts, click here.