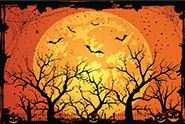 Halloween is right around the corner and this is the time of year many of you will be working hard to complete your IDP for FY15. But this is also an opportunity to take stock of where you are in your career and whether or not you're gaining the experience, expertise and insight you need. Halloween is about transformation (temporarily we know) but just like you would pick a costume that fits you well, your career should match your skills, interests and goals.
Here are some tips to help you through the IDP process:
Think about where you want to be in a few years and come up with training and professional development ideas that will help you get to that point.
Identify those skills that you still need to work on and come up with training opportunities to help you strengthen those areas.
Not sure what you need to get your dream job? Talk to people that are doing what you want to be doing or that are in a leadership role (if that's where you want to be) and ask them what are the top 3 skills you need to be working on and what kind of experience you need to gain.
Once you've determined the skills and experience you want to gain check out the variety of Open Opportunities professional development projects and tasks that will allow you to gain those skills. It might also make you feel good about the path you've set yourself on.
Here are a few "spooky" opportunities feds are currently participating in:
So this Halloween,  don't be afraid to knock on the Open Opportunities door and while you're at it don't forget to send us a picture with your costume!
* Participants must be federal employees, clear their participation with their boss, and leave any questions or comments at the bottom of each opportunity.