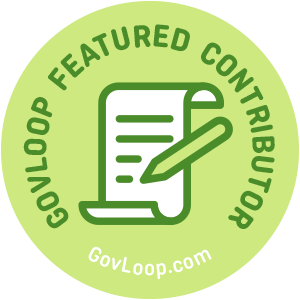 During a recent talk at our digital studio in Washington, D.C., I heard Daniela Rus, Director of the Computer Science and AI Laboratory at MIT, point out that humans have hearts and wisdom, and machines have chips and speed. I was struck by how well put this simple combination of the best of the human plus machine could direct us to valuable applications of AI. For example, a Harvard-based team found that an AI method could identify cancer cells with 92% accuracy, while pathologists achieved 96% accuracy. The really astounding outcome was when the human pathologists and AI worked together, and accurately identified 99.5% of cancerous biopsies.
In federal, these human + machine cases are scaling, and I find it useful to look at it from three perspectives: what the government has done in terms of helping the human pivot to the machine, think about the use cases in federal, and consider how we uncover more of those use cases that can help agencies make progress toward their mission.
The Federal Workforce is Adapting
As we start to see the nature of work changing because of AI, I've noticed a progression of panel topics from a year ago where the federal government has asked what this means for their own employees, to sharing what they've done.
Last year, government was asking whether this technology disruption will mean job loss. Mary Meeker, in the 2018 edition of her highly-influential Internet Trends report, used examples from past disruptions to demonstrate that the number of aircraft jobs (pilots, mechanics, engineers) increased in direct relation to the decline in locomotive jobs (engineers, operators, conductors). She concluded, in response to the question as to whether technology could impact jobs differently this time with "Perhaps…but it would be inconsistent with history as new jobs/services and efficiencies and growth are typically created around new tech."
The combination of human + machine speaks to the fact that rather than jobs, it is tasks and processes that in many cases will be changed, freeing up time to do other tasks. And it's this opportunity of "extra time" that's being explored. For example, GSA has created opportunities for employees to gain new skills and be part of an automation team. It'll be exciting to see how more and different job categories and career paths are created.
Government Use Cases
To identify how human + machine can be paired effectively, the federal government has also recognized the value of looking at commercial successes, sharing use cases and success stories, in addition to investing in pilots and then scaling.
These pairings include examples such as:
Case processing: The machine picks out pertinent information from a large amount of data and complex regulations (speed) while the human makes the adjudication decision (wisdom). For example, the machine can review hundreds of pages of supporting documents to select the key paragraphs and pages that are related to a particular case, and the human can use their judgement reviewing pertinent information, rather than using their time searching.
Fraud detection: The machine finds anomalies through reviewing large amounts of data (speed) while the human decides what action to take, including what additional research may be necessary (wisdom).
Uncovering New Cases of Human + Machine
Given the human + machine equation, one productive way to uncover new insights is by engaging in human centered design thinking plus technology applications. This has been brought together, for example, at an AI Innovation Hub where business can focus on mission objectives, describe goals and challenges, and together with technologists, see how best to combine the machine's speed with the human's wisdom.
Another way is to find existing cases that may be new to one's own agencies. First, see what use cases other agencies have tackled. For example, in a report recently published by the Professional Services Council Foundation on Federal AI Adoption, existing use cases are described, and other agencies can consider whether they have similar issues. In that report, the authors describe how the US Patent and Trademark Office is looking at AI to address the issue of routing applications more efficiently to the correct individuals, as well as helping examiners search for "prior art", which can include research, products and designs, so that they can make determinations. As agencies read that, they can consider whether routing of inquiries to improve citizen experience is an area of need. In this way, an issue-based mindset vs. jumping to a solution will support the business case.
Federal agencies should be recognized for what they've accomplished thus far, and I encourage them to continue to uncover those problems where the pairing of human + machine can make a difference in achieving their mission.
Co-author: Mimi Whitehouse, Manager, Accenture Federal Services Responsible AI Lead
Dominic Delmolino is a GovLoop Featured Contributor. He is the Chief Technology Officer at Accenture Federal Services and leads the development of Accenture federal's technology strategy. He has been instrumental in establishing Accenture's federal activities in the open source space and has played a key role in the business by fostering and facilitating federal communities of practice for cloud, DevOps, artificial intelligence and blockchain. You can read his posts here.