Serving nearly one million customers and maintaining 9,000 miles of pipe, Charlotte Water in North Carolina is the largest public water and wastewater utility in the Southeast. But the company suffered from inconsistencies in data—such as water meters without verified locations — and lacked a collaborative system for operations. This often led to slower processes, unreliable service, and reactive rather than proactive emergency response.
The utility, operated by the City of Charlotte, set out to improve its service to residents. City staff deployed a geographic information system (GIS) across departments to support real-time water quality data collection, financial planning, work order records management, and asset management.
Using sharable GIS dashboards, hub sites, and image collection from drones, Charlotte Water is now saving time and money on operations, and is delivering services to the community faster.
The utility took a three-pronged approach to creating an intelligent water system involving imagery, drones, and AI — all facilitated by GIS.
Shared Imagery in a Single System
Charlotte Water used imagery layers in GIS to ensure accurate system maps and customer records. With 30 percent of its water meters at unverified locations, staff added aerial photos and data collection surveys to their GIS to identify each missing site.
"This approach replaces a lot of paper processes, so staff collect data out in the field, it pops up in a map in the office and the office staff can update the billing software," said Shannon Martel, GIS Manager for Charlotte Water.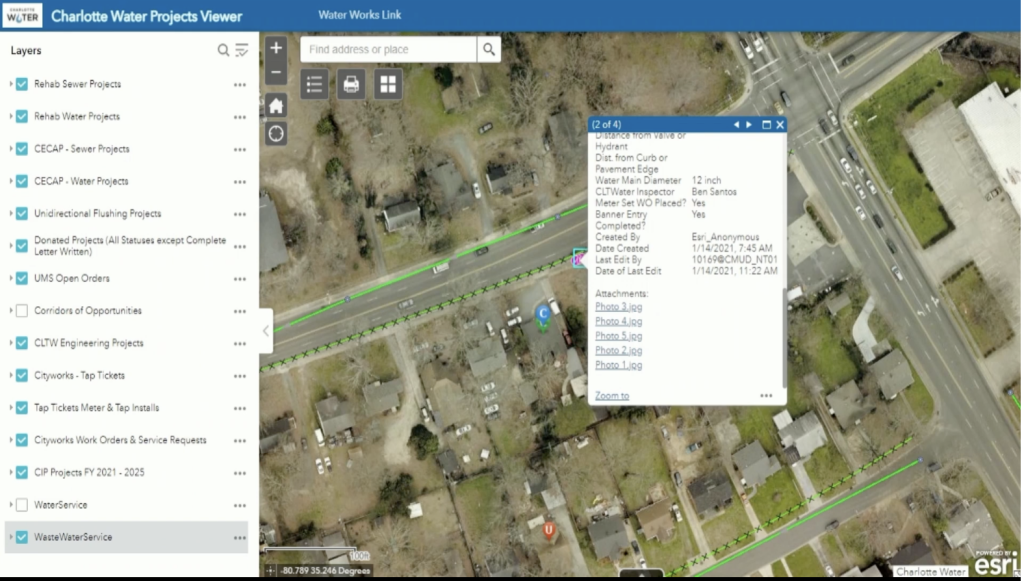 In addition, staff now share information with colleagues and residents via web applications featuring online dashboards and maps. With all the data collected, Charlotte Water then created a hub site that simplifies various map views, tailoring them to each division and department.
Drones Provide Enhanced Data
In continuing the modernization of utility operations, Charlotte Water marshaled its recently implemented drone fleet to respond to events like water main breaks, boil-water advisories, and low-pressure areas. They also used drones to capture enhanced survey-grade aerial images, conduct easement inspections, and create 3D models. The data collected was then shared in the GIS database.
When a water main break occurs, the city must go into a boil-water order in large sectors of the city. Using the data from the drone program, engineers can now provide specific location boundary information, which is then fed into a web application where residents can see if they live in the impacted area.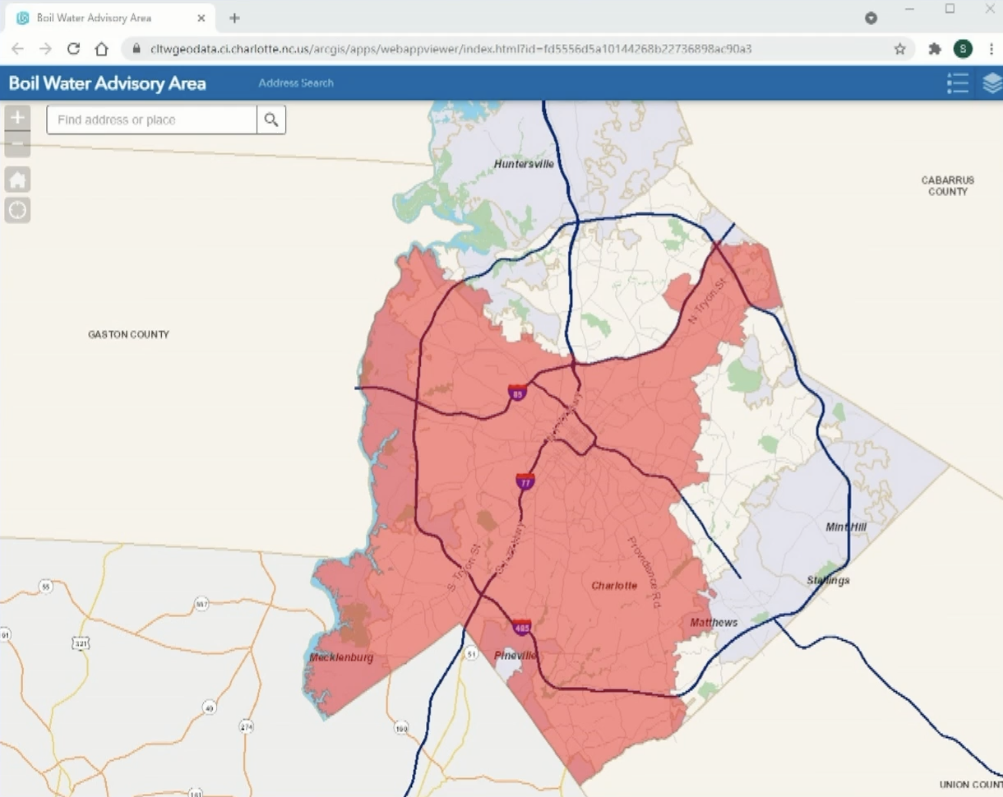 AI and the Future of a Unified Smart Utility
While Charlotte Water had mapped most of its meters in its GIS based on survey data, field crews were still finding inaccuracies when verifying locations in the field.
"We were spending $400,000 a year on contracts to survey and locate residential and commercial water meters," Martel said.
Staff incorporated artificial intelligence into their GIS and trained it to identify the locations of water meters and commercial meter boxes. This effectively automated a process that normally would have required a site visit.
"Now our expected savings is $300,000 annually," Martel said.
Charlotte's GIS team is planning a future with geospatial technology at the forefront of all of their projects. They plan to convert to a GIS-based utility network solution to unify all their systems, enabling further integration, operations and asset modeling, historical management, data visualization, and data sharing.
"Converting to a utility network will allow Charlotte Water to have expanded tracing, rule-based validation, catch more errors, and [provide] cross-based support," Martel said.
Learn more about how Charlotte Water created an intelligent utility system with GIS.
Christopher Thomas is the director of government markets at Esri and a founding team member of the Industry Marketing Department. Prior to joining Esri in 1997, he was the first GIS coordinator for the city of Ontario, California. Thomas frequently writes articles on the use of GIS by government. Follow him on Twitter @GIS_Advocate.