As the US advances on its climate action goals with the passage of a massive legislative package, the White House is debuting a new data-driven tool — developed with the National Oceanic and Atmospheric Administration, the Department of Interior, and the US Global Change Research Program.
Esri collaborated with the Biden administration on the new Climate Mapping for Resilience and Adaptation (CMRA) Portal, built to help cities, counties, states, and tribes make better decisions about where and how to take action. Central to the portal, colloquially being called "camera" by its creators, is the CMRA Assessment Tool — with it, people can explore current and projected climate conditions where they live and work.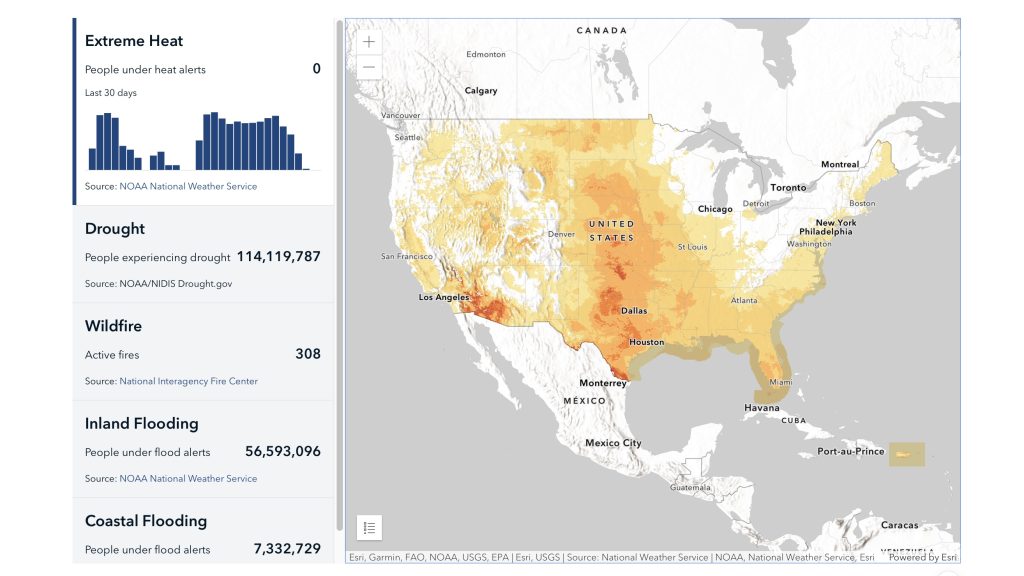 With the historic investment to overhaul infrastructure in the United States under way, there's an urgent need to repair and build infrastructure with climate resilience for all people in all communities.
This portal brings the critical data together, for everyone to see, into one place — on maps, in charts, and in reports. Environmental data, as well as the social and economic factors that shape how well an area can bounce back from climate-related impacts, can be explored by anyone, including city planners, resilience officers, transportation planners, tribal leaders, and residents.
Though new, the portal builds on years of scientific knowledge and investments in geospatial platforms. In the past, these resources have been difficult to find and understand, particularly since they were not integrated to provide a more complete picture. That's where geographic information system (GIS) technology plays a key role — integrating information to bring location-specific clarity to complex problems.
Climate Projections and Equity Assurances
A user can type in an address or pick a point on a map in the new CMRA Assessment Tool to reveal future climate projections related to extreme heat, drought, inland flooding, coastal flooding, and wildfire. The results show forecasts for the early years of the 21st century (2015–2044) as well as the middle (2035–2064) and late (2070–2099) years of the century. Predictions are based on two climate change scenarios: one in which we reduce global emissions of heat-trapping gases to zero by about 2040, and one in which emissions increase through 2100. Among the many indicators are projections related to extreme rain or heat, number of consecutive dry days, and percent of coastal counties impacted by global sea level rise.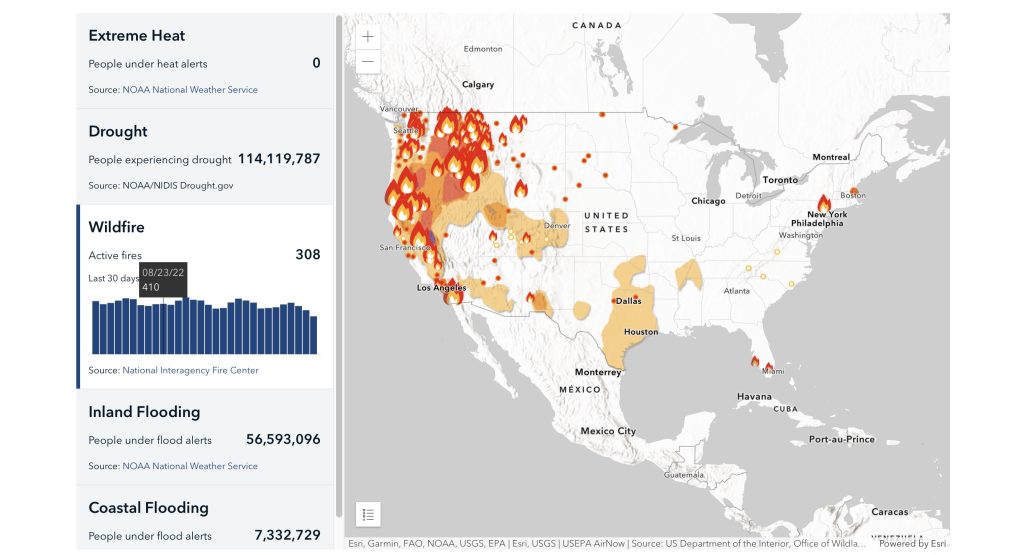 Any state, local or tribal leader, could use the tool to better understand how temperature, precipitation, and flooding conditions are projected to change locally. Then, they could generate straightforward hazard reports to be incorporated into strategies for future projects, a climate action plan, or support for a data-driven proposal seeking funding.
In addition to providing a wealth of climate data, the tool shows areas designated as disadvantaged communities — based on an environmental justice score — making them eligible for prioritized funding. The aim is for equity to be top of mind when government leaders design and implement resilience measures. The White House's Justice40 initiative ensures that 40 percent of an eligible program's federal funding goes to benefit disadvantaged communities that are marginalized, underserved, and overburdened by pollution.
Resources, from Case Studies to Open Data
The portal also highlights links to federal funding resources, federal climate policies, and proven solutions from other communities. The US Climate Resilience Toolkit offers videos and stories about what others are doing. For instance, one case study shows how tribal members in northern Wisconsin are replanting their forests to adapt to future conditions. Another shows how cities in Minnesota have modified their transportation system and extended the hours of cooling centers to ensure people who need relief from the heat can get it.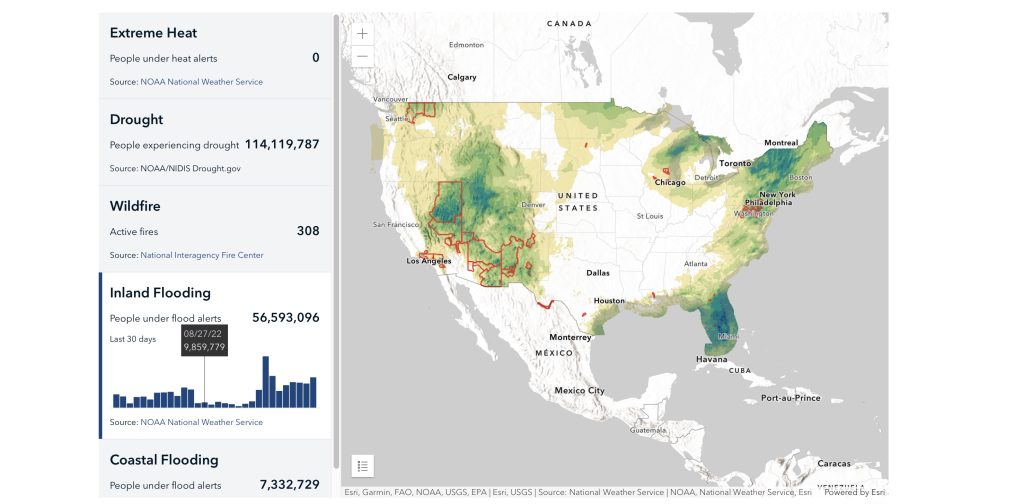 The CMRA Portal's collection of relevant climate data, essential for decision-making, also includes open data that can be accessed from the portal and combined with local GIS data, or incorporated into assessment tools. The curated content and open data services invite users to configure new tools and maps that address local concerns.
As David J. Hayes, special assistant to President Biden for climate policy, said during the annual Esri User Conference in July, "There is no more important service that the federal government can provide to all Americans right now than completely up-to-date information on the climate impacts, on a geographic basis, that are hitting our communities, causing the loss of lives and loss of livelihoods."
Learn more about how GIS helps address climate change impacts.
---
Christopher Thomas is the director of government markets at Esri and a founding team member of the Industry Marketing Department. Prior to joining Esri in 1997, he was the first GIS coordinator for the city of Ontario, California. Thomas frequently writes articles on the use of GIS by government. Follow him on Twitter @GIS_Advocate.