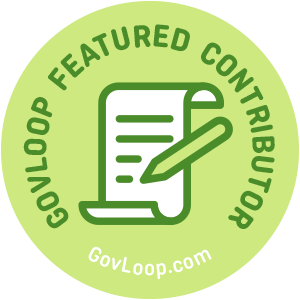 Many of us have had the experience of an online purchase that went wrong. Maybe we paid for an item and it never showed up, or we got the wrong or damaged product. In the early days of the internet, resolving these kinds of issues could be a big headache.
Now, most big e-commerce sites offer simple, straightforward return or resolution processes. Zappos, for instance, includes a prepaid return label in the box, noting, "if you don't like the shoes, put them back in the box, put this label on the front, and leave it for the mail carrier. We'll post the refund right back into your account." Amazon offers refunds without even requiring a return, while at the same time apologizing for any inconvenience.
It's easy for us to report a problem online, 24/7, and get a resolution in minutes. That is why we're buying more and more things online, from televisions to toothbrushes.
Evolving Expectations
But what happens when an issue arises with a government agency? Interactions with Facebook, Google and Amazon have reset expectations around quick problem resolutions. Citizens are no longer willing to take time off work to stand in line at a teller window and deliver a paper form in person.
For younger generations in particular, if a process is not available on a smartphone, you can forget about it. Many individuals would rather go to an app to solve a problem online than use an offline resolution process, even one that seemed innovative 15 years ago.
The Government Link
Online commerce spurred the creation of a new field, called online dispute resolution (ODR) in the late 1990s. Big e-commerce companies like eBay and PayPal spent tens of millions of dollars to launch and refine software programs to provide fast and fair resolutions to their consumers. These systems now resolve hundreds of millions of disputes per year, with resolutions taking days, not weeks or months. Most of these resolutions happen right in the software, so no human other than the disputants touch the case before it closes.
Recently, ODR has moved into the government sector:
Property Tax Appraisers such as Davidson County in Nashville, TN or Orleans Parish, LA use ODR to resolve valuation appeals online.
Courts use ODR to resolve low-dollar value cases like small claims and divorce without the parties ever having to show up at the court in person.
Even traffic and speeding tickets are getting resolved with ODR, using the same kinds of tools the big e-commerce companies use to resolve buyer/seller disputes.
Solve Your Pain Points
What disputes do you have in your agency? How about appeals, complaints or review requests? Most agencies have some sort of caseload or backlog to process or problems to resolve. Usually, these require intensive work from a team of people to keep resolving matters, because every day, new cases drop into the queue.
Sometimes, because responding to appeals or disputes is time-consuming, the instinct is to hide the resolution process. Making it more difficult to find how to report an issue may reduce the volume of work in the short term, but this strategy is ultimately self-defeating. If citizens can't find an easy path to finding solutions to their problems, frustration results, which manifests in other – potentially more damaging – ways.  Studies show that people are ten times more likely to talk about a bad resolution experience than a good resolution experience.
For public agencies with service-delivery missions, it is important to prioritize fair and quick resolution for customer issues. ODR not only makes citizen reporting easier, but it speeds resolution. The result is improved citizen satisfaction as well as new efficiencies and costs savings for the agency.
Learn more at the National Center for Technology and Dispute Resolution, based at UMass-Amherst.
Meredith Trimble is a GovLoop Featured Contributor. She is a former municipal official and Town Council Acting Chair, who focused on strategic planning, annual budgeting, and bonded infrastructure projects. Her government experience also includes posts in both federal and state-level executive branch agencies: Associate Editor of the U.S. Federal Election Commission's FEC Record; and Director of Education for the CT Office of State Ethics. In her current role as a Senior Content Specialist with Tyler Technologies, Inc., she writes content to help empower those who serve the public. You can read her posts here.