Now is a great time to be in the federal government and in public service. There are plenty of government challenges that federal employees face today: government shutdowns, continuing resolutions, furloughs, tightening budgets, modernizing IT and the upcoming retirement wave, to name a few! These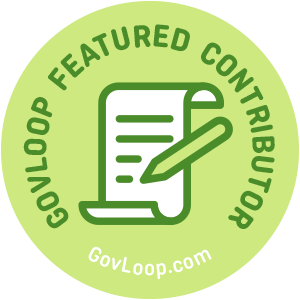 challenges present opportunities for federal employees to develop creative solutions that can provide immense value within the organization, the user base, and ultimately, the taxpayer.
So how can employees leverage these adverse times as an opportunity to improve their situation and excel? Become an "intrapreneur."
What Does it Mean to Be an Intrapreneur?
I first heard about the concept of intrapreneurship when I was deciding on a specialization for my MBA. An intrapreneur is effectively an entrepreneur employed in an organization as opposed to his or her own business venture. An intrapreneur shares many traits of an entrepreneur, with some differences in where they stand in the pecking order. One thing to remember: intrapreneurs are a class of entrepreneurs. Employees who are intrapreneurs take ownership of their work, take calculated risk, are motivated and have great problem solving abilities.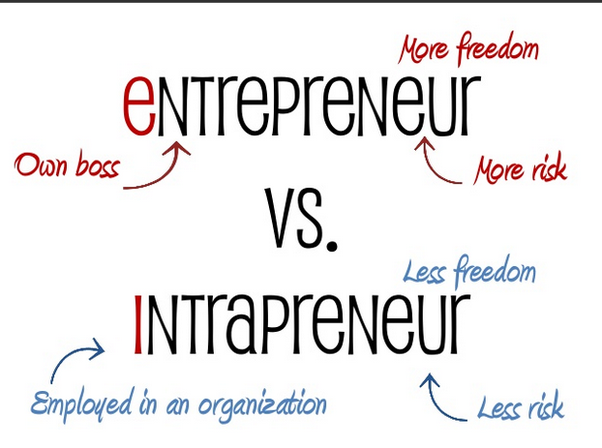 Image Source: SlideShare.net
How to Become an Intrapreneur
Here are some ways you can convert yourself and your employees to intrapreneurship:
Identify your competitive advantage. What makes your product or service the best if it were made available on the open market? If you don't have an answer to that, get one! You should know what makes your internal or external customers or clients want to do business with you instead of another group.
Empower your employees. CEOs don't come up with every solution. Instead, they'd rather give their employees the latitude and training they need to problem-solve and brainstorm. Empower your employees to have the creativity to come up with and cultivate solutions to the problems that appear before them. Democratize decision-making where it makes sense.
Create a sense of mission (and urgency) in your team. Complacency can lead to outdated processes, technologies and ways of thinking. Continue to cultivate a sense of urgency in yourself and your team to champion new ideas and innovate. Motivate your team around the bigger picture, while also reminding them that failing to adapt may eventually lead to obsolescence.
Be aware of your spending and risk tolerance. Treat every dollar as if it were your own. Make wise decisions and spend when necessary. Make it a point to deliver more value than what you spend, while taking on as much risk as your stakeholders can bear.
Create a feedback loop. Treat your internal and external customers as your clients. After all, in many ways they will determine your success. By having an open dialogue with your customers, they will provide you with valuable feedback that can help determine your path forward to success. Use customer feedback to validate your strategy, make tweaks or expand into new areas.
An Interesting Case of  How US Marines Use Intrapreneurship
The Marine Corps coined the term "Three Block War," which explains that, as a result of complex and irregular demands on the battlefield,  leadership training needed to emphasize strategic leadership at the lowest level possible. It is at this lowest level (the military equivalent of the first-line supervisor) that independent actions and major decision-making is expected to be made on the battlefield.
Due to the Three Block War concept, junior Marines in a leadership role take individual ownership, create a sense of mission and urgency in their team and are aware of their competitive advantage on the battlefield. These intrapreneur-like characteristics are taught to these first-line supervisors at the start of their leadership careers. These "intrapreneurs" are empowered to take action or make recommendations to higher echelons of leadership. The result is more effective Marines after the leadership training went into effect.
Conclusion
The federal government is being faced with many challenges that require its employees to adapt in order to develop comprehensive solutions. Embracing intrapreneurship provides one way forward to overcome these challenges and make government work better for the taxpayer.
Learn more about intrapreneurship by checking out these articles:
How to be a Public Entrepreneur
Could Government Use More Entrepreneurs?
Innovation: An Entrepreneurship Approach
Fredy Diaz  is part of the GovLoop Featured Contributor program, where we feature articles by government voices from all across the country (and world!). To see more Featured Contributor posts, click here.