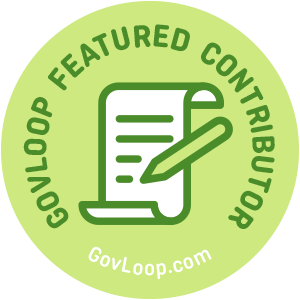 Our last post, What You Need To Know Before Embarking On AI Implementation, discussed the pros and cons to consider before implementing artificial intelligence (AI) within your organization, and seven steps to start the process. The article also offered recent examples of how AI works for and against progress for organizations, and cautioned that savvy marketing about widespread use and implementation of AI has created confusion and challenges with its application inside government agencies.
To help you assess whether AI would fit your organization's needs and requirements, we're clarifying some of the misconceptions about AI and offering a plan to help you reap and share the benefits of this powerful machine-learning technology.
Let's begin by dispelling the notion that AI is perfect. It can be clunky. It can introduce risk, and it doesn't always work as intended. But when implemented within organizations in a thoughtful and deliberate manner, the upsides are tremendous. AI can augment teams, scale capabilities, and deliver insights never before imagined, and it can do it at increasingly tactical levels and in austere environments.
The Great Upsides of AI
As creators and users of an AI system understand and harness its complex machine-learning structure, they can use it to automate and secure even the most critical decisions. This is true across medicine, finance, military—virtually every major sector can benefit from moving away from a 'black box' method of decision-making.[1]
Since 2015, investment in R&D related to targeted AI innovation has risen 40%.[2] Already, that focus has supported wide-scale progress. The robust White House report, Artificial Intelligence for the American People, details the many ways that government departments are reaping measurable benefits from AI. Across transportation, healthcare, manufacturing, financial services, agriculture, weather forecasting, and national security and defense, data scientists are working alongside decision-makers to produce innovations that will benefit the American infrastructure and population.[3]
Areas AI is (or soon will be) adding value to government organizations
As with any transformation, whether it be organizational or technology-centric, the friction point is usually the workforce. New technologies require new processes, collaborative structures, behaviors, and policies. Because AI is automating many of the processes traditionally held by people and producing deeper, more connected insights than seen before, it's critical to couple the transition with a sound, human-centered communication and change management plan.
Take stock of the benefits and challenges, assess the changes required to optimize them, and calculate the ROI. These are the details that will clarify your tradespace for conducting a cost-benefit analysis and position you to reap and share the promises of AI in the near- and long-term.
Tyler Sweatt is a GovLoop Featured Contributor. He is the founder and Managing Partner at Future Tense. Tyler works to identify and address risks and opportunities in changing environments. He advises startups across the cybersecurity, artificial intelligence, and physical security domains, and regularly supports R&D, S&T, M&A and strategy initiatives across DHS, DoD, the IC and Fortune 500 organizations. Previously, Tyler worked at futurist consulting firm Toffler Associates, leading emerging technology and security efforts, and worked at Deloitte where he focused on rapid technology acquisition for DoD. A West Point graduate, Tyler served as a Combat Engineer and Counterintelligence Officer with the Army, serving multiple combat deployments. You can find him on Twitter @Tyler_Sweatt.