"The biggest problem with communication is the illusion that it has been accomplished." George Bernard Shaw
"Why don't they understand the instructions?"
"How come we get so many calls when it is time for people to renew their licenses?"
"I can't find anything on that website that even remotely sounds like what I need!"
Sound familiar? Maybe you've experienced this as a citizen trying to use government services. Or you've heard these complaints coming into your office every day. What gives? Maybe the language used to communicate isn't plain enough.
 History
Efforts in the United States to make government documents more readily understandable and useful have been around since the late 1940s. Additional momentum was gained via Presidents Nixon and Carter throughout the 1970s. The 1990s saw a resurgence of interest when President Clinton issued a Presidential Memorandum. Today, there are Federal requirements for using Plain Language. Many states have their own Plain Language statutes addressing how forms and communications are developed.
Three Easy Tips
Write the way you would talk to the person if they were in the same room.
Ever go back and forth with someone via email three or four times, only to be frustrated that they don't understand you? So you call them and after listening to just a few sentences they say, "Why didn't you tell me that! NOW I get it." Write the way you would talk to the person if they were in the same room.   Many of us are brilliant conversationalists until we sit in front of a computer. Somehow then we are compelled to use big, arcane words, insider acronyms, and a language only a few may know.
2.  Tell a short story to provide the 'why'
A patient enters a hospital for knee surgery. The admissions nurse asks for his name, address and confirms why he is here. The nurse that brings him to the surgery area asks the patient for his name, address and confirms why he is here. As he is being prepped for surgery, the doctor asks him for his name, address and confirms why he is here. The patient thinks these people are nuts and don't know who he is! What if the admissions nurse said, "I need to verify your name, address and why you're here to be sure we do everything right. As you move through your surgery day, several other people will ask you the same questions. This is for your safety." The story helps.
3.  Use images and graphs
Images and graphs in presentations, forms, and websites can make the experience of our customers easier and efficiently get them what they want. Check this one out: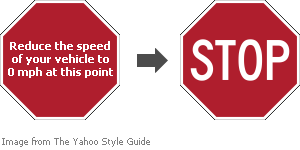 Be sure to always follow Federal accessibility standards and your state's guidelines when using images and graphs.
 Next time you have to communicate, internally or externally, remember these three easy tips. The effort you put into Plain Language will greatly increase the opportunity that your message will be heard, understood, and acted upon!
Does Plain Language make a difference?
It does in Federal government: [Read More]
It does in Minnesota: [Read More]
 Resources
 Sam Snoop – the Plain Language sleuth!
A Minnesota Plain Language rules manual
What's Next?
Over the next 12 weeks I am writing about how we can improve our work for the benefit of the people we serve. In Minnesota, it's what we call "Better Government for a Better Minnesota" and in my division it's how we "solve problems that change lives."
Are you a Govie who is interested in "solving problems that change lives"? Please join me on this journey and let's chat!
 – Joe
###
Joe Raasch is part of the GovLoop Featured Blogger program, where we feature blog posts by government voices from all across the country (and world!). To see more Featured Blogger posts, click here.