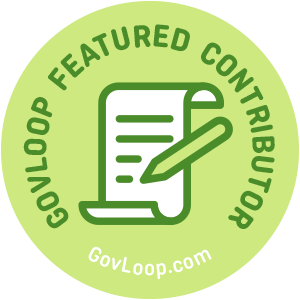 Using the right words to communicate a written or visual message to readers is one thing.
But coming up with the right words to communicate with a colleague on a difficult subject can make even the best communicators very uncomfortable.
What's the problem?
There are a number of reasons why conflicts can arise at work:
You feel your team member is not pulling her weight.
Your co-worker has stopped speaking to you and you don't know why.
You missed an important deadline and your manager is disappointed.
Your colleague listens to music at a loud volume and it's distracting.
This list is seemingly endless. Previous GovLoop posts have discussed ways to navigate through conflict at work and how to use conflict to strengthen work teams.
Achieving these workplace successes first begins with communication.
The Project Management Hacks site reports that 28 percent of workers feel conflicting priorities are their source of conflict, while 36 percent report a lack of communication as the reason.
It's not easy to have a tough talk with your co-workers and especially not your manager. If you're the type who shies away from such conversations, the lingering "I should have said something" thoughts can nag at you and affect your productivity.
How do I get started?
How you approach a conflict will influence whether you have a good or bad outcome.
Take the initiative to request a meeting with the person or team. If you decide to send an email, be mindful of your tone.
Look at this introduction: "Hi, Paul, we need to talk about the problem you're having responding to emails in a timely manner."
How could you improve it?
How about this? "Hi, Paul, do you have some time today to discuss our project communications?"
Remember: A good rule is to look away from the message before sending. Look at it again in a few minutes to see if, in the heat of composing, you worded your message too strongly.
Don't meet separately. If the conflict is occurring in a team, everyone should be in attendance to avoid multiple meetings or the appearance of isolating the "bad" team member.
Show some respect. Catching your colleagues off guard, let's say in the restroom or break room, to discuss an uncomfortable situation may backfire. Why? You may make them feel as though they are under attack.
Your objective is to be respectful and to create a mood that encourages conversation.
I'm in the meeting. Now what?
Your meeting is where the challenging part begins.
Here are some tips to help the conversation go smoothly and help you get the resolution you need:
Stay calm. When your demeanor is relaxed, it encourages the other person to relax, too.
Use active listening skills. Don't just wait for your colleague to stop speaking so you can insert your rebuttal. Listen so that your rebuttal, if there is one, touches on points he or she has made.
Slow down as you speak. Giving yourself time to think before you speak helps you find the right words, and it signals to your counterpart that you're listening.
Find things you agree on. This may involve both of you, or the team, acknowledging that a problem exists and that something has to be done.
Suggest alternatives. Find ways to be constructive by suggesting solutions or alternatives to points you don't agree with.
One thing's for sure: Conflict is inevitable. The good news is that it doesn't have to end in disaster. Speaking up about an issue is the first step. Next, having a conversation about it and coming up with solutions will put all parties on alert of future expectations. Last, be respectful in your approach. Rather than fuming quietly and feeling as though someone is working against you, addressing the issue may show a shared goal: To do a good job and feel comfortable at work.
The Balance Careers site offers more workplace conflict resolution tips.
Jennifer Singleton is part of the GovLoop Featured Contributor program, where we feature articles by government voices from all across the country (and world!). To see more Featured Contributor posts, click here.