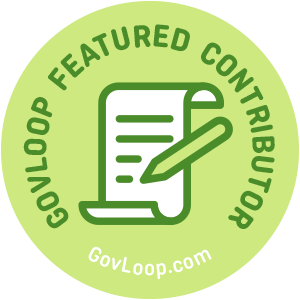 When it comes to marketing and branding, what does the city clerk's office have in common with Amazon? A lot more than you might think.
Amazon is one of the most recognizable brands in the world. When you think of online shopping, you think of Amazon. When you think about why you shop at Amazon, it may be that you can buy anything from toilet paper to t-shirts. It may be that finding what you need is so easy, whether you're using your laptop or an app. Or it may be the convenience factor of not having to leave your house or office.
While Amazon started out with a vision of being "Earth's biggest bookstore," that vision has evolved over time. Now you can buy anything you want (and even some things you didn't know you wanted) on Amazon.
Above all else, Amazon's brand promise—to consistently deliver an exceptional customer experience—has driven the company's growth, whether the company is selling books, cloud storage or groceries.
Amazon knew customers wanted an easy way to purchase items online, at low prices. As a public servant, do you know what your customers want from you? More importantly, do you know how you deliver it?
Rethinking the Role of the Clerk's Office
Many clerks express that they face challenges with how their colleagues and municipal business units perceive their role and responsibilities. Given that clerks often have to adhere to strict deadlines, are responsible for records management, compliance and risk management, clerks often end up being slightly unpopular with their colleagues.
Considering their demanding and often high-pressure positions, it's not difficult to see why many clerk's offices often do things a certain way—"the way it has always been done." However, when clerks do not take the time to define who they are, what they stand for and how they accomplish their mission, the internal reputation of the clerk's office suffers.
This is where branding can help. Great brands provide a source of identification and an assurance of quality. Think back to Amazon: It simplifies decision-making and clearly communicates the value created for customers. And great brands make and keep their promises. These characteristics differentiate great brands and cement their leadership credentials. Your leadership, reputation and those of your department can have the same impact. If neglected, they can also undermine even your best efforts.
Time for an Honest Self-Assessment
If you were to ask your municipality's employees right now, "What does the clerk's office do?" would they stammer something about records then run for the door? If that is the case, you need to rethink your department's role and do some in-house marketing, research and public relations.
First, ask yourself some important questions:
Do you know what your office's reputation is? When the clerk's office is mentioned, do you know if your colleagues smile—or do they silently shudder? Do they picture people who go the extra mile, or do they picture uncompromising bureaucrats who are sticklers for every rule?
Do employees understand and appreciate the importance of the clerk's office in furthering your municipality's mission and objectives? You may be responsible for records management, but do your colleagues understand how this supports your municipality's overall vision for transparency and citizen service?
Does your office make an effort to market its services to the organization? More simply, if you asked several of your colleagues what the clerk's office does, would they be able to answer? Or would they say something like, "I think they put together the agenda"?
Finding these answers requires dialogue, which means you—and your team—must communicate. That communication must consist of equal parts listening and promotion.
Branding for the Future
If you want to be perceived as more strategic, more valuable, more credible, more whatever, you need to start thinking like a business with a product and market your overall brand image.
The first step in creating or enhancing a brand identity is to determine who your customers are and what they need from the clerk's office. Are your primary customers executives, managers, associates or the entire municipality? What products and services do they use from the clerk's office? What would they like to receive from you? How do they currently perceive the clerk's office?
This type of analysis helps you understand the difference between what you are providing, what you think people want from you, and what your customers say they need.
After you determine the needs and current perceptions of your existing customers, you can decide how you would like your customers to perceive the clerk's office. It is important to note that the function of the clerk's office will differ from organization to organization.
To achieve a solid brand identity, you cannot be all things to all people. You can try, but you will fail in the eyes of significant numbers of your customers.
Marketing the Clerk's Office
To position the clerk's office for the future, you need to take on a public relations role, starting with your colleagues.
Think of your office as a product and do some smart marketing. Everything from phone conversations and email messages to the way you conduct business in a meeting is part of the larger message you're sending about your brand.
Partly, it's a matter of substance: what you have to say and how well it's said. But it's also a matter of style. Do your communications demonstrate a command of technology? In meetings, do you keep your contributions short and to the point? Are you easy to work with?
Marketing the clerk's office requires you to demonstrate your problem-solving skills, so others will know you do much more than simply process papers. The best form of advertising is your actions. Through your actions, processes and programs, you can promote your team as a flexible, adaptable, solutions-oriented partner, a resource to whom the organization can turn when it needs problems solved.
You need to be consistent in your branding. As an example, if you are striving to present yourself as tech-savvy, promote that through all your interactions. As an example, don't just get rid of paper in your file cabinets—take meetings paperless, bring new solutions to the table, such as agenda management automation or online permit requests, and promote mobile solutions for law enforcement officers or inspectors.
The Power of Branding
Leadership is all about seeing and creating a brighter and better future. It's about innovating, creating, building, improving, and transforming every aspect of our lives and the world we live in.
The biggest mistake leaders make when it comes to branding is thinking that their brand doesn't have to be proactively managed. Everyone and every office has a brand—it just may not be what you want it to be. By being intentional and proactive, leaders can help shape their own reputation, as well as the impact and influence of their team.
You may also be interested in Branding: It's Not Just for the Private Sector, The Difference Between Branding and Propaganda, or How Thinking Like a Marketer Can Help You Get Things Done. 
Melissa Henley is a GovLoop Featured Contributor. She is Director of Customer Experience at Laserfiche, an enterprise software company that has served the public and private sectors for over 30 years. Customers are at the heart of all Melissa does, and her passion is around connecting people to content that can have a genuinely positive impact on their lives. Melissa brings over 20 years of marketing experience across multiple industries, including government, finance, and higher education. Read her posts here.