Tucked in the northern Appalachian Mountains and home to nearly 17,000 residents, Potter County, Pennsylvania is the second most rural in the state. With nearly 60 percent of this small municipality reserved for state-owned parks or game lands, generating county revenue is a challenge. Understanding what services they could feasibly provide given budget constraints, leaders needed to know how residents wanted their tax dollars spent.
Potter County officials joined with neighboring Tioga County and used geographic information system (GIS) technology to launch an online public survey about spending priorities. Improved access to broadband and cellular service topped the list. Leaders layered survey information onto a GIS-based map of the region to demonstrate to internet service providers (ISPs) the demand for rural internet and show that residents needed connection in locations where serious service gaps persisted. The data-driven maps enabled the county to contract with an ISP and successfully expand broadband to more than half its residents.
Crowdsourced Data
Potter County's small population and square mileage per resident presented limited potential profit margins for ISPs. Because of this, providers were hesitant to build the new infrastructure needed to extend internet service in the area. Using the mobile survey app designed to collect data that can be mapped, county officials asked residents, businesses, schools, and neighborhood groups about current internet use, speed, and bandwidth.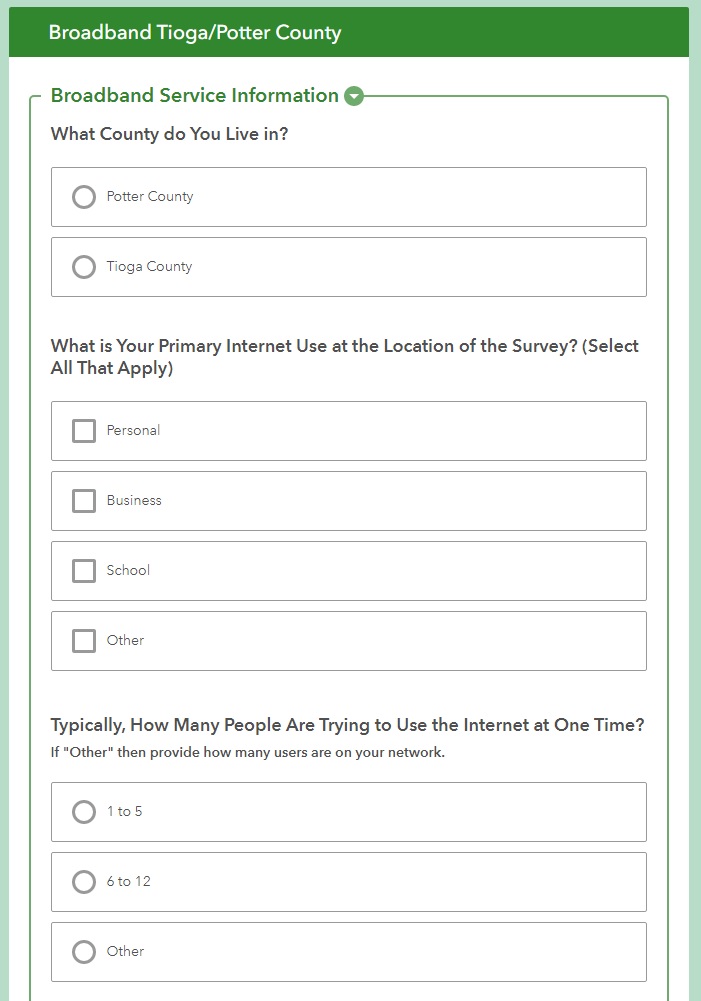 "The crowdsourced data was used in a dashboard, [and visualized] based on service availability, and shared with decision makers," said William Hunt, Potter County Planning and GIS Director.
Leaders used the dashboard as a tool to better communicate with service providers, demonstrating the locations of residents in need of internet, and where gaps in service were present, so ISPs could understand their return on investment.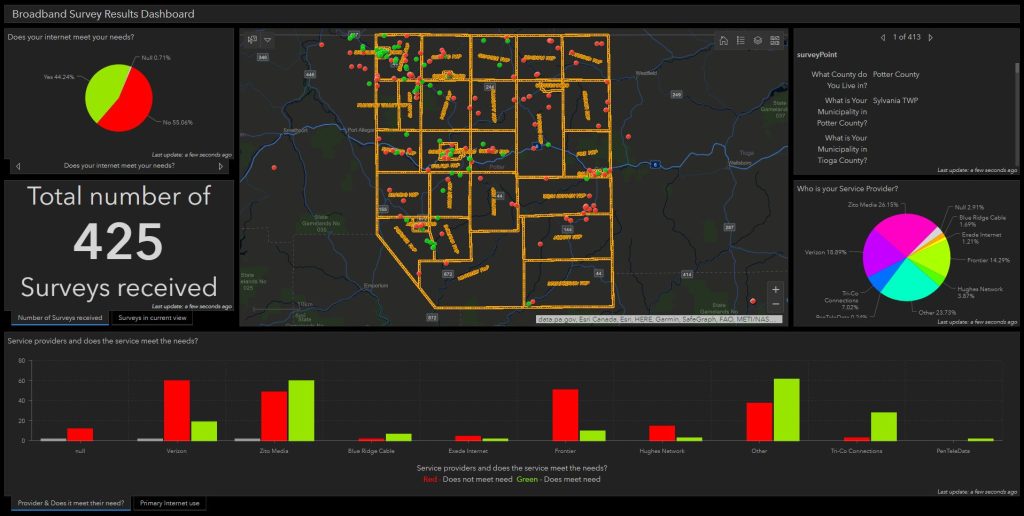 Mapping the Digital Divide
The insights derived from the data-driven dashboard empowered government leaders to negotiate better rates with potential internet service providers. Potter County signed an agreement with Tri-Co Connections, a Pennsylvania-based fiber-to-the-home broadband Internet provider. As a result of the collaborative work between officials and the community using GIS apps and maps, Tri-Co Connections built out and installed broadband fiber optics for approximately 7,000 residents. The county is now continuing to use its data collection app to better serve other community needs.
"The survey is perpetually open and shared with the decision makers in our area," continued Hunt. "It has evolved into a living and breathing report for county leaders, employees, and community residents."
Extending internet services to small and rural communities without large budgets has become a national priority in bridging the digital divide, offering equitable access to telemedicine and education, and providing broader economic opportunities for web-based businesses. Potter County is leading the way in addressing these issues with its geographic approach to broadband equity.
Christopher Thomas is the director of government markets at Esri and a founding team member of the Industry Marketing Department. Prior to joining Esri in 1997, he was the first GIS coordinator for the city of Ontario, California. Thomas frequently writes articles on the use of GIS by government. Follow him on Twitter @GIS_Advocate.
To learn more about how leaders can use GIS to bring communities broadband service where it is needed most, visit esri.com/en-us/federal-funding/funded-areas/broadband.