I was at my nephew's football game last night where he was playing defense, offense, even running the ball back on the kickoff return. He made his tackles, sacked the quarterback and made the first touchdown of the game. He made play after play after play; always giving his best and playing his hardest. After the game, he greeted everyone, shook hands and took photos. No complaints.
He was a key player asked to do more than his part, to give everything that he had over and over, to push his body beyond where other players were asked to go. This has been the case all season and he has never protested or had a bad attitude. Never said "I'm a Linebacker, not Special Teams." Rather, he has played exceptionally hard, smart and led his team by his actions.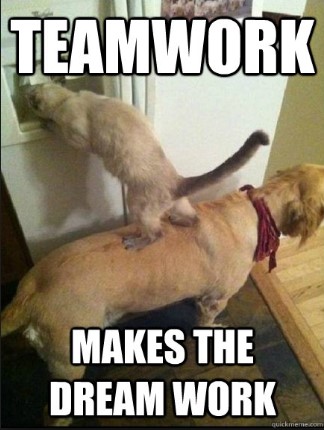 Oftentimes, playing every role in the office is not feasible. Everybody's position is unique and their capacity is different. Some can handle more than others and have the motivation. Some are retired in place. Some do not want to do their job much less anyone else's.
When you are asked to play offense, defense and special teams, do you continue sitting on the bench? Or do you put your pads and helmet on, run onto the field as Quarterback, Linebacker, Tight End and Running Back?
That's Not My Job
Consider your workload. Are you buried in tasks of your own, trying your best to meet every deadline? Maybe taking on someone else's responsibilities is not a good move in that case. Perhaps you can assist them at a different time or provide them with resources to help them complete the task on their own. Or maybe you should just say, "no."
If you do have some free time, help a co-worker out. Not only will this gesture be handy for the next time you need help, but it also fosters a sense of camaraderie.
Consider why you are being asked to assist. Do you have the expertise that nobody else possesses? If so, help them out, whether it is giving them your time or actually doing the task yourself. Or maybe you can direct them to someone else who can assist them just as well.
You should evaluate whether you are being too accommodating. Are you being bullied into taking on more? Are you on the proverbial bottom rung of the ladder? If there is a bigger issue there, maybe you can seek input from someone in HR or a respected co-worker.
Are you able to deliver a satisfactory product or service? If you are at full capacity, you may not be able to put your best effort towards the additional task. Or maybe you do not have the needed expertise. Both of these will not impart the finished product with any repute in the end. Share these concerns with the requestor.
Are you always the one doing more? You may have a great attitude towards helping your team. If so, you are probably someone that everyone goes to, especially when in need. Being a rock star is not necessarily a bad thing but it can wear on your time. Be sure to keep prudent boundaries and expectations when people start lining up at your door.
Team Work Makes the Dream Work 
Not everyone can play all positions successfully but we can all work hard, work together and work smarter to make it to the end zone. Last night's game was the State semi-finals, and though they didn't win, the hard work of all the players — some veterans, some rookies — got them to that game.
Teamwork made the dream work, as they say. But their leaders, my nephew included, gave all they had. That had to have inspired their teammates and with examples like that to follow, they are surely set up to win next year.
Nicole Napuunoa is part of the GovLoop Featured Blogger program, where we feature blog posts by government voices from all across the country (and world!). To see more Featured Blogger posts, click here.