Summer isn't just a time for relaxing. It's a perfect opportunity to revisit your professional goals and decide if it's time to kick off a career transition. Pour through these books to put yourself in the right mindset for moving your career in the right direction.
If this list isn't enough, check out last year's previous summer reading lists from GovLoop. If you find yourself inspired by one of these books this summer, be sure to come back here and let me know.
Business Model You: A One-Page Method For Reinventing Your Career
Tim Clark, Alexander Osterwalder, and Yves Pigneur
Business Model You provides a unique visual way to creatively brainstorm and summarize your "personal business model" on a single sheet of paper. The modeling tool can help you realize how your existing skills can be adapted to the changing needs of today's job marketplace. Once you better understand the value you offer to employers, you'll be able to rethink your career and life possibilities.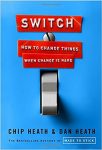 Switch: How to Change Things When Change Is Hard
Chip Heath and Dan Heath
Change is hard because our rational mind and our emotional mind compete for control. The rational mind wants to find a better job, while the emotional mind is comforted by the existing routine. This tension between rational and emotional can doom a change effort—but if it is overcome and you unite both minds, you can achieve dramatic transformative change. Switch shows that successful changes follow a pattern, a pattern you can use to make the changes that matter to you, whether your interest is in changing the world or changing your career.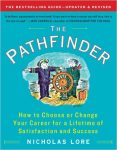 The Pathfinder: How to Choose or Change Your Career for a Lifetime of Satisfaction and Success
Nicholas Lore
The Pathfinder offers advice and more than 100 self-tests and diagnostic tools to help you choose an entirely new career or view your current job from a more positive perspective. Whether you're a seasoned professional in search of a career change or new to the working world, you want to make the right choices to design a career you will love.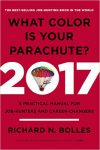 What Color Is Your Parachute? 2017: A Practical Manual for Job-Hunters and Career-Changers
Richard N. Bolles
The time-tested career book has been updated for 2017. What Color Is Your Parachute? has advice for recent grads facing a tough economic landscape, workers laid off mid-career, and people searching for an inspiring career change. Learn which job hunt strategies work and which don't. Author Richard Bolles demystifies the job search process, from resumes to interviewing to networking, expertly guiding job hunters toward their dream job.
The New Rules of Work: The Modern Playbook for Navigating Your Career
Alexandra Cavoulacos and Kathryn Minshew
The world of work has changed. Career trajectories aren't always linear. Technology has created new career options. We don't discover and apply for jobs the same way anymore. The New Rules of Work is a playbook for navigating the modern career search. It includes quick exercises and structured tips for finding the right path, landing the perfect job, and growing and advancing your career.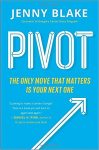 Pivot: The Only Move That Matters Is Your Next One
Jenny Blake
If you're uncertain that your current job is the right one or if you've plateaued at your current employer, it's time to start thinking about your next move. To evaluate your options and move forward, Pivot helps you double down on your hard-earned strengths, interests, and experiences. As author Jenny Blake explains, "If change is the only constant, let's get better at it."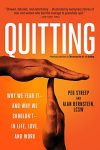 Quitting: Why We Fear It–and Why We Shouldn't–in Life, Love, and Work
Peg Streep
This book explains that while our culture usually defines quitting as admitting defeat, quitting is a healthy, adaptive response that permits growth and learning. Featuring stories of people who successfully quit, along with questionnaires and goal maps to guide you on the right path, Quitting will help you evaluate whether your goals are working for or against you, and whether you need to let go in order to start anew.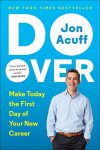 Do Over: Make Today the First Day of Your New Career
Jon Acuff
Sometimes you can't quit. You have to stay where you are figure out how to make your current job work better for you. Do Over shows how to develop and amplify the four elements author Jon Acuff believes make a great career: relationships, skills, character, and hustle. This book explains how applying these elements in a new way can help reinvent your work, get unstuck, and get the job you've always wanted. Acuff has written other helpful career books, including Start, Quitter, and Finish.
What books are on your summer reading list that can help others successfully navigate a career change? Share them in the comments. 
Lauren Girardin is a marketing and communications consultant, writer, and speaker based in San Francisco. She helps organizations engage their communities and tell their stories. Her website is laurengirardin.com and you can connect with her on Twitter at @girardinl.