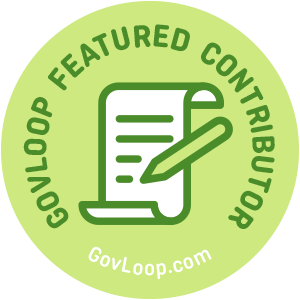 In a couple of my posts, I wrote about the importance of bright line rules, Fostering Rebel Talent and Radical Ambition. In this post, I would like to discuss the potential impact of those things — mainly, burnout.
While scrolling through my LinkedIn feed the other day, I saw a New York Times article titled "How to Avoid Burnout When You Have Little Ones." In this article, the author discussed how burnout driven by or caused by parenting is distinct from work driven burnout. As a parent of young children, I found this both fascinating and validating.
In my previous roles as an attorney, I have sometimes left a job because I didn't feel like I could be the parent I wanted to be and the lawyer I needed to be. This was true when I was a public defender. The heaviness of the day-to-day work and the demanding hours made me feel as though I couldn't fully show up in the ways that my clients needed me to and in the ways that my family deserved. Ultimately, I left and since leaving that role, much of my work has been focused on creating change.
As a clinical instructor, I did this through designing and running a clinic focused on the decriminalization of poverty. This clinic focused both on direct services and on using the lived experiences of clients to create policy. The theory of change was to take experiences from clients and the community to help those whom legal services couldn't get to.
It was in many ways, this is the same approach I take to my work managing the Civic Design Lab. As I have engaged in change work over the years, I have spent a lot of time thinking deeply about the toll of the work. At my former job, I was engaging in change on the outside and change on the inside via chairing the Equity and Inclusion Committee. This later role gave me a frontline view to some of the disconnects that existed relative to the stated mission and ethos of the organization and the day-to-day experience of working within the organization. At times, this disconnect made it very challenging to navigate. The idealized version of the organization I walked in with couldn't prevail as I was attempting to do the inside change work. There were many days where I yearned to just exist in the organization.
I thought a lot about this as I was reading about the workplace burnout phenomenon. This quote from a Forbes article titled Help Stop Employee Burnout stood out to me as an important factor in change management:
When there is a gap between the written and unwritten rules of the workplace, or if they are in direct conflict with each other, it increases employee stress. This, in turn, can lead to burnout.
It seems that if the disconnect for the general employee can be debilitating, that the disconnect for the change agent might be even more impactful. Given my past experiences, I have thought a lot about the impacts of trying to create change. Specifically, I have thought about how at different moments in my previous role, my relationship with my Executive Director, who also was my mentor, seemed fraught, as the internal change work often positioned us on different sides of an issue.
The change agent even more so than the regular employee may be inclined to engage in the open-door conversations because doing so is a necessary part of the job. In this case, the tenor of these conversations may carry even greater weight.
From the same article:
When there is an "open door" policy regarding reporting employee concerns, employees feel heard and validated. Feeling validated is a crucial part of the human experience. When a person feels that someone heard them and understood his or her point of view, it greatly reduces stress and strengthens the trust between employer and employee. Keep in mind an "open door" policy on employee concerns means that the employee can come to a superior at any time and present their concern or idea without criticism, passive-aggressive behavior, or condemnation.
All of this is to say that I am curious to hear the tips and tools others have engaged when having the dual role of employee and change agent, when it seems like all of the typical issues are likely to be amplified.
I found the following post from Rebels at Work helpful, if somewhat unsatisfactory, because it sort of puts the onus on the individual and not the organization: Five Survival Skills of Successful Change Agents.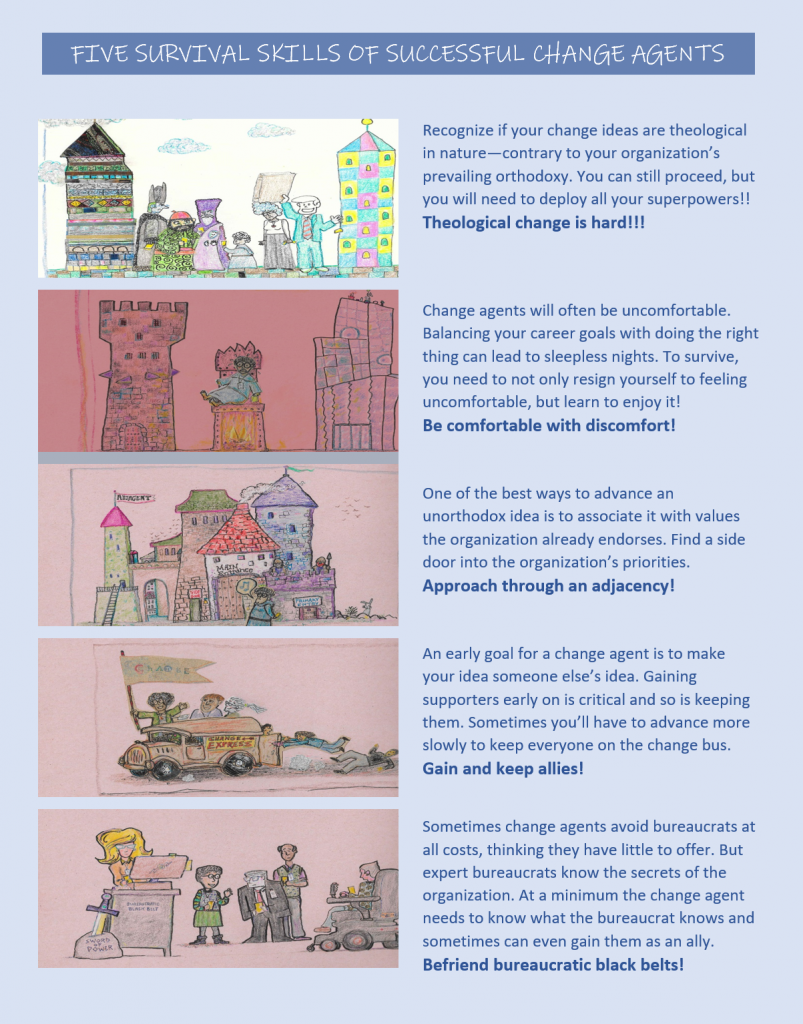 This survival isn't theoretical, as this piece from Forbes, discusses in What Change Leaders Must Do To Survive Their Own Change Initiatives:
Most change agents don't survive their own change. Of course the organization needed to change. Of course they were brought in to lead that change. But the change process is often so painful and so many "good" people have to go away that the change agent becomes an ongoing reminder of bad times. Stepping into the brighter future requires a new leader. Change agents that do survive their change either lead an evolutionary change or have a fall guy.
Of particular interest is the discussion about leading evolutionary change, which the author lays out in the following way:
Order counts. If you choose to evolve the culture, converge first, learning and using their vocabulary. Then bring in new frameworks to change their thinking. Then start creating a new narrative to drive the emotional changeover. Then, finally implement new processes to make a lasting impact.
If you are managing culture shift or change in your organization how are you protecting yourself from burnout and or from not surviving the change you are seeking?
 Brandon L. Greene is a GovLoop Featured Contributor. He is the Manager of the Civic Design Lab in Oakland. Brandon is a graduate of Boston University Law School where he was a Public Interest Scholar and Martin Luther King Social Justice Fellow. Previously, Brandon was an Attorney and Clinical Supervisor at the East Bay Community Law Center where he created and lead the decriminalization of poverty clinic. Brandon's article Depraved Necessities: Prison Privatization, Educational Attainment and the Path to Profit was published in 2013 by SRBLSA Law Journal. His forthcoming articles will be published in the Harvard Blackletter Law Journal and the Berkeley Criminal Law Journal. Twitter: @brandonlgreene. You can read his posts here.