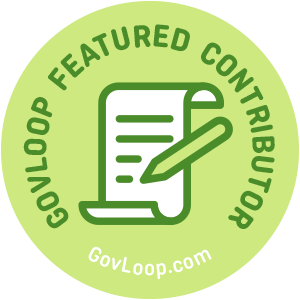 You can find mission statements everywhere these days; they are popping up on billboards, websites, business cards, briefing slides, and even T-shirts. Being able to see so many of them in today's open environment, have you ever wondered, "Do they really believe that," or even, "How can they be so out of touch?"
The question every organization should be asking itself is whether their mission is an effective driving force toward organizational performance, or is it a worn, meaningless statement from a poster hanging on a wall? Answering this question is a critical step in understanding whether your organization is on the path to high performance.
From our experience, we can say that there are still too many people in positions of authority and leadership today that discount or negate mission's importance to an organization's success. For these people, the effort to create a relevant, authentic mission statement takes time away from "the real work" of the organization; it is viewed as another hoop to jump through, or as window dressing that, at its core, is unmeasurable and inutile.
For those unconvinced, the paradoxical opposite is, in fact, true. The benefits of organizational purpose and mission are measurable. The Gallup organization recently conducted an analysis of 192 organizations that showed as mission-driven leadership gains ground, employees view their contributions to the company in a broader context, "They are more likely to stay, take proactive steps to create a safe environment, have higher productivity, and connect with customers to the benefit of the organization."
Sometimes, even leaders who recognize mission as a necessary component of sound strategic planning do not realize what a source of both impetus and inspiration it can be within an organization. A clear and authentic mission can reduce conflict and wasted time, it can focus the thinking of the organization's members in a more productive way and focus resources in a more efficient way.
If the purpose of a mission statement is to answer the question, "Why do we exist?" then its development is the perfect starting point for aligning resources, generating interest and drawing in dedicated people. More than just a planning component, it can become a catalyst for change for an organization. A perspective on this is provided by John M. Bryson in his book Strategic Planning for Public and Non-Profit Organizations, where he writes, "Viewed in this light, an organization must always be considered the means to an end, not an end in and of itself."
We believe mission is the driving force of organizational life. If leaders fail to articulate and bring to life a clear and authentic mission that engages the entire organization, the organization can begin to disassemble into self-defining, inefficient parts. Just as nature abhors a vacuum, the absence of an overarching mission will allow groups within an organization to respond to its absence by constructing their own mission-like justifications for their current activities. These shadow missions may remain unarticulated and never show up in a formal statement, but over time they become powerful assumptions that generate dramatic effects on organizational behavior. Shadow missions are the sources and justification for silo behavior in which each group seeks its own version of mission "truth." Other groups quickly perceive these versions of mission as self-interest. This perception corrodes trust, generates conflict and over time creates barriers to cooperation.
An active, pervasive and accepted sense of a common mission for the whole organization is the best way to combat the centrifugal forces that threaten to pull any organization apart.
After a mission has been established and becomes the driving force within the organization, it must continue to be promoted and celebrated. Even in a well-defined and high-performing organization, the power of centrifugal forces, of silos and distractions, and, yes, inertia, is still great. It takes active leadership to counteract these forces. Leaders must constantly, to the point of excess, reinforce the mission. Reinforcement can take many forms. It may include a leadership retreat designed to hone the ways and means of the mission's message. It could include a series of all hands meetings where recent activities detailing mission success stories are presented. Often, the celebration of specific successes is the best way to reinforce the mission. By telling stories of how the work of the organization improves the lives of those it serves, leaders build a sense of mission that drives deep commitment and the desire to do more.
To assess the effectiveness of mission within your organization, use the following checklist:
1. Does the mission define your organization's purpose by describing the ultimate outcomes that improve people's lives?
2. Is the mission clear? Is it easy to remember?
3. Is the mission authentic? Does it have meaning for members and stakeholders?
4. Does the mission generate engagement? Does it provide compelling motivation for doing your organization's work?
5. Does the mission mobilize support among stakeholders?
6. Does the mission provide focus? Does it define and contain the sphere of work by prescribing what the organization does, and by default, what it does not do.
7. Does the mission help align your organization? Does the mission provide guidance to synchronize the organization's work?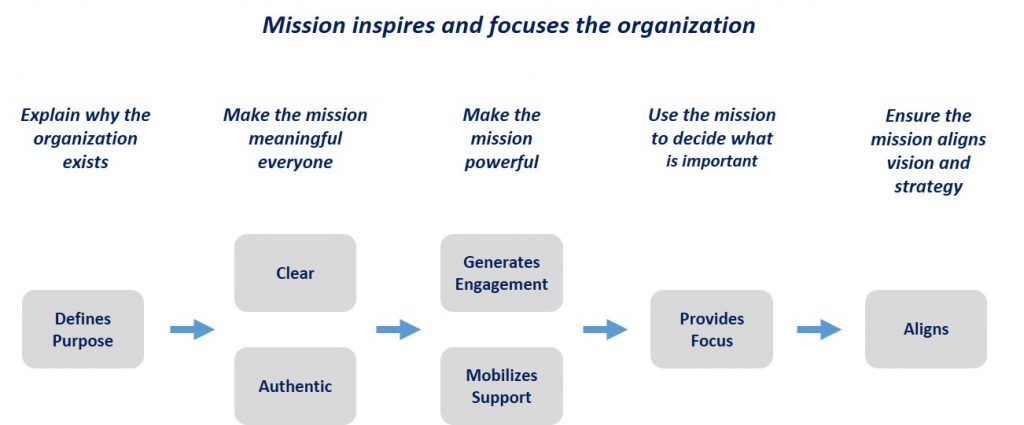 If you can answer yes to these questions, then you can have reasonable assurance that the mission is an effective force driving your organization to higher performance. If you answered no to one or more of these questions, then you know where to focus your improvement efforts. The following learning resources may be useful to your efforts. Please post if there are other resources that you think might be useful.
Purpose
Guides for creating a mission statement: Daniel S. Cochran, Fred R. David, C. Kendrick Gibson, "A Framework for Developing an Effective Mission Statement," (1985), Journal of Business Strategies, Vol. 2, pp. 4-17; James R. Reyes Brian H. Kleiner, (1990),"How to Establish an Organisational Purpose", Management Decision, Vol. 28
The role of mission in an organization: Peter F. Drucker, Management: Tasks, Responsiblities, Practices, Chapter 7 Business Purpose and Business Mission, New York, Harper & Row, 1973; Andrew Campbell and Sally Yeung, "Creating A Sense of Mission", Long Range Planning 24 (4), 1991
Clarity
How to create a readable mission statement: Setayesh Sattari, Leyland F. Pitt, Albert, "How readable are mission statements? An exploratory study," Corporate Communications: An International Journal, Vol. 16 No 4., 2011.
An index that estimates the clarity of business writing: Robert Gunning and Dougles Mueller, How to Take the Fog Out of Writing.
Authenticity
The importance of authenticity: William Deci, Why We Do What We Do?
Generate Engagement
Definitions and overviews of employee engagement: William A. Kahn, Psychological Conditions of Personal Engagement and Disengagement at Work, The Academy of Mangement Journal, Vol 33. No 4. (Dec 1990); William Schaufeli, "What is Engagement?" in C. Truss, K. Alfes, R. Delbridge, A Shantz, & E. Soane (eds), Employee Engagement Theory and Practice.
What motivates us at work: Daniel Pink, Drive; Edward L. Deci, Why we Do what we Do?; Ori Brafman and Rom Brafman, Sway: The Irresistible Pull of Irrational Behavior.
How business leaders use purpose to create engagement: John Mackey and Raj Sisodia, Conscious Capitalism; Charles A. O.'Reilly III and Jeffrey Pfeffer, Hidden Values: How Great Companies Achieve Extraordinary Results with Ordinary People.
Mobilize Support
How to use mission to mobilize support for a public agency: Mark H. Moore, Creating Public Value: Strategic Management in Government, pp. 92-4
How to use mission to mobilize support: Bob Wall, Mark R. Sobol, and Robert S. Solum, The Mission-Driven Organization. Prima Publishing, 1999.
How to write a mission statement from the perspective of the customer: Meredith E, David, Forest R. David, Fred R. David, Mission Statement Theory and Practice: A Content Analysis and New Direction," International Journal of Business, Marketing, and Decision Sciences Volume 7, Number 1, Summer 2014
Focus
Techniques to align organizational activities and initiatives with mission: Robert S. Kaplan and David P. Norton, Strategy Maps: Converting Intangible Assets into Tangible Outcomes; John M. Bryson, Strategic planning for public and nonprofit organizations: A guide to strengthening and sustaining organizational achievement. San Francisco: Jossey-Bass Publishers, 2011.
Alignment
Aligning functions under a mission: Robert S. Kaplan and David P. Norton, Strategy Maps: Converting Intangible Assets into Tangible Outcomes; Jim Collins, "Aligning Actions and Values," June 2000; Seven strategies on how to push toward operational alignment: Chris Groscurth, "Why Your Company Must Be Mission-Driven," Gallup, March 6, 2014.
Dr. Andrew Pavord is a GovLoop Featured Contributor. He is a former government executive who currently is the CEO of the Federal Consulting Alliance. He led budget processes for DC government, SBA, and Treasury, managed department headquarters operations for Treasury, and served as chief of staff to the CFO of the Department of Veterans Affairs. Read his posts here.