I first heard about the generational profiles in an undergraduate communication course on persuasion. It was 1988, and our professor played a training video that he had borrowed from a Fortune 500 company. He never told us the company.
The video featured a single presenter in front of white board with these generations on a timeline: Silent Generation (1920s to 1945); Early Baby Boomers (1946 to 1954); Late Baby Boomers (1955 to 1963); Early Xers (1964 to 1976); and Late Xers (1977 to 1986). Everyone in my class came from the Early Xers. The presenter described the major events that shaped the values and attitudes of each generation. It was compelling although, I was dubious as to how the presenter generalized the generations.
Since then, I've been to several presentations on the generations, and I still carry the same skepticism. When I was a PMF, I attended training at the General Services Administration that talked about how to manage Generation X. Recently, I read an article on how to manage Millennials, and it sounded just like the Generation X presentation. Of all the research I have read on the generations, I am most influenced by Dr. Jennifer Deal's book. In Retiring the Generation Gap: How Employees Young and Old Can Find Common Ground, Dr. Deal surveyed over 5,800 people to determine their generational attitudes. From this research, she derived ten principles:
"All generations have similar values; they just express them differently. The number one consistent value is family with love, integrity, and spirituality in the top four."
"Everyone wants respect; they just don't define it the same way."
"Trust matters."
"People want leaders who are credible and trustworthy."
"Organizational politics is a problem – no matter how old (or young) you are."
"No one really likes change."
"Loyalty depends on the context, not on the generation."
"It's as easy to retain a young person as an older one – if you do the right things."
"Everyone wants to learn – more than just about anything else."
"Almost everyone wants a coach."
What is especially interesting about these principles is how they reinforce recent research in employee engagement. Josh Bersin (from Bersin by Deloitte) has been researching the drivers of employee engagement. After a two-year, worldwide research project, Bersin developed the model for the Simply Irresistible Organization in which he describes the five elements that drive engagement. Under these elements are four factors that support the elements.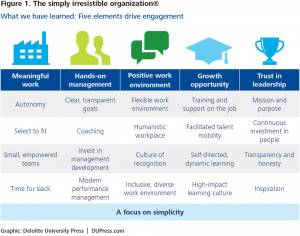 Notice how the intergenerational principles are interwoven into the Simply Irresistible Organization (SIO) framework. Thus, government organizations that adopt the SIO framework will also create an attractive multigenerational workplace. I believe that this assertion makes sense as the problem with employee engagement cuts across the generations and all types of organizations. Per a recent national poll, the private sector and local government have the highest employee engagement numbers with 44% of employees reporting that they are engaged at work. For the federal government, only 34% of employees are engaged, while only 29% of state government employees feel engaged. Clearly, things in government need to change. Reinventing government agencies with the SIO framework is a good direction to go.
So, what about the Millennials? Why haven't I talked about the Millennials and their workplace needs? In my next blog posting, I will discuss Dr. Deal's latest book: What Millennials Want from Work: How to Maximize Engagement in Today's Workforce.  How do Millennials feel about the five elements of the SIO framework?
In the meantime, please give me your thoughts about Dr. Deal's principles and the Simply Irresistible Organization.
Bill Brantley is part of the GovLoop Featured Blogger program, where we feature blog posts by government voices from all across the country (and world!). To see more Featured Blogger posts, click here.