Last week, my post discussed observed declines in camaraderie across the past five decades in my office. I asked retirees and long-time employees to fill out a survey about their activities during the decades they'd been working here. This post will discuss the survey results and their thoughts on the decline of camaraderie.
I asked participants to rate their attendance at various functions: parties, team events (golf, softball, volleyball, bowling), the annual picnic, and other non-working events with co-workers such as eating lunch together, friday night happy hour events, fishing, camping, and other get-togethers.  The ratings were numerical, with frequent (daily / weekly) being a "1" and never being a "5."  I summed up  and averaged each person's individual scores by decade, then averaged the group by decade.  The result is the graph below: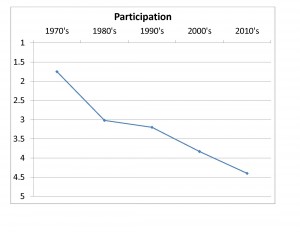 The participation score of this group is steadily dropping.  I didn't include participation results after retirees left (some still attend picnics), so the results reflect their participation while they were working.  The trend is reflective of the "baby boomer" generation and includes my results as well.
So why don't we spend time after hours with our co-workers like we did in earlier days?  Feedback from those I surveyed suggest the top four reasons for the decline, beginning with most frequently mentioned reason:
1. No Time
Several survey responses fit into this category, including parents having more child-centered events to attend and coach, and more two-worker families. Additionally, I remember we went through a reduction in force (RIF) back in the mid-1990s, and "did more with less." As budget cuts and downsizing continued, and now workload has rebounded, we are now doing significantly more with less (and thankfully have been able to hire additional staff, unlike some federal agencies). As more is expected at work, there is less energy for "play" after work.  This is supported in national reports of work/life balance.
The impact of less time and more work is often low morale. Budget cuts, pay freezes, reorganizations, relocations (we've moved several times during my tenure) all add to worker stress. While we strive to be resilient, often there are corners of cynicism and low morale. So which came first? Did low morale result in poorer attendance at agency events? Or did the workload and scheduling complications result in the scheduling of fewer agency events, which then led to lower morale?  Low morale impacts agency production, and  can lead to disgruntled employees just counting the hours.  It's important to address low morale first, before requiring attendance at agency functions ("forced fun").  Increases in paperwork, bureaucracy, regulations, and restrictions, while needed, can leave workers feeling overwhelmed and frustrated.  The last thing many employees want to do is spend more time with co-workers during their time off.
3. Technology vs. Face-to-Face
Just imagine your office today without computers, email, Blackberries, cell phones, and webinars! That's what offices used to be like, back when documents were TYPED, and meetings were in person. It was definitely a slower, less hectic atmosphere. These days, we often email others within our section (even in the next cubicle!) rather than stop by in person. Webinars are encouraged, as they are less expensive than traveling to seminars. Even at lunch and while on temporary duty, Blackberries and cell phones insist on transmitting messages from the office, distracting us from the company we are keeping. Technology has improved efficiency in many ways, but it has also facilitated multi-tasking, which results in staff not being fully present even when able to travel to a meeting, or meet with a sponsor or permit applicant. The very items that have vastly expanded our research capabilities also pulls us away from the present company.  Ironically, "social connection = technology" for many millennials, but these same electronics can also impact social connectedness by reducing face-to-face time.
4. Varied Work Schedules
The advent of flextime and teleworking during this timeframe has reshaped the workplace in unexpected ways. I love that we now have the ability to vary our starting and ending times at work, and have the ability to work at home occasionally, and was surprised to see this listed as a possible impact to camaraderie. But this is why – people used to all arrive at work at the same time, take lunch at the same time, then leave work at the same time. While rigid, this schedule facilitated lunchtime activities and post-work "Friday afternoon clubs" since there was no question what time anyone was done working. I'm not an advocate for returning to a more structured schedule, but I do see how varied schedules and workplaces can limit opportunities for celebration, and therefore impact the "group bonding" of a section or branch.  I've not seen supporting articles online, but this has been suggested by several retirees.
What do you think are the reasons for declining camaraderie in your workplace? Maybe you haven't seen the same decline that we have. Post your thoughts in the comments below. We can't turn back time, eliminate electronics, or lessen workload, but we there are some things we can do to try to revive camaraderie. Check out my next post for ideas!
Becky Latka is part of the GovLoop Featured Blogger program, where we feature blog posts by government voices from all across the country (and world!). To see more Featured Blogger posts, click here.