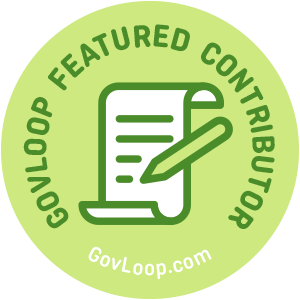 In my last post I shared how virtual reality (VR), augmented reality (AR), and mixed reality (MR), collectively known as XR, will shape the future of work. For a quick recap… 
When integrated in the workplace, XR has the potential to increase employee retention rates and productivity, impacting how we approach hiring, job training, professional development, and collaboration. What's more, it could create a more diverse and inclusive workforce and remove barriers to employment for people with disabilities. As government agencies and other industries consider ways to integrate emerging tech, these issues deserve deeper exploration. 
Employment Opportunities
The rate of unemployment for people with disabilities is more than triple that of people without a disability. XR has the potential to bolster employment opportunities, boost career advancement, and cultivate equitable workplace environments for people with disabilities. And, we can all benefit from a more diverse workforce. 
Picture these scenarios: a person with a physical disability starting a new career at a company traditionally requiring in-office work; a colleague who has a speech impairment quickly and clearly communicating with you in virtual meetings through voice translation; a new hire with autism developing and practicing social skills to prepare for their first team meeting.  
It bears repeating: XR could be a game-changer in the workplace for everyone—and specifically the one in four U.S. adults living with a disability. But, there's a caveat. For XR to make good on its promises, it's essential that it's designed to be accessible. 
XR Meets Accessibility
Safety training using VR is taking place in your office next week requiring people to stand and make rapid hand movements. Your office mate with limited mobility sits on the sidelines unable to participate. Your new AR meeting platform doesn't incorporate Alt Text features (text that can be read by a screen reader). Your low vision colleague can't follow materials being presented. 
For XR to be usable by all, it must be developed with accessibility at the forefront using the principles of inclusive design. According to the Partnership on Employment and Accessible Technology (PEAT), "Inclusive design is about putting people first. It's about design that considers the needs of people with permanent, temporary, situational, or changing disabilities."  
Industry-wide efforts to produce accessible XR, however, aren't yet the norm; accessible XR is by and large being developed piecemeal. The current absence of industry accessibility standards and lack of understanding of the "why" and "how" of accessibility more broadly, may be reasons for the delay in integration of accessibility features. XR technologies are being developed now. There's an urgency to ensure they're designed with accessibility at the forefront rather than slapping on Band-Aids to add in accessibility features after adoption. Band-Aids are likely to cost more and don't fix the underlying problems. 
Some companies and organizations are stepping up to create the building blocks for a future where all XR is accessible. Google, Microsoft, and Magic Leap are three such companies focused on creating accessible products that are also committed to sharing best practices industry-wide. XR Access is a community with more than 140 leaders and members collaborating to advance the design, development, and production of accessible XR. (Full disclosure, I'm an adviser to XR Access.)  
So, How Can You Help? 
See ya next week! 
Devin Boyle is a GovLoop Featured Contributor. She is Senior Consultant at Wheelhouse Group supporting the Partnership on Employment & Accessible Technology (PEAT) as Emerging Technology Lead and acting as Adviser to XR Access. An experienced communicator and avid writer, she has authored articles for national, local, and trade publications to advocate for societal change and social inclusion for vulnerable populations. She believes in the benefits of preparation before execution and the personal and professional power of Mindful Self-Compassion practice. She lives with her partner, dog, and one-eyed cat in Arlington, VA. You can follow her on Twitter and read her posts here.