An Unlikely Leader: Essential Elements of Success
Whether learned or innate, leadership is a process, and some argue a phenomenon. The age-old argument questions whether leaders are born, developed over time or catapulted into a position of leadership as a result of a situation. Some argue that it is a combination of all factors that call a leader into action, either good or bad. Leaders with essential stable traits may develop behaviors over time and often through critical life events that become ideal for effective leadership.
Such was the case of the unlikely leader and widowed wife of well-respected United States (U.S.) Senator Hale Boggs turned U.S. Representative Lindy Claiborne Boggs (D-LA). Lindy Boggs was a stronghold for the underserved in the state of Louisiana. Born on a plantation in South Louisiana, Boggs assumed the House of Representatives seat during a special election after her husband's plane disappeared.
History reveals that Lindy Boggs was open, honest, courageous and charismatic. She dared to do what others thought unpopular. These essential stable traits served her well before and during her tenure as U.S. Representative. These qualities helped shape her behavior and perhaps fashioned her as a champion of civil rights. In fact, in the 1940s and 1950s, she broke rank with Southern whites and marched against corruption and for civil rights. She was a trailblazer and had knowledge of politics. She was also in the right situation with the right temperament. Just after entering Congress in 1974, she literally wrote in that "sex and marital status" would be included in the Equal Credit Opportunity Act. She proceeded to make 47 copies before the vote to hand out to colleagues.
A Personal Connection
I had the wonderful opportunity to meet Ms. Boggs when I was a young public affairs officer at the VA Medical Center in New Orleans. I got to speak with her personally, interact with her and see firsthand how "regular" people admired her and were so very comfortable interacting with her – even though she was a living legacy in South Louisiana. She was of the "common people" but stood out as a regal, powerful political force who did not forget her roots. She also made hard choices. I admired her charm and poise laced with political prowess and seemingly innate leadership virtues.
While I understand the historical significance of Lindy Boggs, a female, from the deep South, in a male-dominated setting. I perhaps failed to assess her strengths as a leader. I first realized how much of an impact Boggs had on me in doctoral leadership classes. I got to really analyze her traits and believe this experience of studying her character helped me to relate to her, and better understand that natural traits and virtues can augment a leader's ability to make a difference.
Personality traits and self-prescribed virtues are both innate and learned. I understand, based on trait theor y, that we are naturally inclined to certain virtues and behaviors. For instance, while not all leaders are "born," there are certain traits that form the foundation for leadership. I believe that personality traits are critically important to a person's life decisions and how she values certain things, e.g. family, career, etc. To me, Boggs embodied the elements of the trait theory that allowed her to lead and set the stage for many women in politics or high on the SES-ladder of success.
Shortcomings of the Trait Approach
Leadership is a phenomenon that researchers continue to define. There is recurring evidence that positive traits including drive, motivation, honesty, self-confidence and intellect lead to effective leadership. The trait theory also allows a leader to take the reins of power and achieve personal and organizational goals in a natural way.
However, the trait theory fails to connect the dots between the art and process of leadership over time with clear and compelling evidence. Research shows that the while the trait theory may predispose a leader to effective leadership, it falls short of accounting for the leader's ability or capacity to act. Additionally, even with a multitude of innate traits, a leader must have the vision to achieve. She must balance these attributes with relationships to others in the organization to get the work done well. Finally, the trait theory does not account for a variety of situations that the leader might encounter and her disposition to communicate with others. The other shortcoming is whether the innate traits of the leader are used for the benefit of others, for the promotion of self or the demise of an organization.
The Trait Theory in Action in the Boggs Case
Based on my assessment of the trait theory and Representative Boggs, she was an unlikely leader who had the natural drive, a desire to lead, intelligence and integrity. In fact, when she won the special election, she surprised her opponent and many critics at the time  – due to her gender and her presumed lack of political experience. She was persistent, determined, trustworthy, dependable and diligent.
The trait approach is easy to understand. Supporters often cite, "They know [leadership] when they see it." For many leaders, having stable traits serve as a good foundation as is evident in Boggs' case. It is a good first step when one is in a position of leadership either by choice or by happenstance. These qualities reassure the followers and the organization of the leader's capability to achieve positive results. From its roots in the 1900s, the trait theory is credible, backed by years of research and illustrations on what "good" leadership looks like, but remains highly subjective and does not account for varying situations.
Your Leadership Challenge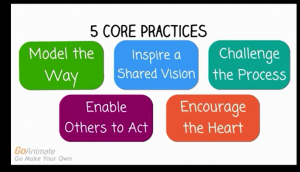 So your challenge is to better analyze your own leadership traits, self-prescribed virtues and behaviors. Are you a "natural born" leader? Or, do you need to work on a few positive behaviors that employees say that they want in a leader? Learn more about evidence-based research stemming from the trait theory based on the book, The Leadership Challenge , and view this video. Keep in mind these top five leadership traits as you go about your leadership journey:
Honest
Forward-Looking
Competent
Inspiring
Intelligent
Stacie Rivera is part of the GovLoop Featured Blogger program, where we feature blog posts by government voices from all across the country (and world!). To see more Featured Blogger posts, click here.