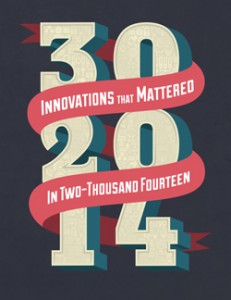 Where does your data live – a data center, the cloud, Narnia? Where should it live?
In GovLoop's new guide, 30 Innovations that Mattered in 2014, Nutanix's Vice Presidents for Federal – Chris Howard and Dave Gwyn talked about how to effectively store information.
Back in 2009, the Federal Chief Information Officer sent out a memo to all agencies that required a reduction in the overall energy and real estate footprint of their data centers. The goal was simple, reduce costs, increase security and improve efficiency. Despite the call for change many agencies struggled to implement the Federal Data Center Consolidation Initiative (FDCCI).
A MeriTalk survey produced in 2010 found 72% of respondents reported the number of data centers in their agency either stayed the same or increased.
But now, that budgets are getting even tighter the move to data center consolidation is strengthening. One of the companies on the leading edge of the data center consolidation movement is Nutanix.
"Agencies need a new way of doing things. Technologies like ours allow people to scale incrementally, where you can start small and just add a little bit at a time as needed. The ability to scale has really blended well with these initiatives, because now agencies have an alternative," said Chris Howard, Vice President for Federal at Nutanix. "You don't need to buy everything up front and roll the dice. You can now buy things a little bit at a time and buy exactly what you need in order to run your workload."
Howard predicts in 2015 there will be a trend for more large-scale consolidations in government. "At Nutanix we are looking at new disruptive types of technology, 'because they have to spend less money.' Government employees and especially contractors are being laid off. So our customers continue to have to provide services, but they have to do it with less people. In order to accomplish the mission technologies need to be simpler, easier to manage and easier to scale."
The need for increased efficiency is creating a new mindset for government. "We are starting to see huge cultural shifts, not just in end customers and datacenter management, but the resellers and the federal systems integrators," added Gwyn. "Those guys that have huge influence themselves on the government are also starting to realize that they need a hyper converged strategy, and that they need to look at new ways of doing things."
Despite the awareness that cloud computing is the future for government a public cloud continues to be a huge challenge. The security risks are too great for agencies. Right now a public cloud in government is more of an exception than the rule.
"But people are starting to ask, 'If I can't have all of the characteristics of the public cloud thereby getting rid of all my datacenter complexity and cost because I'm outsourcing it to the public cloud – if I can't have that, what's the next best thing?," asked Gwyn. "The next best thing is to look at how the cloud providers do it. Look at how Google runs their datacenters. Amazon, Twitter and Facebook all run massive datacenters that run the most efficient datacenters in the world. They are all running architectures exactly like Nutanix. They're using commodity box servers. They don't have hundreds of different types of equipment – switches, servers, firewalls and all these different hardware-specific components."
"Instead Google and Facebook run everything on the same horsepower," added Howard. "They greatly simplify operations of their datacenter by using just one type of software-defined device. By having the software define the hardware they eliminate huge amounts of complexity in terms of maintaining all kinds of different devices."
To hear more from Nutanix and uncover the 30 innovations download the guide today!