This article is an excerpt from GovLoop's recent guide, "Understanding the Dangers to Your Cybersecurity." Download the full guide here.
Cybersecurity attacks are rising daily in both volume and sophistication. Today, there are more threats to government networks than ever before.
At the same time, government networks are becoming more complex, with newer systems, more sophisticated tools, and innovative technologies being added constantly. If not handled correctly, these new additions can provide more gateways for attackers and diminish network visibility.
Ciena and CenturyLink are combining their technology, years of experience and expertise to help government agencies modernize and secure their networks to meet these challenges head on with Adaptive Networks. In an interview with GovLoop, Jim Westdorp, Chief Technologist at Ciena, and Steve Opferman, Senior Director of Innovation at CenturyLink, explained what an Adaptive Network is and how it can meet organizations' modernization and cybersecurity needs.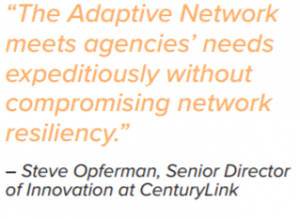 Adaptive Networks are automated and programmable networks that can configure, monitor and maintain themselves, as well as adapt to changing requirements. These networks are built on three foundational layers: programmable infrastructure, analytics and intelligence, and software control and automation.
The programmable infrastructure layer acts like a sensor and produces real-time data about network performance and vulnerabilities, allowing agencies to proactively address them and allocate resources accordingly.
The analytics layer, meanwhile, adds intelligence to the network. It applies machine learning to analyze performance data and more accurately predict network problems and threats.
The final layer is software control and automation. It leverages software-defined networking technologies and multi-domain service orchestration to simplify network management and service delivery across multi-vendor, multi-domain hybrid networks.
These layers work together to provide a more intuitive, scalable and secure network.
"The Adaptive Network is putting the functionality and sensors in place for instrumenting the network to determine its state and if there are any problems in it," Ciena's Westdorp said. "Then there's automation and intelligence to analyze the data coming from the network. Finally, orchestration closes the loop and lets you make changes as a result."
The Adaptive Network doesn't sacrifice any fortifications in exchange for the flexibility it gives agencies. Rather, it uses the highest security cryptographic standards available for data transfer. "We can provide ubiquitous encryption across a wide area, and encrypted waves are no longer an impediment in terms of cost or performance," said Westdorp.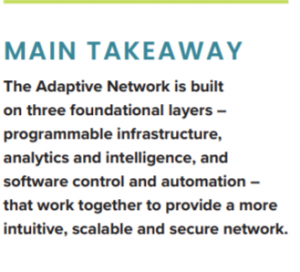 An Adaptive Network helps agencies meet rising strains on their bandwidth, as well as modernization and security demands, and deliver high-performance connectivity and faster services to constituents.
"We're leveraging the network as it is today and adding enhancements on top of it," CenturyLink's Opferman said. "It meets agencies' needs in an expeditious fashion without compromising the resiliency that's built into their networks."