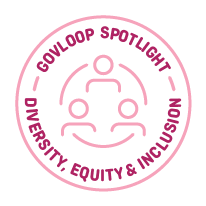 Diversity, equity and inclusion (DE&I) rank among the most exciting topics in government, and for good reason. After all, DE&I gets to the heart of public service – agencies exist to aid citizens and the communities they share. Over time, improving DE&I can even create fairer, happier societies.
And while agencies cannot buy stronger DE&I, factoring social responsibility into procurement might be the next best thing. On Thursday, during GovLoop's latest online training, three government thought leaders explained how agencies can make social responsibility a top priority in their procurements. The speakers were:
Dwayne Pierre-Antoine, Vice President of Operations for the Central/South United States at Gordian, a building lifecycle data, software and services provider.
Tammy Rimes, Executive Director at National Cooperative Procurement Partners (NCPP), an organization which supports public procurement agencies through cooperative procurement efforts.
Ky Willson, Senior Staff Analyst, Title VI at the Office of Business Opportunity (OBO) in Houston, Texas. Title VI of the Civil Rights Act of 1964 prevents discrimination in programs and activities that receive federal funding.
The group detailed three ways agencies can make DE&I an integral part of their procurement processes and fulfill their social responsibilities:
1. Listen closely
According to Willson, actively seeking feedback from community members can ensure every group's needs are met during the procurement process. For instance, agencies, local associations and small businesses can all work for their community's greater good.
"Please remember that you are not alone on this," she said. "There are collaborators out there that you can work with and get it done. Once you align values, you get clear ideas about how to support one another."
2. Learn from data
According to Rimes, data can give agencies more information about what their social responsibilities are. Take agencies' procurement partnerships. Using data, agencies can determine how well-represented minority-owned businesses are in their overall web of procurement contracts.
"If you see gaps in the database, maybe that is an opportunity for education," Rimes said. "When a bid opportunity comes up and you put it out to your database, if people aren't in there, they are never going to hear about it."
3. Keep contractors satisfied
Pierre-Antoine recommended agencies consider the customer experience (CX) that their procurement partners are having. Contractors do not need to continue working with governments, so making any pairing pleasant can strengthen the ties between agencies and the communities they serve.
"When it comes to the financial side of things, help these folks get paid and have a good experience so their businesses can grow," Pierre-Antoine said.
For example, Pierre-Antoine recommended agencies explore financial opportunities that can help them partner with small businesses that typically have tighter budget constraints.
The big takeaway
Why are DE&I and social responsibility important? According to Willson, the answer is the way that these concerns can ultimately produce a better world.
"You want to spread the wealth equitably across all communities," she said. "If our businesses are doing well, then our communities, our children and our seniors are doing well. It benefits the whole."
This online training was brought to you by: