It's no secret that governments across this country look to turn data sets into actionable insight. But wanting to accomplish a task and actually accomplishing it are two very different things.
GovLoop's recent online training, "How to Thrive in the Digital Economy," explored the subject. Kevin Harrison, Chief Data Officer for the state of Illinois, joined Siddharth Kulkarni, Data Scientist and Analyst at Adobe Digital Insights, for the hourlong discussion.
Harrison spoke on behalf of a program in his state's Information Technology Department called the State Data Practice (SDP). It provides services for data governance, connectivity, harmonization, science and visualization.
"Historically, everyone thought of the data in their agency as their data," Harrison said. In efforts to change that, SDP implemented the Enterprise Memorandum of Understanding (EMU), who now has 22 participating agencies. The memorandum reduces red tape involved in cross-agency data sharing.
SDP also helps to change the culture of government in Illinois by influencing people to make data sharing top of mind, Harrison said. The program has created a standard set of tools and approaches that it helps agencies adopt, and that's led to a number of small-scale successes, he added.
"The next step is not thinking about what you have, but thinking about what you want," Harrison said.
But SDP is not all about working with agencies to complete interesting projects. A lot of Harrison's work with SDP includes establishing micro service infrastructure that will hopefully save Illinois heaps of money in the years to come. The image below shows the model.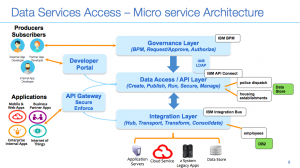 Kulkarni, on the other hand, discussed Adobe Analytics, Adobe's Digital Economy Project and the 2017 Holiday Season Recap Report.
Adobe Analytics is an insights machine that aggregates billions of anonymized transactions. It's used by 20 of the 30 largest U.S. employers and is easy to integrate with Adobe's comprehensive set of cloud services known as the Adobe Experience Cloud.
Adobe's Digital Economy Project takes advantage of that up-to-date, aggregated data to track trends in consumers' online spending habits. The impetus for the Adobe Digital Economy Project was making use of the company's existing data in a way that would be valuable to a wider audience, such as government agencies.
Using these tools, Adobe compiled a 2017 Holiday Season Recap Report, which found that online holiday shopping in the United States topped expectations this year, growing 14.7 percent year-over-year as compared with last year. The predicted growth was 13.8 percent. The online holiday shopping season — November through December — brought in $108.2 billion in revenue.
Kulkarni used the holiday report to demonstrate the wide-reaching power of Adobe Analytics.
"Anytime we can come up with even a very brief, short analysis that can communicate to an executive or someone in a decision-making position," Kulkarni said, "it can really help in asking for some additional resources when building toward something more substantial."