For Illinois Chief Information Officer Ron Guerrier, all roads throughout his decadeslong IT career led him back to his home state this year.
To understand Guerrier's focus on using technology to create better experiences for Illinois residents, you first have to understand his history.
Before accepting the dual role of CIO and Secretary of Innovation and Technology in March, Guerrier held positions at several big-name companies, including Toyota North America. He worked his way up from the repo department to CIO for the financial services division. A core principle of the Toyota production system is kaizen, or a quest for continuous improvement that sums up Toyota's 'Always a Better Way' slogan. It's also a driving force behind the state's 2020 IT agenda.
"Kaizen is a philosophy that helps to ensure maximum quality, the elimination of waste, and improvements in efficiency, both in terms of equipment and work procedures," according to Toyota. Kaizen humanizes the workplace and empowers individuals to identify areas for improvement and suggest practical solutions.
"We want to foster an environment of kaizen," Guerrier said during GovLoop's recent State and Local Virtual Summit. His keynote detailed the Illinois Department of Innovation & Technology's (DoIT) playbook that will be the cornerstone for all objectives, priorities and projects for fiscal year 2020. Top of mind for Guerrier is to use technology to create better resident and business experiences.
This includes converting help desks into service desks over the next year to be more customer-centric. He wants to see improved metrics for resolving residents' issues on the first call, instead of passing them off to multiple employees. Information tends to get lost in translation and the user experience diminishes.
To better serve the state's large agricultural community, there is a concerted effort to understand and address their broadband needs. And there's also a focus on mobile-first platforms to give residents access to state services through apps on their mobile devices.
But to achieve these and other goals, there must be some resetting of the department's core values. That's where the IT playbook comes in.
The purpose of the playbook is to ensure all employees are on the same page and work toward common objectives. DoIT employees also have a splash screen image of the playbook at their desk so they can always refer back to it and see how their work aligns with department priorities (See image below).
"Before we do anything technology-wise, let's just make sure we are hitting the same drumbeat," Guerrier said.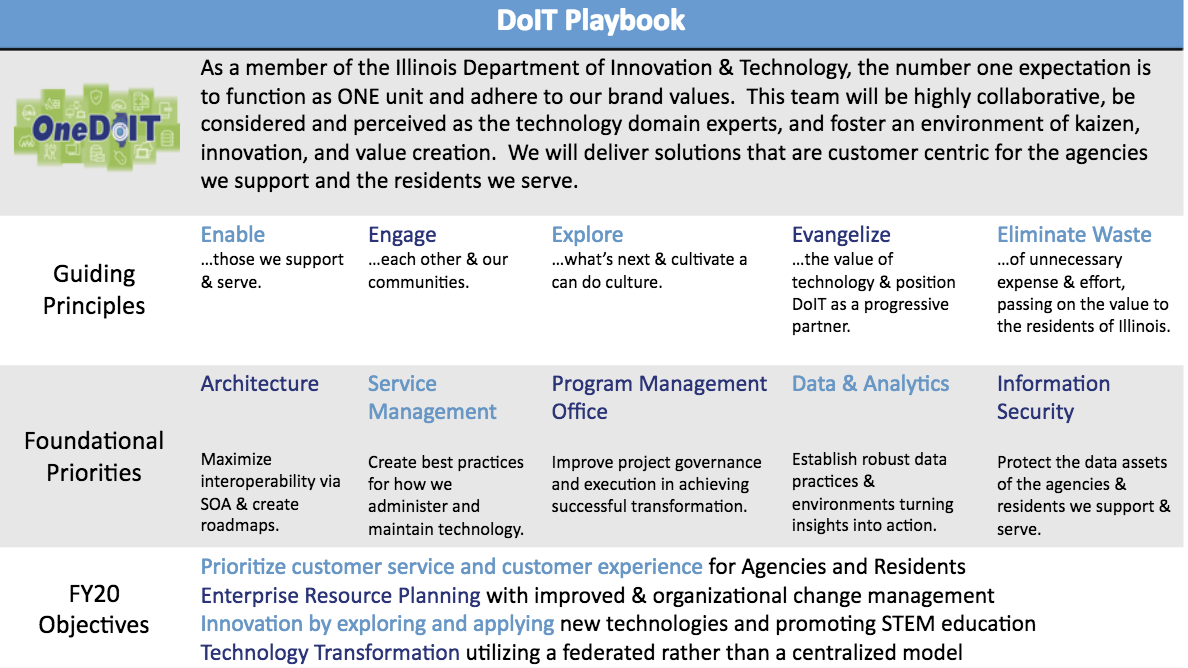 He stressed that if the state wants to improve the resident experience, IT employees have to become domain experts and own their technology. That's why hiring a chief architect was critical for Guerrier. He needed someone to connect the dots across the nearly 50 state agencies and their various tech investments.
Prior to Guerrier coming on board, the state had a decentralized model for IT operations, where departments owned and operated technology independently and had complete autonomy over the design and strategy. Under Guerrier's leadership, the state is moving to a federated model, where CIOs at each agency are empowered to be nimble and address their unique requirements, so long as they follow set security guidelines. But investments in utility or common IT, such as data centers, will be centrally managed by a core team so that the state can benefit from economies of scale.
Ensuring everyone is on the same page in terms of vision, goals and outcomes is key.
"We all have to be speaking the same playbook," said Guerrier, "if we don't speak on the same page and we don't get our culture right, those that we serve will see fragmentation."
Stay ahead of the game and pre-register for GovLoop's free government virtual summits!
Photo Credit: Pedro Lastra on Unsplash