In today's increasingly visual world there's no shortage of sources for imagery. Consider that images help us analyze and derive information that shapes policies, educates us about our environments and informs decisions that affect millions of citizens' lives. We have access to satellites, drones, full motion video, Light Detection and Ranging (LIDAR) — a remote sensing technology that collects 3D point clouds for mapping using lasers — and much more.
But what's most amazing about these tools are the immense benefits that we can glean from the information they produce. When we begin to apply analysis to imagery using techniques like classification and change detection, governments are able to exploit the imagery to measure their changing environments. Measurements like beach erosion, melting ice caps, landslides, and forest fires are types of change detection analysis that can be done to offer a new view into how the environment has transformed over time.
Many new sources of imagery are being collected from small satellites and, more recently with drones. This data, when combined with modern imagery management techniques, allows government agencies to empower a new generation of analysis and mapping. Esri's ArcGIS provides a platform for further modernization that allows more savings through automation. The software includes a suite of image processing and analysis tools that enable agencies to find patterns and correlate causes for the emerging trends.  The technology enables delivery of imagery over the web that can transform static pictures into dynamic 3D maps that let users measure on-going changes, understand the natural patterns of the earth, and visualize how mankind is impacting the environment.
Once images are gathered, they must be compiled and analyzed. ArcGIS is one solution for meeting government agencies' imagery analysis and management needs. Speaking at a recent GovLoop online training, Kurt Schwoppe, Imagery Business Development Manager at Esri, explained that "the ArcGIS solution is a platform that readily works with all types of imagery from different types of sources in a three-tiered process." At the server level the imagery management tools ingest and catalogue the images. They are then fed into the analytical tier, which is a highly automated processing tool that transforms the raw imagery into meaningful information in minutes. From there, applications can be built to where actionable information can be derived from the imagery to inform policy and decision makers.
A number of agencies are taking advantage of what imagery analysis has to offer, including the U.S. Army Corps of Engineers. Esri teamed with the organization on a proof of concept beach mapping project to show how imagery data from drones could be used to more efficiently monitor beach erosion for coastal protection. They used the drone to collect elevation data in high resolution, and that data was paired with imagery from the National Oceanic and Atmospheric Administration. Using Drone2Map for ArcGIS the team was able to process data faster, and at higher resolutions than what had previously been collected by the Corps of Engineers. This will result in better and faster planning, design, and implementation of mitigation programs to minimize erosion and destruction of property.
This is just one of many examples showing how imagery from drones can be used to solve issues in micro-geographies. Schwoppe explained it this way: The world is filled with small places in need of powerful maps, but there is a gap in the imagery collection process. "That is where the advent of drones is going to be a game changer."
Looking forward, agencies will also find that modernizing their Imagery workflows with ArcGIS will allow governments to implement more powerfull capabilities for Visualization and Analysis using 3D Imagery and LIDAR point clouds.  ArcGIS allow governments to break down silos that limit the sharing and dissemination of both their 2D and 3D Data using Point cloud scene layers with ArcGIS. Check out this sample of a point cloud scene layer in a web scene. The point cloud layer was published from a scene layer package that was just under 8 gigs and contains 1.1 billion points, the data was provided by NOAA.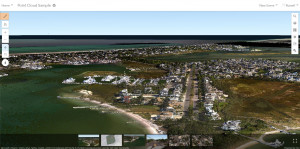 But agencies that really want to drive change have to think beyond just creating compelling imagery. The ultimate goal is to extract value from the imagery that drones and other tools produce to guide faster and more accurate decision making.