What started as a goal to improve IT support and service delivery has now become a vision for streamlining many work processes — including citizen requests — in Howard County, Md. In 2016, the county chose ServiceNow to replace a mix of on-premises applications, spreadsheets, and documents used to manage IT projects and support cases.
Initially the county wanted to automate internal IT processes. But technology leaders realized they could also use ServiceNow to automate the county's business processes.
"Automated workflows aren't just for IT," says Tom Yeatts, Howard County's deputy CIO. "The same thing can be applied to human resources or customer relationship management. Once we show a department the benefits of using a single automation platform, we can help it streamline workflows—the return can be almost exponential."
How Howard County Automated Its IT Processes
The first task for the Howard County IT team was to standardize and enter information about infrastructure elements and services into the ServiceNow configuration management database (CMDB).
Each service relies on interacting IT components, including databases, physical and virtual servers, networks and cloud services. By mapping both the infrastructure and the business services, the team could clearly see the relationship between the two. With one system of record replacing multiple applications, spreadsheets and documents, they can readily understand the health of their environment, quickly evaluate service impacts and proactively fix problems.
With the configuration database in place, the county focused on automating IT workflows and processes. The first IT processes automated included requests for system access, password and account lockout resets, and routine or specialized equipment. This effort prompted IT staff to analyze and document existing processes, define approval and activity flowcharts, and identify where exceptions might apply. Once these IT processes were defined and automated, the team saw tremendous gains in productivity and in their ability to meet or exceed service level agreements.
Howard County Extends Automation Beyond IT
Howard County leaders also created a single place for county employees to access IT and non-IT support. The county developed what they call SNAP (ServiceNow Application Portal), which gives users a one-stop site to find answers, and initiate and track requests. Workflows in the portal are clearly defined in an online service catalog maintained in the ServiceNow software.
"Most people initially look at ServiceNow for incident reporting and IT operations management," says Yeatts. "But when we add the service catalog, our clients will see that we are building a central point for requesting and reporting anything related to IT and, in the future, to many other departments. We want to encourage employees to start using the SNAP portal now so it's familiar as we add services."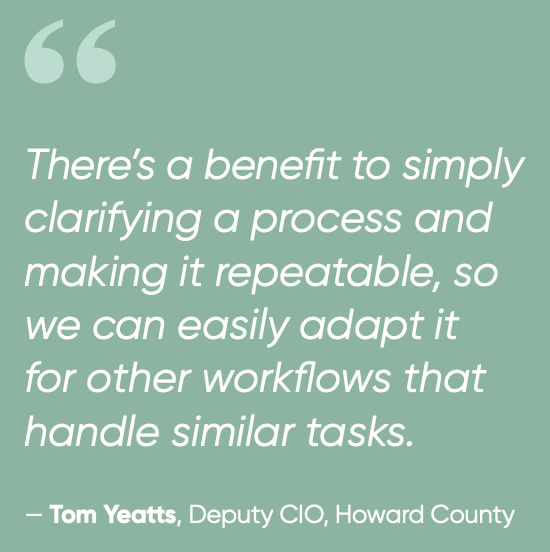 A planned public contact portal will help connect the county's citizens to their government. The Howard County constituent relations team will use the portal to forward a citizen's request to the appropriate department, then track the request status and response. A single portal and automated workflows will make it easier for citizens to initiate requests, improve responsiveness and productivity, and increase citizen satisfaction with county government.
This blog post is an excerpt from "CIO Stories of Driving Digital Transformation in Today's World," download the full e-book here to get insights from more C-suite executives who have unlocked their organization's digital potential.