Do you ever find yourself laying in bed or sitting in front of the TV thinking, "If I could only get a chance, I'd make a difference"? Well, believe it or not, you can! In fact, you can stay in your PJs, in the comfort of your dorm room, and make a difference in the world. You can become a part of a worldwide network and your voice can be heard. And the Virtual Student Foreign Service program is the way!
The program, an internship network created by the State Department, was launched six years ago with 44 possible projects for university students to choose from. The difference from other internship programs? This one is done completely virtually. This year, the program was able to offer roughly 340 unique projects and accepted 700 virtual interns.
Bridget Roddy, Virtual Student Foreign Service Program Manager, sat down with Christopher Dorobek on the DorobekINSIDER to discuss her work at the State Department's Bureau of Information Resource Management (IRM): Office of eDiplomacy. Broddy is also a finalist for the Partnership for Public Service's Service to America Medals, also known as the Sammies, in the Call to Service category.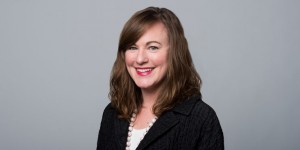 Roddy outlined how her work with the Virtual Student Foreign Service Program helps further "empower diplomacy with tools and information that are available anytime and anywhere."
The internship is only offered to university students so that "students get a real taste of what government work is like and it also provides an insight into some of the areas we could use a little more help in," Roddy said. The students undertake 8-month-long internships, committing at least 10 hours a week to the project they have chosen. The program itself and its requirements were designed to help prevent financial burdens for, say, an expectant mother who cannot afford to move to D.C. to complete the internship. Eric Woodard, director of fellowships and internships at the Smithsonian Institute, a participating agency, praised the program. "In the internship world, this is very cutting edge," said Woodard in the Partnership's feature on Roddy.
Projects offered vary from within State Department to 16 other federal agencies like NASA, the National Institute of Health, the Smithsonian, the Peace Corps, and the Department of Education. As a result, students have a very diverse set of opportunities where their work can be based and what they will actually be doing. "Interns in the program are really helping us find new ways of working and are bringing in new ideas into the government," said Roddy. "They are really inspiring us to work together better."
Moving forward, Roddy explained, State may implement a possible virtual mentorship as well. This mentorship would take retired Foreign Service officers from around the nation and connect them with one of the virtual interns who may be interested in pursuing a career in the Foreign Service.
Additionally, Roddy talked about the desire to make the program more available to others by creating an open source module. "Other agencies and other governments can take the process [State] has created over the years and implement it themselves." She emphasized that if State could "create an open source tool in which we would just do the process once and then give it away, it could really revolutionize the number and type of experience students and offices can have."
So if you're a university student, stop making excuses and apply for the Virtual Foreign Service program. Remember, you don't have to leave your PJs at home to help your country move forward!
*Image courtesy of the Partnership for Public Service